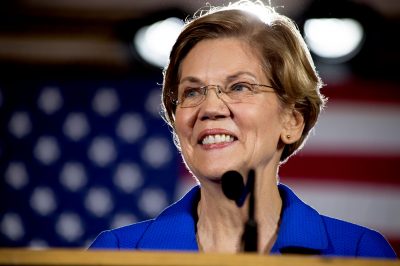 By Zoe Allen and Natalie Patrick
Massachusetts incumbent Sen. Elizabeth Warren secured her seat in the U.S. Senate, beating Republican opponent Geoff Diehl with 60.5 percent of the vote, according to The New York Times at around 2:45 a.m.
Warren, along with the Massachusetts Democratic Party, hosted an election party at the Fairmont Copley Plaza Tuesday night, beginning at 8 p.m., when the polls closed in the Commonwealth. The ballroom doors opened to the music of a live band, and within an hour and a half of the polls closing, Warren's victory was solidified.
Jill Kaner, 63, of Groveland, said she was confident Warren would win re-election before the ballroom doors opened.
"If you look around the room now, you can tell that there's all types of folks now supporting our party, supporting Elizabeth," Kaner said. "I just think there's a lot of energy."
Kaner said she thinks the senator will serve the people of Massachusetts to the best of her ability.
"I know that maybe the 'P-word' is in the future," Kaner said, referring to speculation that Warren might run for president in 2020. "It doesn't matter right now. She's focused on what she can do for us as citizens of our commonwealth and ultimately of our world."
In his concession speech, Diehl thanked his "tireless" campaign staff and said he was honored to run on behalf of the Republican party.
"While the outcome is not what we wanted, we've laid the foundation for taking Massachusetts back for the working people," Diehl said in his speech. "I am a firm believer that when God shuts a door, he opens a window somewhere, so together we're going to find that window."
David Lakeman, 30, of Cambridge, said he was excited about Warren's victory because she represents values that he said are becoming increasingly rare.
"She harkins back to a different tradition in the Democratic Party — taking on the trusts, taking on the corporations, actually fighting for the little person," Lakeman said. "She's always really kind, really loving, but then she also knows how to throw a punch when she needs to at the national level."
Malden resident Katherine Gibbons, 29, said she felt energized after hearing Warren's speech because Warren placed special emphasis on women in politics.
"I loved that she focused especially on women becoming involved in politics," Gibbons said. "As a woman myself, I'm just super honored to be here and watch her speak."
Warren took to the stage to give her victory speech at approximately 11:10 p.m., accepting raucous applause and chants of her name from the energized crowd.
"When I first ran for the Senate six years ago, I asked you to take a chance on someone who had never even run for office before," Warren said. "You took that chance. You sent me into the fight, and tonight, you told me to stay in the fight."
A record number of women were elected to the U.S. House of Representatives Tuesday night. Warren praised the efforts of these women, including Rep. Ayanna Pressley, Rep. Niki Tsongas and Rep. Katherine Clark in the midterm election.
"Let's make sure that nobody rewrites history," Warren said. "This resistance began with women, and it is being led by women, too."
Warren spoke directly to first-time and minority voters as she wrapped up her thoughts and told the crowd to continue fighting for what they believe in.
"Women, men, young and old, black and white, gay and straight, in cities big and small," she said, "have built something extraordinary."
Warren also spoke to the challenges that the Democratic Party continues to face, following the results of Tuesday's elections.
"Our Supreme Court is still packed with right-wing activists who believe that the wealthy and the well-connected should get to call the shots," Warren said in her speech. "And Donald Trump still practices the dark art of ruling by fear — fear whipped up to turn hardworking Americans against hardworking Americans."
Warren concluded her speech with praise for Diehl, her constituents, her volunteers and her husband, and with the 2017 insult that had become her campaign slogan.
"We have come so far together," Warren said. "We have fought together, cried together, resisted together, and, sure as hell, persisted together. But tonight, we send a message to the world: we're just getting started."
Audrey Martin and Mia Cathell contributed to the reporting of this story.