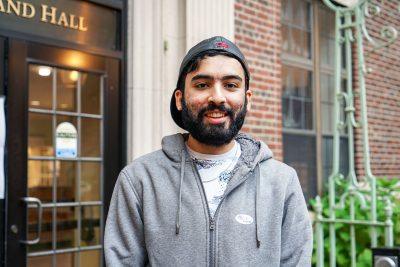 Brandi Griffin, 22, pulled up the hood of her jacket and trudged through the Fenway area in the pouring rain Tuesday, not to catch a game and not to grab a coffee. Griffin was there to vote — an act she called her "civic duty."
"For me, it's being an African-American woman and seeing the way that Trump is marginalizing different minority groups," Griffin, a Fenway resident and student at Northeastern University, said.
The Georgia native said she has only been in Massachusetts for a month and a half but made time to learn about the state's issues before casting her votes.
"I think that we're in a very stressful time in terms of politics because of the polarized way of the nation right now," Griffin said, "and I think that different minorities will definitely be affected."
Griffin, along with other young individuals and members of minorities groups, is part of a group of people who have historically been the least likely to vote.
During the 2014 midterms, only 19.9 percent of people between the ages of 18 and 29 turned out to vote, according to the Pew Research Center. Minorities, including black, hispanic and Asian voters, also all had lower turnouts in 2014 than white voters, according to Pew.
However, Vox reported that a biannual poll released by the Harvard University Institute of Politics stated that 40 percent of 18- to 29-year-old individuals said they would "definitely vote" in the 2018 midterms. Vox called the percentage "a substantial increase from the 2014 and 2010 midterms."
Rachael Vanessa Cobb, a professor and chair of the Department of Government at Suffolk University, said she thinks this trend has something to do with candidates paying attention to groups they have ignored in the past.
"Some candidates have really gone big outside the box in trying to recruit non-traditional voters," Cobb said. "Stacey Abrams is saying that her strategy is to really try to mobilize people who were not necessarily engaged in the political process. That is outside of the typical toolbox that a campaign manager uses."
Traditionally, Cobb said, campaign managers try to use their resources efficiently by going after people who are already consistent voters. With potential first-time voters who have to "get over the hurdle" of registering to vote and voting for the first time, Cobb said it is more of a risk for a campaign to spend time and money reaching out to them.
Adam Silver, a professor of political science at Emmanuel College, said he expected to see a higher turnout in 2018 than in past years.
"There's a lot going on this election," Silver said. "People are pretty energized. I think we're a polarized country for better or for worse right now, and I think people are feeling the president has really made it about himself in many respects."
Like Cobb, Silver also said he believes that candidates reaching out to traditionally low-turnout minority groups will impact the voting patterns of those groups.
"We know that Beto O'Rourke, the candidate from Texas who's challenging Ted Cruz, has made a key part of his campaign bringing in Latino voters," Silver said. "We see it happen with the Abrams campaign down in Georgia, too, where she reached out to African-American voters in communities that have not had high turnout historically."
Silver said young people are more likely to vote in this election because they have the opportunity to support a historic number of female, minority and LGBTQ candidates.
Dina Yaghi, a 22-year-old Dorchester resident, said she was inspired to vote because of "everything going on with Trump."
"I feel like a lot of women and minorities aren't being protected," Yaghi said, "and as a woman and minority, I feel like it's very important to vote."
Fenway resident Anastasia Liebler, 29, said she thinks it is important for young people to make their voices heard at the polls so they can have a say in how their government operates.
"If you don't speak up, then what can you really say about what's done or about what occurs?" Liebler said. "It's written into our political process to make sure that we have the opportunity to have our voices heard, and if we don't speak up, then how do you expect to provoke change?"
Alex Pomerantz, 23, said he has voted in every election and called voting his "civic duty."
"If you see things you don't like in the nation, you have to be the voice to change it, and the only way to change it is voting," the Fenway resident said. "Our country is facing a crisis with the current president. I think he is someone who engenders hate, and I think we, as young people, have to come to polls to say that that's not OK."