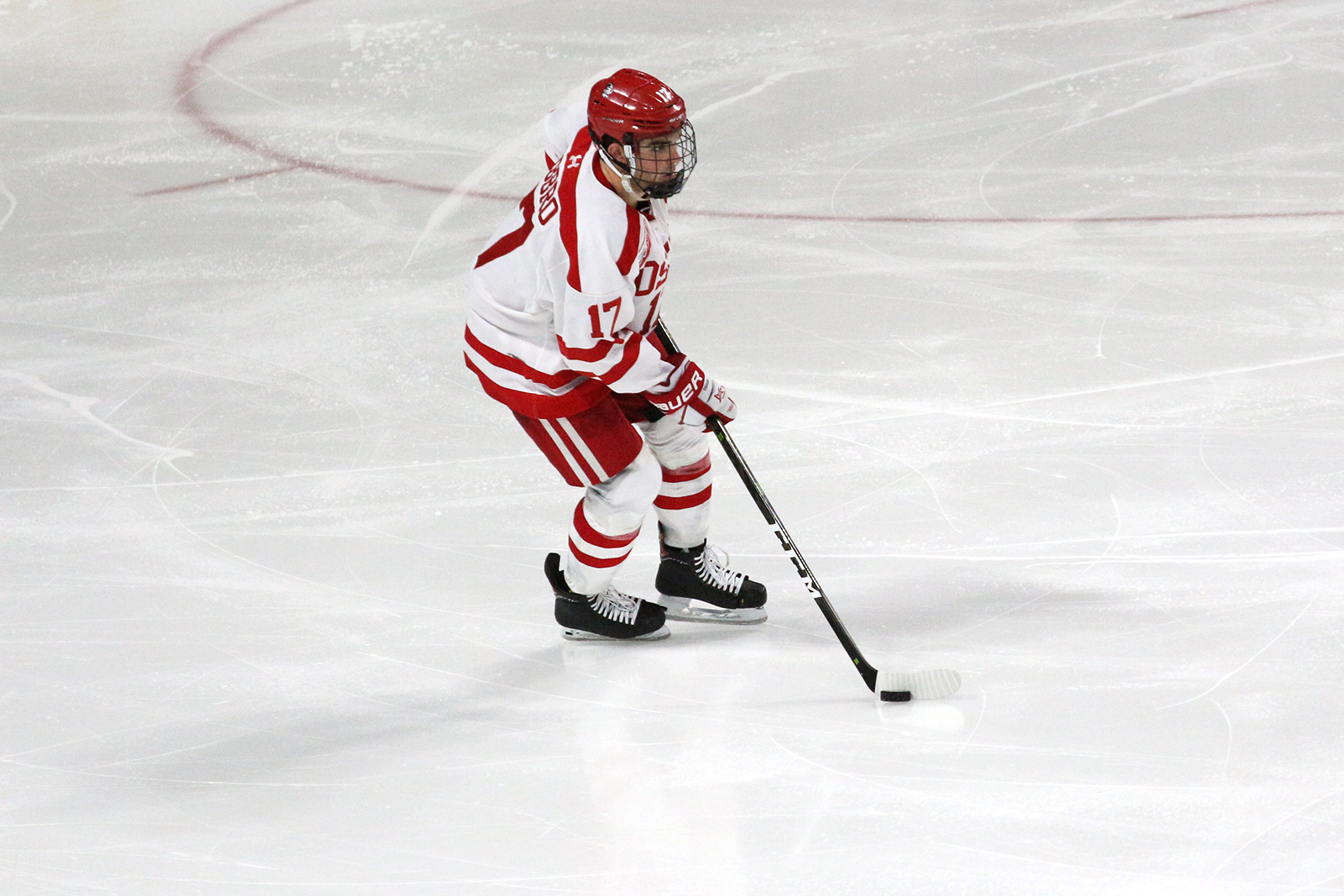 After momentum-building performances last weekend in its series with No. 15 Northeastern University, the Boston University men's hockey team traveled to Durham, New Hampshire, Saturday night with hopes of maintaining its form.
Playing at University of New Hampshire's Whittemore Center Arena, BU (2-4-1, 2-2-1 Hockey East), came away with the 3-2 overtime victory over the Wildcats (1-5-2, 1-2-1 Hockey East), courtesy of sophomore forward Shane Bowers' game-winning goal.
First-period tallies from Bowers and junior defenseman Chad Krys guided the Terriers to a three-match unbeaten streak and its first road win of the 2018-2019 campaign.
"It was a good college hockey game, but a sloppy college hockey game at times," BU head coach Albie O'Connell said postgame. "I like the result, don't like how we played in the middle [of the game] and I like the way we started."
Early on, the Terriers put pressure on UNH's freshman goaltender Ty Taylor, who started just his third career game Saturday night.
With 14:55 remaining, Krys collected the pass from teammates Dante Fabbro and Joel Farabee and sent it by Taylor. The Ridgefield, Connecticut, native's second goal of the season put the Terriers in front, 1-0.
"Last weekend against Northeastern, we got a couple key goals, and it looks like we got a little bit more confidence now," O'Connell said regarding his team's recent offensive success. "And having Chad Krys back, with a few games under his belt, is pretty helpful."
That 1-0 lead, however, did not last for long.
Just about three minutes following Krys' tally, UNH forward Ara Nazarian went by Oettinger after efforts from teammates Charlie Kelleher and Max Gildon to knot it at 1-1.
Nazarian's equalizer was short-lived, as after Taylor was tested by shots from Farabee and senior forward Bobo Carpenter, Bowers corralled the rebound and backhanded it into goal to put the Terriers back up, 2-1.
"I thought the first period we played really well," O'Connell added. "I thought we moved the puck well. We got a couple power-play goals, and [the Wildcats] got a power-play goal, but we had a good lead."
BU almost made it 3-1 with just over six minutes remaining in the first.
Graduate forward Max Willman's slapper got by Taylor, but clanged off the right pipe and out of goal, keeping it a 2-1 contest.
The Terriers entered intermission with the advantage after outshooting UNH 23-11 overall and 12-7 shots on goal.
It was the Terriers' second consecutive lead after one period, one week after being up 1-0 on Northeastern en route to their first win of the Albie O'Connell era.
In the second period, the Wildcats came out as the aggressors.
Despite posting an even number of shots with BU (12-12), they won the SOG battle (8-5), courtesy of freshman Jackson Pierson.
After a UNH penalty kill with 5:55 left, Pierson took a pass from Kelleher and slotted it by Oettinger. It was the freshman's third career goal and helped UNH tie it back up at 2-2.
"[UNH] turned it up the second period, and we started turning it over," O'Connell said about his team's performance in the second period. "We made a lot of turnovers, and we went from playing good, team hockey to playing individual hockey."
Fortunately for both sides, play slowed down significantly in the third period.
The Terriers and the Wildcats combined for just 11 shots on goal and one power-play opportunity. When the shot-clock read 0:00, overtime followed.
It was BU's second overtime game in its last three matches, and UNH's second in as many nights.
When overtime began, it was the Wildcats who seemed eager to complete the comeback.
A penalty by Farabee with 2:56 remaining gave UNH the power-play.
Kelleher followed with his team's best chances in extra-time, but his shot hit pipe and ricocheted wide of Oettinger's net.
Almost immediately, Bowers took the loose puck, streaked down the ice and netted the short-hander by Taylor to prolong his team's winning ways over the Wildcats.
"The third period was pretty back-and-forth," O'Connell admitted. "We got a lucky bounce. The puck bounced over [a UNH player's] stick and Shane Bowers made a big-time play at the end to score that goal."