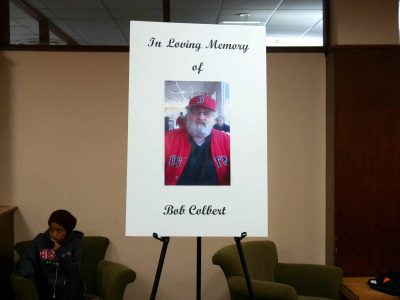 Warren Towers has been missing a familiar face as students swipe themselves in — Robert Colbert, formerly a security guard in the dorm, passed away Nov. 4.
Colbert, who went by Bob, was a resident of Medford and previously served in the U.S. Coast Guard. He began working at BU in 2004, said BU Housing Director Nishmin Kashyap, and served the BU community for almost 18 years, often working the 4 p.m. to midnight shift.
Kashyap described Colbert as a beloved, long-time employee.
"It's a huge loss for us and our family, and so we are really going to miss him," Kashyap said. "The staff that worked with him regularly and of course the students who he served at Warren Towers."
Matron Betty, a fellow security guard at Warren Towers, said Colbert was always friendly and jovial, often liking to joke around with other staff members and students.
"Everyone looked out for him because he was such a kind person," Betty said.
Betty said Colbert approached his job with the utmost responsibility, often expressing sentiments such as, "these are my kids."
Jodee Frias, a freshman in the College of Engineering, said Colbert was a sweet person who made "every day a little bit brighter."
Colbert often made Frias laugh by playing jokes, she said, like pretending to hand back the wrong ID.
Both Kashyap and Betty said Colbert would always make sure to keep quarters on hand to give to students who forgot to bring them to do laundry or buy soda.

"He was very good to our students, and he'll be deeply missed," Kashyap said.
Students would frequently come up to the security desk to ask for him, Betty said.
Alyssa Rentuza, a senior in the Sargent College of Health and Rehabilitation Sciences, said Colbert stood out to her as a security guard because he always made a point to strike up a conversation with her and the guests she signed in.
"He was always really friendly," Rentuza said. "He was funny, just generally a really light-hearted guy."
Rentuza said that just last week she was touched when she ran into Colbert outside Warren Towers and he remembered her, despite not having seen her since she lived there during her freshman year.
Betty and Kashyap said that since Colbert's passing, students have been sharing condolences, bringing flowers and writing cards for other security staff members. Kashyap said this has been a comfort to staff grieving Colbert's death.
Akram Semakula, a sophomore in the College of Engineering, said he misses the Warren security guard, who he sometimes saw outside the building.
"He was kind of gruff on the outside," Semakula said, "but talk to him a little bit, he's a sweet man."
Staff at the Residence Life office in Warren Towers have set up a poster board with a picture of Colbert near the security desk in Warren Towers as a memorial for students and staff, Kashyap said.
"The community is just feeling the loss," Kashyap said. "And I think it's a testament to Bob's service to Boston University and to the students."