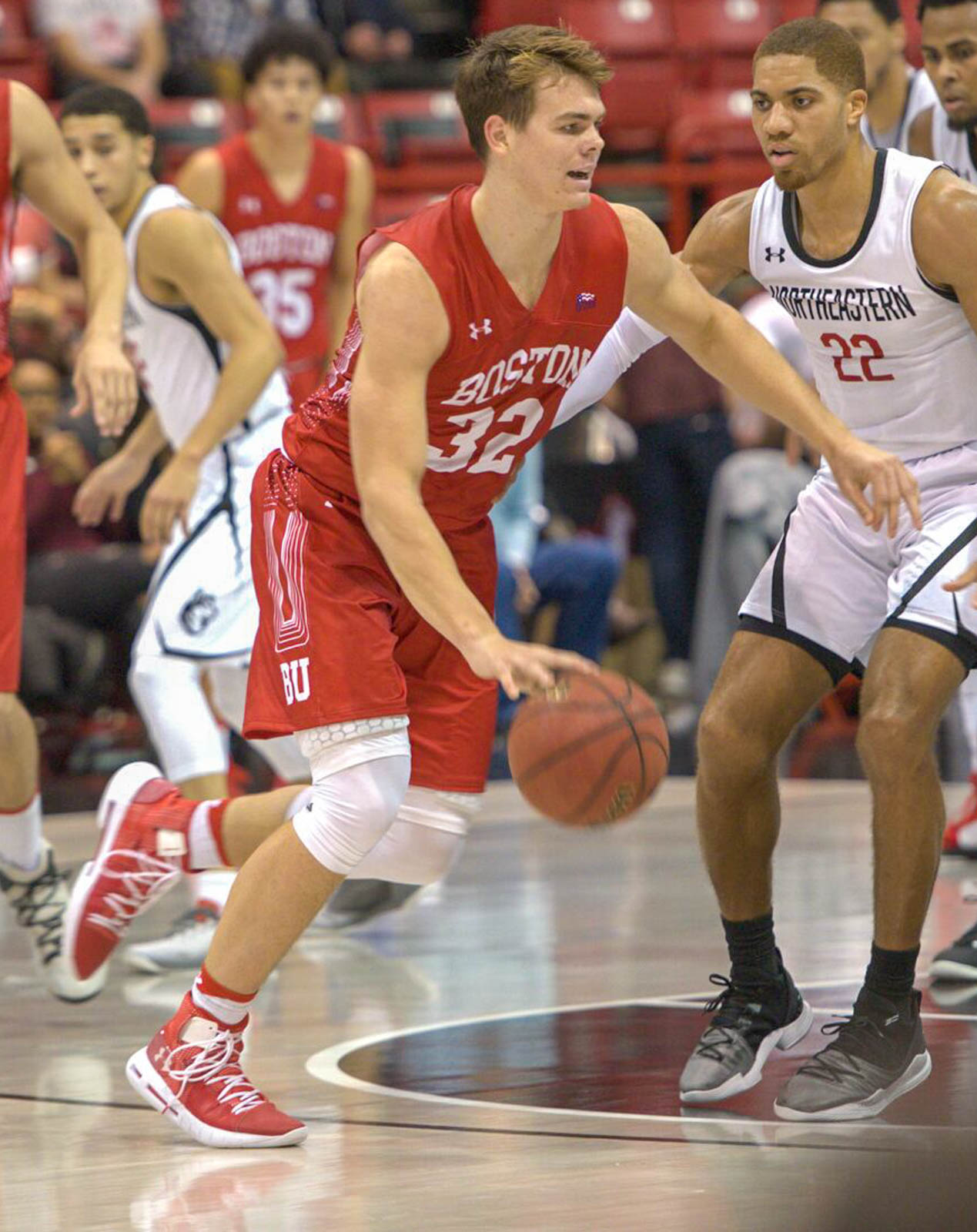 Boston University men's basketball split a homestand 72-78 against the University of Vermont and 94-57 against Emerson College this weekend.
The Terriers (2-1) started out Friday with a close 72-78 loss to American East preseason favorite Vermont (1-0), where they led for a solid portion of the game but could not keep the Catamounts from storming a comeback.
BU assistant coach Mike Quinn said he anticipated the team having to face challenges.
"We're going to face a lot of adversity … and I'm excited to see how we respond to that," Quinn said. "When we head into games, we want to win, and we want to get better."
In the first half, junior forward Max Mahoney shined in the post. His early dunk fired up a large crowd who showed up for the home opener.
Behind Mahoney, BU was able to dominate Vermont on the glass. The Basking Ridge, New Jersey, native had four rebounds in the first half.
Sophomore guard Javante McCoy also hit a few from long range to hold off multiple Vermont runs, and the Terriers gained a 19-14 edge coming out of the under-12 timeout.
Mahoney ended the first half with another dunk off of a pass from redshirt freshman guard Alex Vilarino, having not missed a shot and going 5 for 5 for 12 points as BU led 39-33.
However, Vermont didn't go away quietly. After shaking off some first-game jitters, the Catamounts cut the deficit all the way down to a tie game in 10 minutes during the second half, with a three-pointer from Vermont guard Stef Smith making the score 56-56.
The game would stay close until the final minutes. Teams traded basket after basket, refusing to let up.
Junior forward Tyler Scanlon generated the biggest cheer of the game with his transition three, giving BU a 66-61 lead with a little over five minutes to play. He finished with 17 points.
The Terriers held the lead until the final two minutes. From there, Vermont forward Anthony Lamb took over.
First, Lamb isolated and made a mid-range jumper to give the Catamounts a 72-70 lead. Then, after McCoy could not score for the Terriers, he delivered on almost the exact same play.
Those two jumpers turned out to be enough to win the game, but Lamb still wasn't satisfied. He made good on two free throws to seal Vermont's 78-72 win.
Sunday, the Terriers faced Emerson College, a Division III program from up the road, and won 94-57 in the first ever meeting between the two schools.
"They had to make a lot of the plays today," Quinn said. "Forcing them to read the defense and make decisions … is great experience for them as we head through the season."
BU made a few threes early and never looked back. The team combined to shoot nine for 14 from beyond the arc in the first 20 minutes.
Freshman forward Jack Hemphill was a stand-out among the group of incoming players, finishing the game with his first collegiate double-double with 14 points and 12 rebounds while leading the bench with 22 minutes.
"I think [our decision to take threes] just happened throughout the game," Hemphill said. "We just got good looks and knocked them down."
Also, with regular starters Scanlon and Mahoney sitting out, BU's younger players were given more playing time.
Freshman forward Jordan Guest led the team with 10 points at the break with center Sukhmail Mathon right behind him with nine points. Guest also led the team with 15 points overall.
Overall, senior guard Kamali Chambers said it was a nice opportunity for BU to bounce back from a tough loss.
"Every win is important for a young team [or an] old team," Chambers said. "You just want to keep getting better. That's the main focus for our team right now."