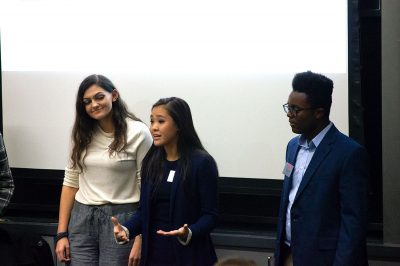 Boston University's Student Government met Monday night to discuss their progress on the Senate Outreach Program proposal and hear a proposal surrounding first aid in residence buildings.

Senate Chair Andrew Chiao and Vice Chair Brigitta Call began the meeting by elaborating on the efforts they have been making to hold senators accountable to the codes of conduct they signed on to abide, as well as their own efforts to maintain transparency with senators.

"Trust in the E-board that we are spending the money effectively, efficiently and in the student body's best interest," Chiao said.

SG President Devin Harvin gave his weekly address to discuss upcoming events the E-board will be holding before Thanksgiving break. Harvin said that Wednesday they will be holding a Thanksgiving dinner, including food and games, for the student body in the SG office from 6 to 8 p.m.
"Invite your friends, it's going to be a lot of fun," he said, "a nice de-stresser before midterms."

Despite November being a time of high stress and responsibility for many students, Harvin said he was proud of senators for continuing to show up to meetings with high energy.

"I'm very excited to keep going until the school year is over," he said. "Just trying to really think about our role as a student government. Are we trying to provide a bunch of resources, or are we trying to bring more information to people about the resources already here?"

The Senate Outreach Program then updated the student body on their progress in signing on clubs as participants in the upcoming spring concert, as they were mandated to do by a proposal voted on in late October. Senators have met with 20 out of 80 of their assigned clubs, and more meetings have been planned for the future.

Collin McCormick, a sophomore in the College of General Studies, said he was impressed by these results.

"Twenty out of 80, I did not expect that," McCormick said. "It's kind of unprecedented. It's a lot of involvement we've been seeing, especially in the numbers, so I think it's going really well, and I hope to see more of it in the future."

Jessica Zheng, a freshman in the College of Arts and Sciences, and a sponsor of the proposal, called the results a "great success."

The Senate Outreach Program recommended that senators continue to contact clubs despite the mandated sign-up deadline having passed on Nov. 8.

"The best thing you can do is continue to reach out," said Matthew Yee, a CAS freshman and sponsor of the proposal.

Aditya Jain, a sophomore in the College of Engineering, then presented on the First Aid In Residence buildings Act (FAIR), a proposal that aims to develop cost-efficient first aid dispensers in the bathrooms of residence buildings.

In a pilot program proposed by Jain, the senate would purchase wall-mountable kits to be placed in each of the bathrooms on each floor of a freshman dorm building, such as Warren Towers. Jain specifically pitched a $40 wall-mountable kit that could treat up to 100 incidents before needing to be refilled.
The cost of the pilot program would be $1,440 to install 36 kits around one of the towers of Warren Towers.
Jain said health should be one of the senate's biggest priorities as both students living on a college campus and as a student government.

"A lot of students only bring limited first aid, like bandages, but not other materials," Jain said. "Especially freshmen, if they don't know the other resources on campus, they might be unconfident about going to a doctor. [The first aid kits] could provide immediate help."

The senate voted to table a vote on the proposal until after break. A discussion on the proposal then followed, in which senators brought up questions and concerns they had with the FAIR Health Act.

Many questioned the program's necessity since most resident assistants carry first aid kits. Others worried that funding would not be approved given its similarity to the feminine hygiene product distribution proposal.
Chiao said he thinks Jain got good feedback from senators in discussion to consider before voting occurs.

"Judicial commissioners weighed in with really valid points as well that really started the conversation," he said. "I think it was good that we did not vote today. There was a lot of discussion that had to be done that I think we could improve the proposal with to vote after break."

Marielis Perez, a freshman in the College of Communication, agreed that the proposal could use some work and amendments before reaching the floor again after break.

"For the most part, I think it's a good idea and definitely could be implemented with some tweaks," Perez said.

Audrey Martin contributed reporting.