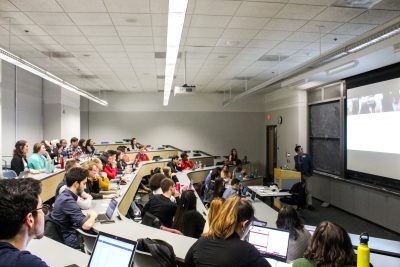 Boston University Student Government met Monday night to vote on an act to fix misleading or incorrect nutrition labels, reconfirm judicial commissioners and confirm a chair for the Senate Oversight Committee.
SG President Devin Harvin began the meeting by addressing the Senate on upcoming events that the student body can participate in throughout the semester. Harvin said students can look forward to student government town halls on Tuesdays, bingo nights on Wednesdays and an African Diaspora Cultural Night in February.
Harvin invited students to come out to the cultural night, hosted at Warren Towers Dining Hall, to learn about and experience African cuisine.
"We're having a really dope menu that is authentic to those cultures," Harvin said.
College of Engineering senator Aditya Jain then spoke to the Senate about his proposed Food Equality Accountability and Safety for Transparency Act, which was discussed last semester and slated for a future vote at the last meeting of the fall semester.
The FEAST Act aims to add additional food description labels to BU's dining halls, as well as fix inaccurate or misleading labels, according to the proposal.
Jain told the Senate that he and his co-sponsor of the act, ENG sophomore senator Arthan Bhatt, have been working with BU Dining Services to develop a clearer plan moving forward with the act after receiving feedback from last semester's meetings.
Dining Services is working on changing all nutritional information signs in the dining halls across campus to digital signage, Jain said. Students can already see this in effect at Marciano Commons.
Jain said he believes many mislabelings will be eliminated with this new technology, which is updated frequently by the dining services' social media team.
"The digital signage is going to be linked to [the BU dining] website, which is very closely monitored by the dining nutritionists and the team that monitors food safety and stuff like that for students," Jain said.
Additionally, Dining Services aims to continue to fix minor issues on their website, such as updating nutrition issues and dietary restrictions on some foods that are currently mislabeled.
Ellery Robinson, a sophomore senator in the Wheelock College of Education and Human Development, commended Jain's collaboration with Dining Services to move his FEAST act forward.
"I definitely support it, although it doesn't directly impact me," Robinson said. "I think [FEAST] is something that is an important change that wouldn't really happen without student involvement."
A vote passed Monday to establish an ad hoc committee for FEAST.
Senate Chair Andrew Chiao said he believes that an ad hoc committee will be good for the FEAST Act, as the issue already has university recognition.
"Making an ad hoc committee that works for a semester or an academic year can be a little bit more effective because that way you can get a group of people that you know are concerned about an issue and can then go with the person that started the proposal and meet with administration," Chiao said.
According to the proposal, Dining Services hopes to have digital signage in place in all dining halls by fall 2019.
The five incumbent judicial commissioners then updated the Senate on their work throughout the fall semester, which included working with the Student Elections Committee to prepare for upcoming elections and working on structural changes to the judicial branch.
A new confirmation vote was then held, and all five commissioners were reconfirmed.
The Senate then voted to confirm Vincent D'Amato, a sophomore senator in the College of Arts and Sciences, as chair of the Senate Elections Oversight Committee. As the committee is being newly introduced to Senate this semester, D'Amato began by explaining its purpose.
"This is being created to give representation to all branches of government for the election process," D'Amato said. "This gives the elections committee a voice."
Gurpinder Singh, a freshman senator in the Questrom School of Business, said he thought the creation of the Elections Oversight Committee was a good idea.
"I feel like it is a step in the right direction," Singh said. "I feel like it's something that is needed."
D'Amato was confirmed unanimously as chair of the committee.
Sofia Saric contributed to the reporting of this article.
Aditya Jain is a staff writer for The Daily Free Press.