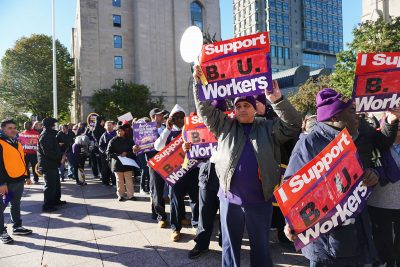 Boston University building services workers have voted to authorize a strike if contract negotiations with the university are not settled by Wednesday at midnight.
Many members of 32BJ Service Employees International Union, the union that represents BU's service employees, took to the streets Oct. 18 to rally for affordable health insurance, fair wages and improved safety conditions in the renewal of their four-year contract last signed in 2014.
Now, the majority of its approximately 750 members have voted to authorize their bargaining committee, that communicates directly with BU administration, to initiate the strike if these demands are not met, said Amity Paye, northeast regional communications manager at 32BJ SEIU.
Another rally will take place Tuesday, according to a 32BJ SEIU press release.
The demands currently on the table, Paye said, came directly from the custodians, maintenance workers and special skilled workers in the union.
"Honestly, they are asking for cost of living wage increases and to keep the benefits they already have," Paye said, "while BU is trying to roll back some of those benefits."
Ning Li, a sophomore in the College of Arts and Sciences, said she believes that the custodial workers do a great job with what they do for the school.
"I think if they work hard, they deserve to get paid more," Li said.
Judi Burgess, director of labor relations at BU, wrote in an email that the university is very grateful for its service workers and respects their rights as well as the rights BU has under the National Labor Relations Act, which aims to protect employee and employer rights and encourage collective bargaining.
Burgess wrote that BU's full-time custodial staff are among the highest-paid in Boston and have good benefits.
BU President Robert Brown wrote in an email that he has "tremendous respect" for BU's service employees.
"We are negotiating in good faith, as we have in the past," Brown wrote, "and I am hopeful we will come to a positive conclusion."
Both Brown and Burgess wrote that they prefer not to speak extensively on ongoing negotiations.
"Both sides are working diligently to come to an agreement," Burgess wrote, "and, although a strike would be very unfortunate, the University is prepared to continue operating without disruption to its support services operations."
CAS junior Sam Shafique said he has personally developed good relationships with service workers around the school and supports their plight for affordable health care.
"They have to fight for what they believe in," Shafique said. "And it's good that the university understands that they are going to have to listen, in that sense."
Paye said she is worried that the impact of the work that service workers perform is being underestimated.
"These are the workers that keep the campus clean," Paye said. "They are the people that fix anything when it breaks. This is a group of workers where the university really can't function without them."
Max May, a freshman in the College of Communication, said he thinks service employees are an integral part of the school that often does not receive enough credit.
"In such a big, complicated system like a university, I feel like the orderly state of maintenance and all that could get really overlooked," May said, "because when something is working, no one really pays attention to it, and when it isn't, fault is to be placed on those workers."
Paye said BU should care about the union and their demands because of the sheer importance of their work in the operation of nearly every building on campus.
"These are people that are cleaning up hazardous bodily fluids, and they are people that clean up anything that happens on campus," Paye said. "They are also some of the cleaners in the medical school, so they're handling potentially dangerous materials, and so that work should be honored with good jobs."