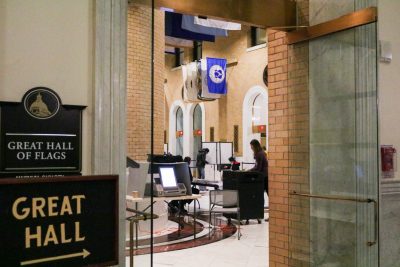 By Haley Lerner and Alex Lasalvia
Massachusetts experienced the highest number of ballots cast in state history for a midterm election, with over 2.7 million votes cast Nov. 6, according to Secretary of State William Galvin's office.
Voter turnout increased by more than 500,000 votes from the 2014 midterm elections in which 2,186,789 total votes were cast, according to Galvin's office.
Boston Election Commissioner Dion Irish said he thinks the high voter turnout in Massachusetts is likely due to the ease of access voters have in the state, like through early voting. In Boston, Irish said that over 28,000 people voted early and over 9,000 people voted with absentee ballots.
"I think it adds convenience of not confining someone's right to vote to one particular day," he said.
Irish said Massachusetts, and Boston especially, do a great job to make sure there are convenient polling locations. In Boston, there were 22 early voting locations that were open into the evenings and on weekends.
While these early voting locations are only available during presidential and midterm elections in November, he said he thinks it would be beneficial to have more early voting opportunities for other elections.
Interest in local politics and highly contested races, Irish said, are likely factors that drive voters to the polls.
"I think a lot of it has to do with the interest locally," Irish said, "and the questions that were on the ballot as well as voters wanted to be a part of the national conversation about the direction of the country."
Michael Dukakis, former governor of Massachusetts, Democratic presidential nominee in the 1988 presidential election and professor of political science at Northeastern University, said he thinks President Donald Trump has peaked young people's interest in voting.
"It shouldn't take a nutcake in the White House to do this, and I think part of this is really the responsibility of the parties," Dukakis said. "I mean, I am a huge advocate of precinct-based grassroots organizing."
Maureen King, 65, of Back Bay, also said she thinks voter turnout was high in Massachusetts because of the divisions Trump has caused in the United States.
"I think it's because of the way he has acted in office, how he demeans people, the way he talks about people, what he's doing at the border," King said. "There's a whole list of things. Everytime I turn around, I shake my head and think, 'I can't believe it.' It's horrifying for me as a senior citizen."
Dukakis said he is in support of automatic voter registration because of the voter suppression efforts that occur in certain states.  
"We should be doing everything we can to make it possible for folks to vote," Dukakis said.
Irish said he thinks the implementation of automatic voter registration will help increase voter turnout. In August, Massachusetts Gov. Charlie Baker signed into law a bill that would automatically register eligible voters when they interact with the Registry of Motor Vehicles and MassHealth, which will be implemented in January 2020.
"If someone's eligible and we have the information to prove that they are eligible to vote," Irish said, "then we shouldn't have them go to any additional barriers in order to exercise their right."
Irish said same-day voter registration is something the state government should also look into and is something Boston Mayor Martin Walsh supports. He also said Massachusetts should consider extending the deadline for absentee ballots to be received several days after the election.
Benjamin Page, 54, of Brookline, said he thinks voter turnout was likely influenced by Trump, saying the president excites his base to vote and angers people with opposing views from his own.
"There's a whole bunch of people who have really been horrified by things he's doing, like separated families at the border and p—— off all of our allies and being friends with our enemies," Page said. "So, I think there's a sense that people have that, 'Hey, I have to get out there and do something because this is just horrible.'"
Victoria Victor, 29, of Stoughton, said she thinks dissatisfaction with Trump's presidency has been the main motivator behind people's voting in this year's midterm election.
"The fact that the Senate helps our decisions go through, like for the president before he makes choices, I think it made an impact on why people should vote," Victor said. "I don't think anyone wants Trump making decisions."
Victor also said the many diverse candidates being on the ballot motivated her, and likely others, to vote.
"Me being a woman and me being African-American, it's good to see that Ayanna Pressley was elected," Victor said. "It's a good motivator for black Americans and females just because it's good that we can actually have a voice, and we haven't had a voice in a long time."
Natalie Patrick contributed to the reporting of this article.