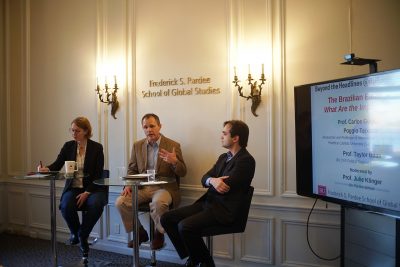 Carlos Gustavo Poggio Teixeira remembers sitting in his apartment in Washington, D.C., when Jair Bolsonaro was announced president-elect of Brazil. The populist candidate, who ran on a platform of far-right conservatism and militant ideology, has been compared by many political scientists — including Teixeira — to U.S. President Donald Trump.
Currently working as a visiting research scholar at Georgetown University, Teixeira said he spent election night analyzing data and messaging friends and colleagues at his home institution of Pontifical Catholic University of São Paulo.
The results of the election, he said, point to a "deep crisis of representation" in Brazil in the aftermath of widespread government corruption.
In light of these events, Teixeira said he agreed to reorganize his Thursday visit to Boston University into a panel discussion about the implications of the Brazilian elections rather than give the previously planned talk on his book, "Brazil, the United States, and the South American Subsystem: Regional Politics and the Absent Empire."
He was joined on the panel by Taylor Boas, associate professor of political science and Latin American studies at BU, as part of the Beyond the Headlines event series through the Frederick S. Pardee School of Global Studies.
The conversation, moderated by Julie Klinger, an international relations professor, focused on two main questions regarding Bolsonaro's election: how did this happen, and what does it mean? Much of the dialogue also compared Bolsonaro to Trump.
"The discourse surrounding Brazilian politics has gotten so bitter and polarized," Boas said in an interview, comparing it to current domestic political divides, but "even deeper."
He explained that the recent election results have forced him to revise his discussion of Brazil in an introductory course to comparative politics.
He said the nation once served as a positive example of a peaceful and stable transition to democracy, but now it represents how deterioration in the quality of democracy "is degrading that commitment to democracy on the part of the population and also on the part of political elites."
Teixeira attributed the election of Bolsonaro to a combined impact of social media and the "salience of cultural issues," such as the conservative desire to overturn the legalization of same-sex marriage.
"When people start voting for clowns, that's not a joke," Teixeira said during the forum. "[Bolsonaro and Trump] are symptoms of social, political and economic changes, not causes."
Boas added that, just like with Trump, there was both an optimistic and a pessimistic view of Bolsonaro's presidency. He said the "coalitional presidentialism" that characterizes Brazilian politics may force Bolsonaro to compromise on issues in order to pass legislation.
However, it was more likely, Boas predicted, that Bolsonaro would weaponize democratic institutions and use them to fight partisan issues. He compared it to Trump's recent threats against investigations into his presidency by Democrats.
"We as a civilization have made these mistakes in the past," Boas said in an interview. "Underestimating politicians with authoritarian leanings can be a devastating mistake."
Teixeira also said that any concrete predictions were difficult, both in terms of Bolsonaro's presidency and the overall "profound and rapid changes" in today's political environment.
"What seems clear to me is that we are at a crossroads when it comes to democracy," Teixeira said in an interview. "Democracy in the 21st century is not going to be like democracy in the 20th century, and we have to understand that. We have to learn how to deal with that, and I don't know if we're learning. I don't know if we have time to learn before democracy dies."
Audience members had the opportunity to ask questions during the second half of the panel, with topics ranging from political awareness efforts to Brazil's usage of ministries as "political currency."
Students, staff, faculty and community members then continued the conversation over a complimentary array of Brazilian food, including pão de queijo (cheese bread) and pudim de leite condensado (flan), many talking in Portuguese.
Pedro Henrique Junqueira, a freshman in the College of Arts and Sciences from Rio de Janeiro, was one of the undergraduate students in attendance Thursday. Although he said he had similar discussions about Bolsonaro online through WhatsApp and Instagram, Junqueira said he wanted to hear the analysis of professionals and scholars.
He added that he missed discussing Brazilian elections in person and that many of the other BU students from Brazil "don't really care" about the country's politics while studying in the United States.
"Social consciousness is important, to know what's going to happen in [Brazil] when I come back for the winter," he said. "It's a privilege not to discuss politics."