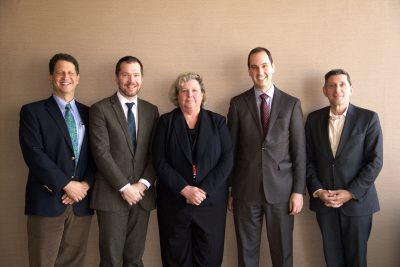 In the midst of a national opioid epidemic, Boston Medical Center's compliance department recently invited members of the Boston University community and public to discuss solutions to the crisis from a legal perspective.
The program was held in honor of Corporate Compliance and Ethics Week, according to Kim Greene, chief compliance officer at BMC and moderator of the discussion. The talk, titled "The Law v. Opioids: Battling the Epidemic," took place in the Hiebert Lounge Monday.
Greene explained in an interview that this is "a nationally recognized week for compliance professionals to find interesting ways to communicate what our programs do for our workforces."
The discussion was intended to explain how new programs are being implemented to address the epidemic at both state and federal law enforcement levels, according to Greene.
The Americans with Disabilities Act, for example, prohibits employers from discriminating against individuals due to a history of addiction unless they can prove the addiction or treatment poses a direct threat to the individual or others that can't be "eliminated or reduced by reasonable accommodation," according to the U.S. Department of Justice's Civil Rights Division.
"In the past, there has been a terrible stigma around people who have a substance use disorder that has governed our response to the epidemic, and not in a good way," Greene said. "We're looking now to see that these are people who have a disability, and they deserve protection, treatment and our support."
The panel featured Michael Botticelli, executive director of the BMC Grayken Center for Addiction, Gregory Dorchak, special assistant U.S. attorney, Eric Gold, chief of the health care division at the Massachusetts attorney general's office, and Daniel Alford, director of the Safe and Competent Opioid Prescribing Education Program.
According to Botticelli, Grayken offers a wide range of resources for patients and families dealing with substance use disorders (SUDs), including young adult programs, emergency services, a primary care clinic and psychiatric attention.
The opioid epidemic was primarily driven by the vast overprescribing of pain medication in the 2000s, Botticelli explained. Medical professionals were told that these drugs were not highly addictive and were not properly trained to identify signs of addiction, he said.
At the height of the crisis in 2012, professionals were prescribing enough opioids to give every American their own supply, according to Botticelli. This evolved into increased heroin use, as well as the rise of illicit synthetic opioids such as fentanyl across the nation.
"The opioid epidemic has created a level of morbidity and mortality that we have not ever seen in the United States," Botticelli said in an interview. "It's not an overstatement when we say this is a defining health crisis of our time."
In addition to overdoses, the epidemic caused increases in viral hepatitis and local outbreaks of HIV from injection drug use. There was also a significant rise in the number of babies born with neonatal abstinence syndrome, according to Botticelli.
"Epidemics don't happen in a vacuum," Botticelli said. "There were many historical conditions that contributed to this epidemic."
Botticelli explained that public policies are often shaped by individual attitudes toward addiction, since some people do not consider SUDs to be a disease.
A 2014 study conducted at Johns Hopkins University found that 64 percent of people surveyed believed employers should be able to deny employment to people with a drug addiction. In the same study, 25 percent of people surveyed felt the same about people with a mental illness.
"Many people still believe that this is a matter of choice and willpower, so we need to educate people," Botticelli explained.
According to Botticelli, insurance companies often fail to provide comprehensive treatment for SUDs like they do for other diseases. Federal spending is also focused more on the criminal justice side of addiction rather than public health, Botticelli explained.
"Laws have an appropriate place in our response to the opioid epidemic, but laws can also be used in a really detrimental and punitive way," Botticelli said. "We need to divert our policies into treatment settings, and we need to do a better job of integrating and mainstreaming addiction into our larger healthcare delivery system."
Priya Patel, a freshman in the College of Arts and Sciences, said she believes that substance use disorder patients deserve effective resources.
"It's important for people struggling with addiction to get the treatment they need," Patel said. "Their problems should be taken as seriously as people dealing with any disease."