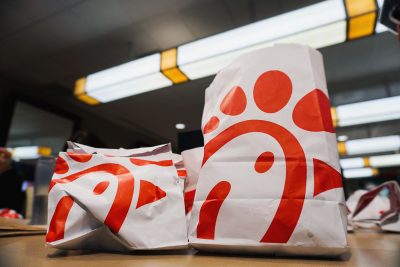 Chick-fil-A is planning to open a location in Back Bay, which would be the franchise's first location in Boston.
The chain is pursuing a location at 569 Boylston St. but is still in the early approval process, Amanda Hannah, spokesperson for Chick-fil-A, said in statement.
"We are always looking for new opportunities to serve Massachusetts customers and are excited about the prospect of joining the Back Bay neighborhood," Hannah said.
The fried chicken fast-food franchise first attempted to enter the Boston market in 2012, but anti-LGBTQ statements by the company's president earlier that year caused then-Mayor Thomas Menino to send a letter to Chick-fil-A urging them to back out of those plans.
"I was angry to learn on the heels of your prejudiced statements about your search for a site to locate in Boston," the letter read. "There is no place for discrimination along Boston's Freedom Trail and no place for your company alongside it."
The "prejudiced statements" Menino referred to occurred in a 2012 interview with Chick-fil-A CEO Dan Cathy by The Baptist Press.
"We are very much supportive of the family — the biblical definition of the family unit," Cathy said in the interview. "We are a family-owned business, a family-led business, and we are married to our first wives."
In addition to these comments, the Chick-fil-A Foundation has donated millions of dollars to anti-LGBTQ organizations, according to 2015 IRS filings reported on by Think Progress.
The company's most recent attempt to open a Boston location has renewed the debate over whether people should support the company and whether local government has the right to ban the business.
Michael Bronski, a professor of the practice in media and activism in Studies of Women, Gender and Sexuality at Harvard University, said he would not support a business whose owners donated to anti-LGBT causes, but that it is not the government's place to step in.
"The government, in this case the City, has the right to deny a license to a club if it's too crowded or real estate if it doesn't conform to code," Bronski said. "In the extreme, it probably has the right to disrupt a rally that is about to erupt into violence. None of these seem to apply to Chick-fil-A."
Bronski said government interference might be more likely if Chick-fil-A was directly discriminating against LGBT customers.
"And if LGBT activists want to have a demonstration or a boycott," Bronski said, "that's a whole different thing."
Corey Prachniak-Rincón, director of the Massachusetts Commission on LGBTQ Youth, said the Commission appreciates local and state leaders who stand up to discrimination in any form.
"We have lots of data gathered over a course of decades to show that discrimination affects the mental health of LGBTQ youth," Prachniak-Rincón said. "It prevents them from seeking services. It can be really traumatizing and damaging for them to feel discrimination."
The Commission is concerned about discriminatory messages coming from positions of power, Prachniak-Rincón said, and the effect those messages have on LGBTQ youth.
"We have messages of hate and intolerance coming from positions of power — that seeps down to all other levels of society and has a really negative effect on our society as a whole and specifically those vulnerable groups," Prachniak-Rincón said.
Prachniak-Rincón also said he believes Massachusetts residents have proven themselves as people who believe in equality and equity for LGBTQ youth and who are against discrimination in all forms.
"I certainly think that anyone who comes into our state and tries to spread messages of intolerance does so against the popular opinion of the vast majority of the state," he said.
Lauren Carney, 26, of Fenway, said she thinks that expanding into Boston is a good way for Chick-fil-A to put their controversial past behind them.
"Coming into Boston, I think, is a great step to, I guess, like open up to all," Carney said. "And to include, you know, equality throughout their customer base as well."
Allston resident Ethan Bukowiec, 27, said he thinks preventing Chick-fil-A from coming to Boston because of their homophobic past should be an easy decision for the government to make.
"I think it should be pretty easy for the government to stall that and not let that happen, especially with the progressive movement that's been continuing to go on in the city," Bukowiec said. "So, I mean, it's funny that a Chick-fil-A is gonna be that much of a center of contention."
Bukowiec said he would not eat at Chick-fil-A if they open a location in Boston.
"There's plenty of better alternatives in the city," Bukowiec said. "Especially small businesses that can make a chicken sandwich 10 times better than something like that."
Rachael Barzey, 49, of Hyde Park, said that if Chick-fil-A is trying to change and becoming more accepting of the LGBTQ community, then she is fine with them coming to Boston.
"If they actively support everyone, all people, instead of just isolating people, then yeah, I have no problem with it," Barzey said.
Chick-fil-A did not respond to requests for comment on whether the company has changed its views about the LGBTQ community since the 2012 controversy.