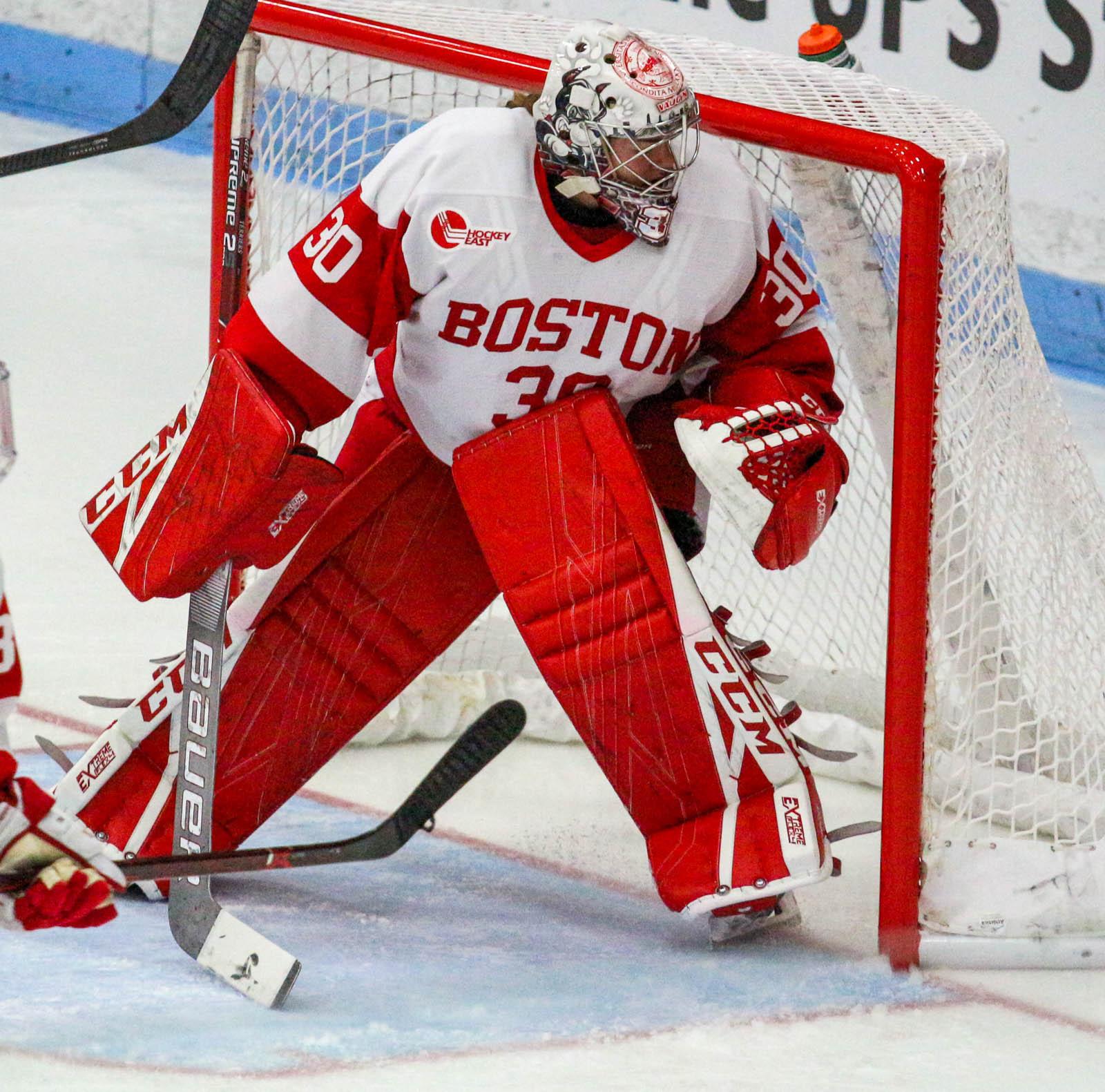 After picking up its second win of the season at the University of Connecticut, Boston University women's hockey is heading back to Walter Brown Arena to play two games against the University of Vermont Friday and Saturday.
BU (2-3-3, 2-3-3 Hockey East) picked up a road win against the Huskies in a dominant 4-1 win Friday evening thanks in part to a duo of goals from both Terrier sophomore Jesse Compher and redshirt senior Sammy Davis.
BU head coach Brian Durocher said he was impressed by how the two forwards performed Friday evening.
"They both shared the puck extremely well," Durocher said. "They both made big time plays. Certainly, they were catalysts to the win there yesterday."
Vermont (2-6-3, 2-5-1 Hockey East) will enter the series coming off a 0-2 shutout loss against No. 10 Providence College.
The Catamounts have struggled with scoring goals this year, scoring an average of 1.3 goals per game and never accumulating more than three goals in a game, while allowing 2.3 goals per game.
Despite offensive shortcomings, Vermont has still been able to play high-ranked teams in close matches.
The Catamounts played with significant pressure on the net against Providence (8-2) in their 0-2 loss, recording 24 shots against Friar goaltender Madison Myers who later earned the title Hockey East Defensive Player of the Week for her performance that weekend.
In its second and third most recent Hockey East matches, Vermont scored three goals in two games against the University of New Hampshire for a win and a tie.
Rather than looking at how their opponents' seasons have been, Durocher said he is more focused on the team getting its business done.
"I thought Vermont was going to be off to a better start than they were," Durocher said. "I know they're a well-coached team that works hard … but we have to take care of business in our own building."
Despite the team's record, 12 Catamounts are multi-point contributors, with junior forward Ève-Audrey Picard leading the way for the second straight year with six points.
Vermont has largely turned to senior goaltender Melissa Black, who has a .920 save percentage after eight matches.
However, the team's most recent win came while freshman goaltender Blanka Škodová was in net. During the week of Nov. 5, she held onto five shutout periods and earned the title of Hockey East Defensive Player of the Week.
The Catamounts currently sit one spot ahead of UNH, making it the eighth-seeded team in the Hockey East.
Meanwhile, BU is currently tied for fifth place with its win over UConn (6-5-1, 3-4-1 Hockey East) tying the two teams in the conference.
However, Durocher said focusing too hard on standings could lead the team astray.
"We got to go in there, don't look at the standings, don't look and see who's done what so far this year," Durocher said. "We have to get points or wins in as many games as we possibly can."
During the win against the Huskies, the Terriers went a perfect four-for-four on the penalty kill and managed to grab a lead in the second period rather than trying to come back from a deficit.
BU was able to handle the pressure from UConn, only allowing one goal and shutting the opposing team out in the first and third periods.
Durocher said that maintaining play throughout the entire match was important for the win to prevent the other team from coming up from behind.
"When you're only up by one goal and you're on the road, the other team is going to come," Durocher said. "I think we really carried the majority of the play, and we were solid the rest of the game."
The Terriers are not outpacing Vermont with their offensive production by much, scoring an average of 1.9 goals per game and allowing opponents to score 2.3 goals per game.
The last two games that BU played before this win were both 1-2 losses against Northeastern University and the University of Maine.
Each game had attempts at third period comebacks with 0-2 deficits that fell short.
After Friday's win against UConn, Durocher said that this home series could be a great opportunity for the Terriers to carry their momentum and build on confidence gained from a win.
"When [games] like this happen, people pick up confidence," Durocher said. "The fact that [we] got four goals, it generates excitement on the bench."