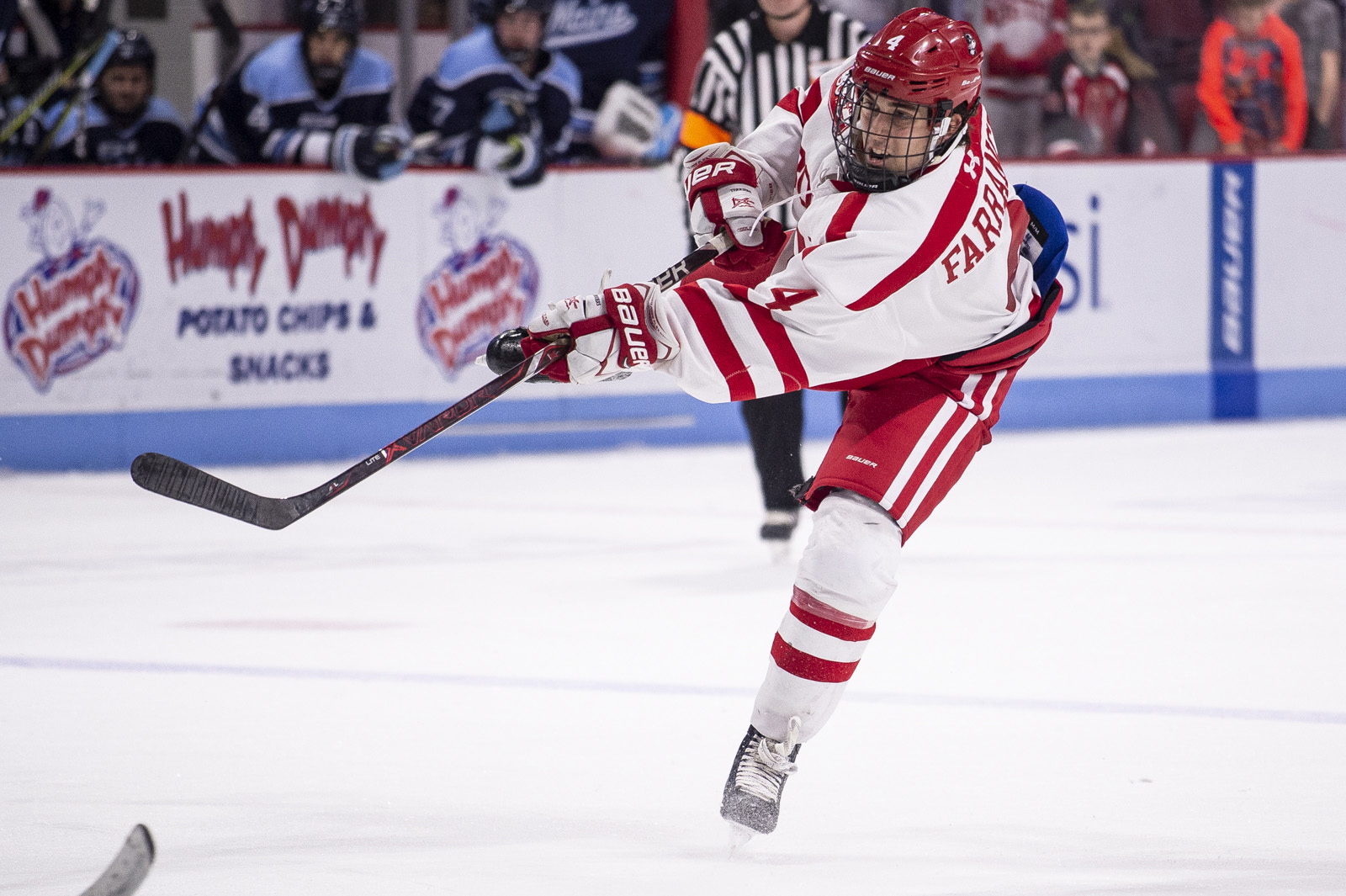 For the Boston University men's hockey team, sophomore defenseman David Farrance chose the perfect time to become a scoring threat Friday night against the University of Maine.
With 1:11 remaining in regulation, the Victor, New York, native collected and ripped an effort by goaltender Jeremy Swayman.
It was Farrance's first goal this season, and it helped the Terriers (3-4-1, 3-2-1 Hockey East) secure the 3-2 comeback victory over the Black Bears (3-5-1, 1-3-1 Hockey East) at Agganis Arena.
"It was a real good game," Maine head coach Red Gendron said. "It was hard fought on both sides. [BU] just got one more than we did. Three power play goals [from BU], and they executed on the power play better than we did. That's why they won the game."
Farrance's goal capped off what was a back-and-forth contest all night between the Hockey East foes.
Senior forward and co-captain Bobo Carpenter and freshman forward Joel Farabee also notched goals for BU, which, behind a 36-save outing from junior goaltender Jake Oettinger, extends their unbeaten streak to four matches.
"It's hard to get wins in these [college hockey] leagues, this league especially," Carpenter said postgame. "Whenever you can get two points, it's really good for the team [to help] build momentum, especially after the start we had. With three wins now [in BU's last four matches] we're kind of rolling now, which is really nice to have that under our belt and to keep moving forward."
While the Terriers eventually turned their luck around, their play early on suggested a setback. Shots were few and far between to start but with 5:28 remaining in the first period, Maine capitalized on its offensive prowess.
Forward Eduards Tralmaks' wrister went left-post by Oettinger to give the Black Bears the 1-0 advantage. Tralmaks' tally meant that Maine had outscored the Terriers 4-0 since its 3-0 win over them last January.
Behind a 14-save effort from Oettinger, BU entered intermission only down 1-0 despite also losing the shots on goal battle, 15-8, to the Black Bears.
"It was a slow first period … Between periods we talked about shooting the puck more," BU head coach O'Connell said about his team's improved offensive performance. "We were pretty frustrated … then as the game wore on, we had 22 shots in the second period. It was a tight game, and it could've gone either way."
As O'Connell said, out of intermission, it was as if a different BU team was on the ice.
With two minutes left in the period, suddenly the home team's misfortunes were quickly forgotten.
A penalty from Maine's Brandon Robbins put BU on the power-play with 3:08 remaining. After junior defenseman Dante Fabbro's shot found teammate Chad Krys, he sent the puck to Carpenter.
The North Reading native snuck it by Swayman, and his fifth goal of the season knotted it at 1-1.
Under a minute followed when Adam Dawe put the Terriers back on the PP with a holding penalty. That proved to be costly, as Farabee got by Swayman to put the Terriers up 2-1 with 1:12 left in the second period.
The Terriers entered the second halftime trumping the Black Bears in shots (27-16 SOG) and could have extended their lead, if not for a 20-save effort from Swayman.
Unfortunately for O'Connell's side, the third period saw them lose the lead they worked hard to attain.
With 5:54 remaining in the match, a loose puck in BU's zone found Maine forward Chase Pearson.
The Alpharetta, Georgia, native swung the puck to teammate Tim Doherty, who slotted it by Oettinger to make it a 2-2 game.
Like the second period however, it was only a matter of minutes before a wrist shot from Farrance produced the game-winner, allowing the Terriers to close out the Black Bears.
Both sides play again tomorrow night at Agganis Arena, and O'Connell said he hopes to see his team finish the way it did Friday night.
"Overall on the year, we haven't been great in the first three minutes or the last three minutes of periods," O'Connell admitted, "so that's been a focus for the team, but then the guys did a good job. They were positive on the bench, and there wasn't too much complaining even when things weren't totally going our way."