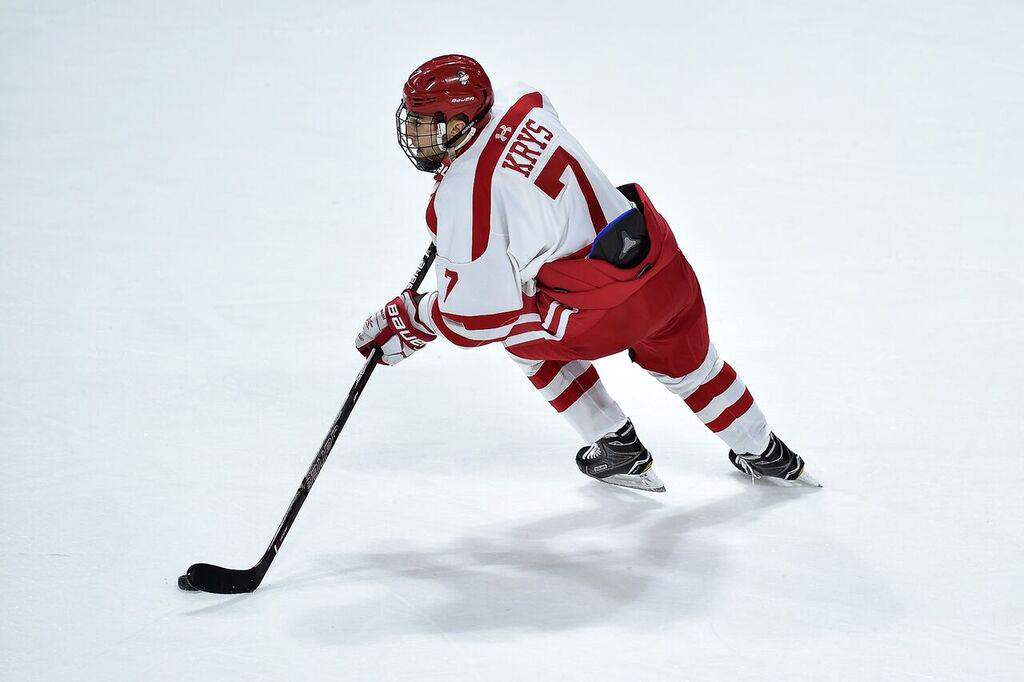 Following two back-to-back wins, the Boston University men's hockey team may have rebounded from a 0-4 start under new head coach Albie O'Connell.
O'Connell attributed the slow start in part to the caliber of teams the Terriers (2-4-1, 2-2-1 Hockey East) faced, which included three nationally ranked teams.
"For one, it was a tough schedule to start," O'Connell said. "Three of the four teams that we ended up losing to will be playing at the end, those are national tournament teams."
After going unbeaten in its last three games, BU has a chance this weekend to get back to .500 as the squad hosts the University of Maine for a two-game set.
According to O'Connell, the team has benefited from simplified play, improved special teams, increased confidence and the return of junior defenseman and assistant captain Chad Krys.
"I think we've simplified the game a little bit," O'Connell said. "I think we've shot the puck a little bit more, [and] having Chad Krys come back is helpful. The power play's been better, the penalty kill is more simple … guys are playing with a little more confidence."
Since returning to play Oct. 26, Krys has joined a three-way tie for third-most points on the team with five.
Krys echoed his coach's sentiment, stating the start of the season served as a transition period for the team's younger players.
"I think we've started just playing overall better hockey," Krys said. "I think we have a lot of young guys, [and] the beginning of the season can be tough when you have so many freshmen playing, and obviously we're a young team, overall, regardless of class, so I think early season struggles are nothing new around here, but I like the way we've started to turn it around."
The last time BU hosted the Black Bears (3-4-1, 1-2-1 Hockey East), then-freshman goaltender Jeremy Swayman blocked all 31 Terrier shots and backstopped his team it a 3-0 victory Jan. 6
This season, the Anchorage, Alaska, native has started all eight games in net for Maine, and his 2.99 goals against average and .909 save percentage put him at second and third worst in the conference, respectively.
In net for the Terriers will be junior goaltender and assistant captain Jake Oettinger. Although he is currently last in goals against average (3.43) and save percentage (.894), the former first round draft pick has been playing better as of late.
In November, Oettinger boasts a 1.96 goals against average and a .931 save percentage — O'Connell said he has seen a difference
"He seems like he's calmer in net, a little more relaxed, [and] he's not scrambling around as much," O'Connell said. "He's seeing the puck well right now, so that's a positive. I think the team is playing better too … hopefully it's all coming together,"
In Saturday's victory over the University of New Hampshire, Oettinger collected 17 saves in the 3-2 overtime contest.
Krys and sophomore forward Shane Bowers scored for the Terriers, with Bowers scoring twice.
Bowers is the only Terrier so far this season to score a goal at full strength, on the power play and short-handed.
Even though Krys missed the first three games of the season due to injury, the native of Ridgefield, Connecticut, is tied for third on the team with five points.
"Well, the power play is starting to score some goals, so that's always nice," Krys said. "I just try to play a simple game right now. Coming back from injury, [I] just kind of want to take day by day, game by game, so I'm just trying to make the simple plays and get involved when I can."
The Black Bears are led by junior forward and captain Chase Pearson, a Detroit Red Wings prospect who leads his team with seven points this season.
One area that neither team excels in is staying out of the penalty box.
Even though Maine has not played since its Nov. 3 loss to the University of Massachusetts Lowell, O'Connell said he thinks that his team has an advantage in certain areas.
"From a sharpness standpoint, hopefully we're a little sharp," O'Connell said. "From a rest standpoint, they're probably pretty well-rested and eager to play a game. I think we have an advantage in some ways, just because we've played games, but when it's all said and done, it's going to be whichever team can out compete the other and execute."
Maine leads the country in penalty minutes per contest with 19.88. The Terriers are not far behind at third in the nation with 18.00 per contest.
However, the Black Bears are seventh in the country with their penalty kill while BU is ranked 45th.
Even though the Terriers have struggled to kill off penalties, they do not struggle in scoring short-handed.
The Terriers enter the series having scored four short-handed goals this season — which has them tied for first in the nation with No. 10 Bowling Green State University and matched their season total from all of last season.
The importance of this game is not lost on the Terriers.
"It's four points that we need, so I think everybody is excited," Krys said. "We get two wins this weekend it gets us back to .500, so I think everyone knows what's on the line."