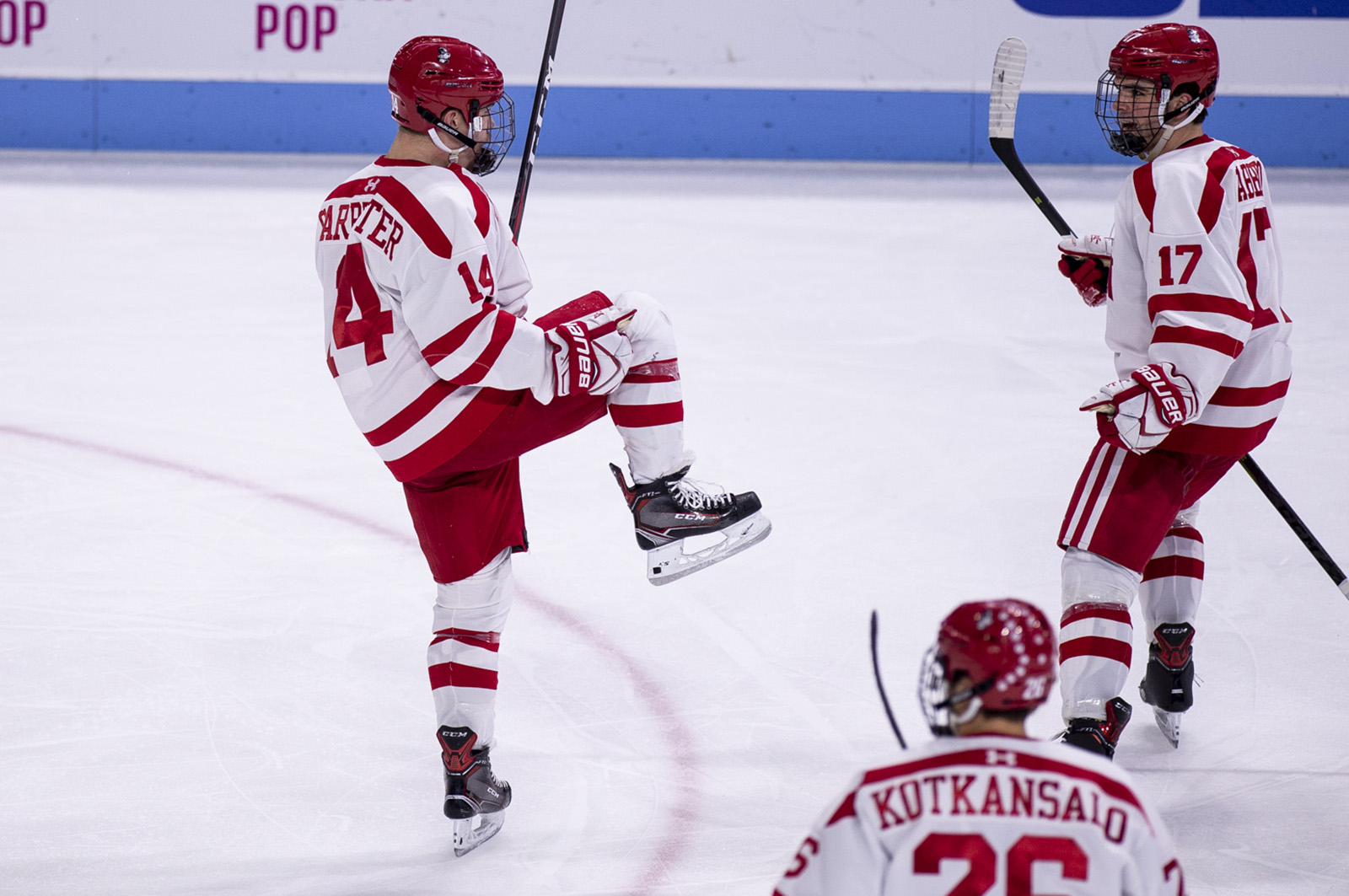 Riding a four-game unbeaten streak, the Boston University men's hockey team came into Saturday night's contest against the University of Maine looking to get back to .500. However, the Terriers (3-5-1, 3-3-1 Hockey East) could not overcome the Black Bears (4-5-1, 2-3-1) and dropped the contest 3-1.
"It's frustrating losing," BU head coach Albie O'Connell said. "We had plenty of opportunities in that first period to get up a couple goals. Their goalie made some big saves … We had plenty of chances to score through the game."
The Terriers pulled out a 3-2 victory Friday over the Black Bears and put themselves in a position to pick up their first sweep of the season.
However, just like the night before, the Black Bears struck first.
While on a power play, junior forward Chase Pearson fired a shot that BU junior goaltender and assistant captain Jake Oettinger blocked, but could not control the rebound. Black Bear forward Mitchell Fossier cleaned up the play and gave Maine a 1-0 lead at 10:58 in the first.
Senior defenseman Rob Michel also picked up an assist.
Both teams lost a defensemen to a game misconduct.
After a skirmish broke out near Oettinger, both Terrier sophomore David Farrance and Black Bear freshman Simon Butala received matching five minute majors and game misconducts for face masking.
"I don't know if it changes style, I just think we were down numbers," O'Connell said. "David's a dynamic defenseman, and he's played really well — he gives us offense from the blue line. It hurt our second power play unit for sure — it hurt our ability to get out and put guys in a to play more minutes than they usually do."
The Black Bears were able to take advantage of an early 4-on-4 opportunity in the second period.
With Terrier forward and co-captain Bobo Carpenter and Michel serving coinciding penalties for slashing, the Black Bears added to their lead.
Just 16 seconds into the penalties, Fossier backhanded a pass to Pearson, who then deposited the puck past Oettinger to put his team up 2-0 at 3:11 into the second period.
Sophomore defenseman Alexis Binner recorded a helper on the goal.
"… We blow an assignment, and they score a 4-on-4 goal," O'Connell said.
Just like the night before, Carpenter scored the Terriers' first goal of the contest.
At 9:50 in the period, Carpenter receive a pass from sophomore forward Logan Cockerill and proceeded to fire a shot from the left crease that Black Bear goaltender Jeremy Swayman could not stop — the Terriers were officially on the scoreboard.
Junior defenseman and co-captain Dante Fabbro added an assist.
Both Carpenter and Fabbro have recorded at least a point in each of their last five contests.
"I think [I'm] just shooting the puck and moving the puck quick," Fabbro said. "You say five-game point streak, but right now all I'm caring about is winning and helping this team getting in the right direction here and, like coach said, it's a frustrating loss."
Despite only having three shots on net in the third, Maine scored one more time, with under a minute left in the contest.
Pearson fired a shot from behind his team's blue line and found the empty net to add the insurance goal with 49.3 seconds left.
"I think we were just going to push as hard as we could," O'Connell said on his team's third period game plan. "We were pretty desperate. We talked about a little more simple [and] we talked about playing a vertical game … The simplicity of the game, it sinks in at times, and then we kind of just go up and down at it. It's frustrating."
Despite BU having five power play chances, they came out of the contest without a goal with the man advantage.
BU went three for six on their power play chances Friday.
"Last night, when we did the scoring chances, we had BU having four power play chances, right, not the number of power plays, but the scoring opportunities on the power plays," Maine head coach Red Gendron said. "… Three of them went in the net. Bottom line is that's what happened, and usually if the other team get five or six PPs, they don't score three times … Kudos to them for that."
Although the Terriers have suffered only one loss in their last five games, they are not happy with getting in their own way.
"I love to compete and hate losing, but it's just one of those things that comes with the game," Fabbro said. "But at the same time, we sometimes shoot ourselves in the foot."