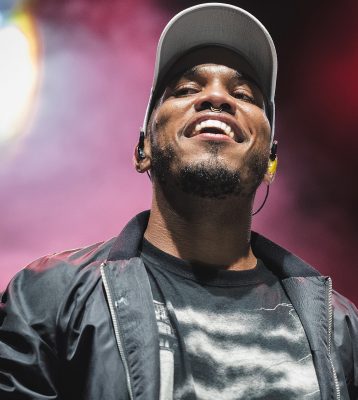 The term "neo-soul" may not come off as intimidating for most people, but being a breakout artist in the genre is a tough task.
The genre fuses facets of jazz and funk together, creating an organic sound that requires ruthless creativity. It entails competing with the likes of D'Angelo, Solange, Erykah Badu and Frank Ocean, artists whose innovative projects have converted the neo-soul landscape into one of the most critically acclaimed in recent memory.
Taking all this into account, standing out in the neo-soul scene requires making something remarkable. 
The work of Anderson .Paak is the newest cream to rise to the top of the neo-soul scene. Ever since his breakout as an artist in 2016, in which he released his successful solo project "Malibu" and his neglected collaboration with Knxwledge, "Yes Lawd!," .Paak has collaborated with some of music's biggest names.
In addition to his inclusion on Kendrick Lamar's soundtrack for the film "Black Panther," he put on an electrifying Grammy Awards performance in 2017, accompanying hip-hop legends A Tribe Called Quest and Busta Rhymes.
Performing his Tribe collaboration "Movin Backwards," .Paak only required his crisp voice and a drum kit to captivate the spectators.
Networking helped him assemble a tremendous ensemble for his newest album "Oxnard," which released Friday. Names such as Pusha T, Dr. Dre, Snoop Dogg, Kendrick Lamar and Tribe's own Q-Tip all appear on the record.
With a cast like this comes two possibilities — either they're utilized for their talent or their ability to hype up fans and add commercial value to the record. In this case, .Paak brought both name recognition to his record and his own shining personal touch.
For fans of .Paak, "Oxnard" was exactly what they were waiting for. Right from opening track "The Chase," .Paak's voice — accompanied by Kadhja Bonet — submerges the listener into a mirage of coolness. Charisma has long been .Paak's strength, and for his most committed listeners, the opener is an indicator that he hasn't lost his touch.
From there, the album gets progressively groovier and personal. The second track, "Headlow," adds unique percussion and electric guitar licks. But the lyrical content takes a different direction, featuring a story from .Paak about his public sexual escapades.
It becomes clear that even with huge names on the project, .Paak's storytelling abilities are the focal point.
But that's not to say the music isn't good, either. The album's two singles, "Tints" and "Who R U?" create a blatant sonic contrast. On "Tints," .Paak in a way plays it safe. With a traditional kick-snare drum pattern, synth backdrop and Kendrick Lamar feature, it's easy to see why this song is the most played number on the record.
It's popular for a reason, though, as each element blends together creating a violently catchy track reminiscent of .Paak's 2015 single "Am I Wrong."
On "Who R U?," .Paak conjures up memories of his performance with Tribe, using wonky percussion that blurs the line between the song's segments. "Tints" followed a traditional song structure and "Who R U?" flipped the structure on its head, yet both ooze amicable vibes.
The biggest features occur on the second half on the record, the highlight of which is Pusha T's verse on "Brother's Keeper."
His lyrics aren't that outlandish. Lyrics such as "Diamonds in the face, racing leather wheel" aren't going to turn any heads in the hip-hop community. But it's his aggressive vocal delivery that contrasts with the charismatic tone of the album's earlier tracks, making his inclusion on the record so emphatically pronounced.
As for .Paak's neo-soul side, it's at its strongest on "Cheers." With backing vocals by the incomparable Q-Tip, this track bleeds nostalgia. Horns? Check. Electric Keyboard? Check. One of the greatest rappers from hip-hop's golden age? Check.
Practically all of neo-soul's defining characteristics shine through on this track. It's an undeniable highlight on an album peppered with brilliant moments.
"Oxnard" isn't exactly a mind-blowing tour de force, but that's its only hindrance. The storytelling and musical elements are a pleasant amalgam that doesn't feel at all rushed or cringe-worthy. .Paak did what he's best at, and he established himself as neo-soul's newest force to be reckoned with through his most recent work.