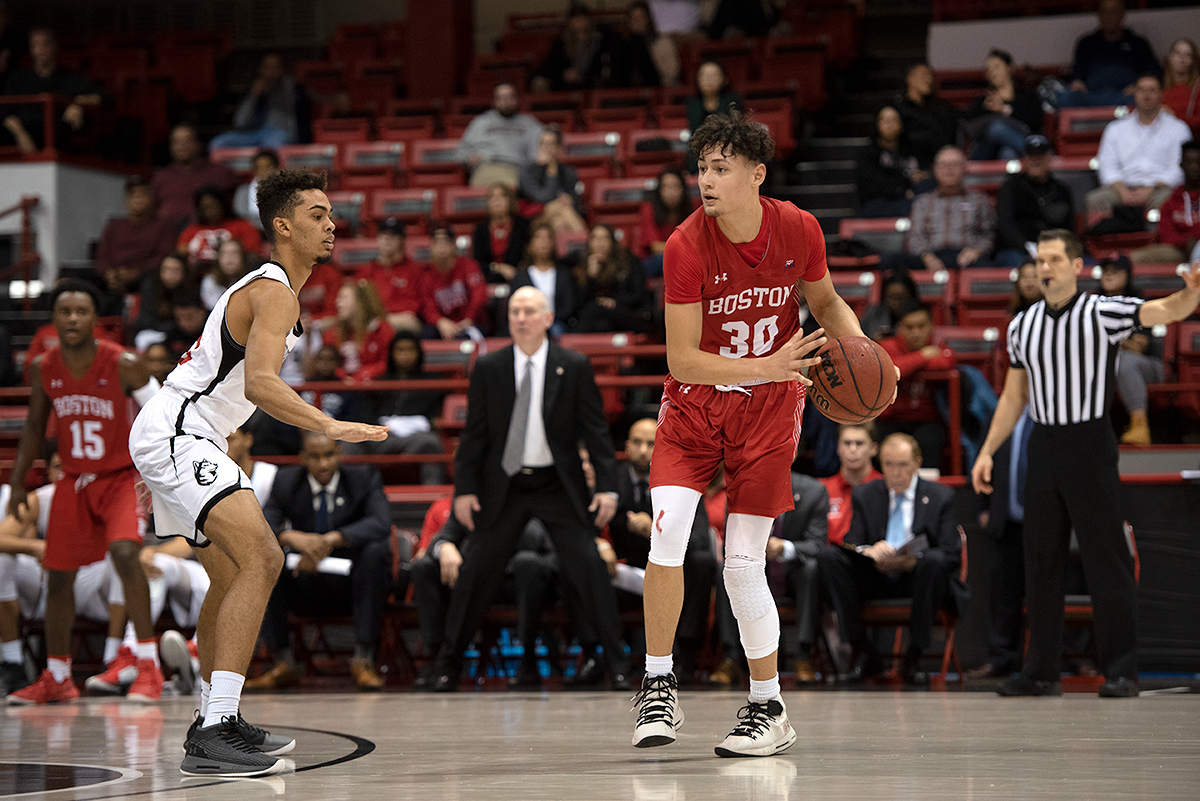 Boston University men's basketball extended its losing streak Friday to three with a 54-44 decision against Rutgers University, its fourth match in a six-game road trip.
BU (3-4) will make its penultimate stop in Durham, New Hampshire, Wednesday night to play the University of New Hampshire (2-4). The game will also give the Terriers a chance to earn their 100th win against UNH in the series' 100th year, dating back to the 1908-1909 season.
BU head coach Joe Jones said the Terriers will have to prepare against the Wildcats, a team he said has an impressive fight.
"It's a team that hasn't put it together yet, but they got talent," Jones said. "They have a lot of guys who can take shots and play hard. It's going to be a tough game. It's always a tough game."
UNH will also be looking to break a three-game losing streak, with its most recent coming Saturday afternoon from a 66-91 loss against the University of Connecticut.
In that game, the Wildcats came close with 16:06 left in the half by only trailing by one. UConn (5-1) followed with an 8-0 run a little over two minutes later. The Huskies led the entire match after scoring the opening field goal.
The game was the second straight during which senior guard and top scorer Jordan Reed scored 17 points. During the season, Reed has produced 67 points for an average of 11.2 per game while shooting at 53.3 percent.
Reed and his teammates will be following a historic 2018 graduating class, which earned the most wins in program history.
The team had been led by then-senior forward Tanner Leissner, who was named to the All-America East First Team three times and broke UNH's all-time record for points scored.
Leissner averaged 18.7 points per game last season — the only average to hit double-digits.
"They have a lot of young guys," Jones said. "A lot of guys are playing in different positions to put up some points."
This season, Reed is joined with sophomore guards Elijah Jordan and Josh Hopkins also averaging 11.0 and 10.0 points per game, respectively.
BU will enter the match on a three-game winning streak against the Wildcats after claiming a 70-69 victory almost a year ago won off of a free throw from sophomore guard Javante McCoy with less than three seconds left in the match.
Three of the Terriers' starting five — junior forwards Max Mahoney and Tyler Scanlon, and McCoy — have also been putting up double-digit efforts, with Mahoney's 14.3 per game leading the way.
Against Rutgers (4-1), McCoy and Mahoney were both held to single-digit production with Mahoney producing a season-low seven points.
The team allowed less than 60 points from a major conference foe for the first time in nearly two years by keeping the Scarlet Knights shooting at a season-low 32.1 percent in the field.
Jones said he saw a need to return to the sort of energy BU played with in its first three Division I matches, but that the team's downswings were to be expected in a long road series with a team boasting six newcomers.
"In the Rutgers game, I thought we played very hard defensively," Jones said. "We just couldn't make shots. … I saw some great things in that Rutgers game, and I like the way we started the season, but I'm certainly not surprised that we can struggle at times with so many road games in a row."