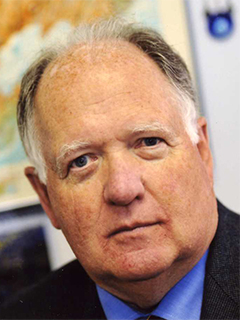 Boston University professor and U.S. Navy veteran Michael Corgan died unexpectedly on Nov. 20 at age 77 due to complications from a cancer-related surgery.
Corgan, an associate professor of international relations at the Frederick S. Pardee School of Global Studies, was well-loved by faculty and students, said William Grimes, associate dean for academic affairs and professor of international relations at Pardee.
"He was wonderful, he was somebody who really cared about teaching and about learning and about excellence," Grimes, who worked with Corgan for years, said. "He was one of the legendary teachers at BU."
Corgan was a surface warfare officer in the Navy with two combat tours, and was an instructor at the U.S. Naval Academy.
He taught an estimated 12,000 students during his tenure at BU, Grimes said, and more if you count his time as a teaching fellow.
"One of the things about Mike was he was able to command a room, he was a big guy, and he'd been in the Navy for a long time," Grimes said. "He had this big, booming voice and a great presence and a great sense of humor."
Grimes said Corgan's legacy will be defined by his drive and contribution to Pardee's international relations curriculum.
"His legacy was to create a class that worked extraordinarily well," Grimes said, "and [he] brought students up to speed very quickly, dealing with the politics and economics and history that students need to understand for international relations."
Pardee Dean Adil Najam said Corgan's death was a major shock.
"I literally received a message from him literally the day before saying how well things had gone, but it turned out that there was a complication which eventually took his life," Najam said. "This is a shock that even now, every time I think about it, I cannot wrap my head around."
Najam praised Corgan's contributions to Pardee and BU.
"He was truly well-loved by his colleagues on the faculty, he was truly well loved by the staff, but most of all, he was well loved by his students," Najam said. "He had the wit as well as the wisdom to keep students not just awake, but alive and interested at 8 a.m."
Erik Goldstein, an international relations and history professor in Pardee, said he has worked closely with Corgan since coming to BU.
"Professor Corgan was the first person I met at Boston University when I came here to be interviewed, and I worked closely with him ever since," Goldstein said. "He really was one of the anchors of the department."
After coming to BU, Najam said, Corgan was a big influence on the Department of International Relations, and later, Pardee.
"Mike Corgan was truly one of those few people … who created the foundations of what is now the Pardee school," Najam said. "The Pardee school could not have become what it is but for the contributions of Mike Corgan."