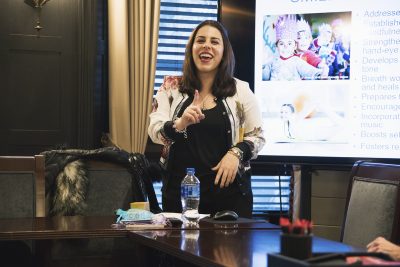 For Boston University alumna Danielle De La Fuente, helping displaced children in refugee camps around the world seemed to be the best use of her degree from Boston University's Frederick S. Pardee School of Global Studies.
In 2017, De La Fuente founded The Amal Alliance, a non-governmental organization "dedicated to empowering displaced children through social development programs at refugee camps and informal settlements around the globe," according to the organization's website.
De La Fuente discussed her role in the NGO at "Plight of Refugees: Social Inclusion in a Migration Context," which was hosted at Pardee.
She said her time in Greece, where she first saw the lifelessness and despair among children in refugee camps, inspired her to create The Amal Alliance.
"Moving past extreme poverty were the eyes of the children," De La Fuente said in the talk. "These children had nothing to live for. That is a reality I choose not to accept, and I decided to do something about it."
After this experience, De La Fuente said she found few organizations working to improve the lives of children in refugees camps. Seeing this, she decided to focus The Amal Alliance on helping displaced and refugee children "by turning on the inner light and dissolving the darkness that surrounds them."
The Amal Alliance gets its name "Amal" from the Arabic word for hope and the Malaysian word for charity, while "Alliance" represents the organization's efforts to empower and bring people together, De La Fuente said in an interview.
Since 2017, De La Fuente said she has expanded the reach of the nonprofit to work with children in the United States, Greece and Lebanon with projects in Kenya, Mexico, Uganda and Turkey on the horizon.
She said The Amal Alliance takes on a holistic approach to education and helps provide a sense of normalcy to childhood.
De La Fuente discussed several of the programs the Amal Alliance offers, including Smile 4 Happiness, which is involves recreational activities, athletics, mindfulness and creativity. The alliance also created Reading 4 All, which offers informal educational programs for children that help them learn to read and that are considerate of language barriers.
All of the programs emphasize developing motor and cognitive skills as part of the children's' education, De La Fuente said.
"Movement is the foundation for all learning," she said in the talk. "We use yoga, dance, arts and crafts to relax the nervous system to make learning fun and approachable. The idea is to restore their identity that they have lost. Mindfulness and play counter the effects of stress."
Noora Lori, assistant professor of international relations in Pardee, said the refugee crisis is creating a population "that is completely disenfranchised."
"Human migration is as old as human beings themselves," she said. "We have made this crisis. This is a manmade crisis. The real injustice is the fact that even after people have moved, we don't let them register their kids or let them work."
Lori also discussed how students can get involved in helping end the refugee crisis in Boston.
"There are immigrant communities in Boston that need support," she said. "Fighting discrimination at every level is really important. Don't call other humans illegal. Only acts can be illegal."
Avisha Goyal, a junior in Pardee, attended the talk and said she was drawn to it because she wanted to expand her knowledge on the topic.
"I am taking a class on refugee politics and was interested in learning more," she said.
Goyal said that as an international relations major, she is interested in non-governmental organizations and politics. After hearing De La Fuente speak at the event, Goyal said she was looking to get involved with The Amal Alliance herself.
"I am going to fill out an application shortly," she said.
CORRECTION: A previous version of this article misstated the speaker's last name as "La Fuente." An updated version reflects this.