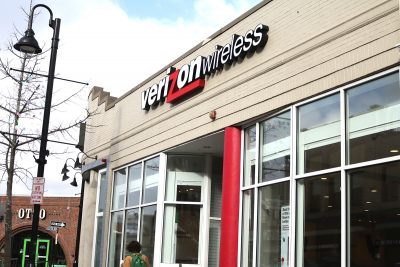 Boston Mayor Martin Walsh announced a new partnership with Verizon on Nov. 20. The alliance will make Boston one of the most technologically advanced cities in the United States, according to a press release from Walsh's office.
The partnership is an expansion of Verizon's 2016 commitment to bring its fiber-optic Fios network to Boston, according to the release.
Under the new 10-year wireless agreement, Verizon will expand its wireless small cell network in Boston to make its existing 4G LTE network more efficient in terms of speed and capacity.
David Weissmann, public relations manager for Verizon, said the company is very excited to further their relationship with Boston.
"This is really just an extension and a growing of that existing relationship that has been beneficial to both the city and Verizon," Weissmann said.
Verizon plans to expand relationships with universities in the Boston area to attract young talent, according to a press release from the company.
"Boston [University] and the other universities in Cambridge and the surrounding areas are giving us high-quality employees who are designing our network and creating an opportunity for us," Weismann said.
Verizon also made an original $300 million investment to build a 100 percent fiber-optic network platform across the city. With the expansion of Verizon's wireless cellular network, their total investment nears $600 million.
The City of Boston will implement a streamlined permit process for Verizon for installing new small cells. The City's press release stated the partnership is a reflection of the City's commitment to enabling a more competitive broadband marketplace to ensure that Boston residents and businesses can choose from a more varied and affordable range of high-speed internet options.
Other efforts by Walsh's office regarding technology include continuing to protect net neutrality, supporting Boston's Digital Equity Fund and expanding WiFi hotspots to be accessible outside through the Wicked Free Wi-Fi initiative.
Boston's Digital Equity Fund, which was launched last year, dedicates $35,000 to grants for non-profit organizations that promote the City's goal of ensuring that all residents have equal access to innovative digital services.
"Our partnership with Verizon reflects one goal: to make sure all of Boston's residents have access to the most advanced digital technology both now, and in the future," Walsh said in the City's release. "We're making sure Boston is the best digital city in the nation, and through partnerships with companies like Verizon, residents will have better, more affordable options, as we work together to create inclusive growth for our city."
Verizon will contribute an additional $1 million to the Boston Digital Equity Fund over eight years to help support these community-based organizations that provide residents with affordable broadband access.
Verizon also announced its plans to do a long-term lease in The Hub on Causeway, which will include 16 floors and more than 450,000 square feet, with five floors solely reserved for incubators, accelerators and partners of the company.
The company plans to expand their local wireless network and to provide remaining neighborhoods in the city with access to Fios Internet and TV, according to the Verizon release.
Kyle Malady, chief technology officer at Verizon, said the City of Boston has been a great partner to Verizon in building the digital capacity of the city.
"Together we're creating a platform of innovation with the latest technology that will benefit Boston residents, businesses, universities, first responders and visitors for decades to come," Malady said in the Verizon release.
Carol Wirtz, 29, of Brighton, said she was excited to have more technological choices.
"I think it's about time," Wirtz said. "There's really not that much out there for sources. There's Comcast, there's RCN, there's Verizon Fios, but that's been a little bit behind compared to all the rest for high speed price."
Frank Garro, 56, of Back Bay, said he was excited for the prospect of the government having a stake in technological infrastructure.
"I think that infrastructure like that should be socialized," Garro said. "It should be run by the government. I think it's a good thing."
Angela Borzell, 30, of Brookline, said she felt unsure about the fast developing pace of new technology in Boston.
"[Boston] is a city full of universities and the best in the world, and people from all over the world come here, and I think it should be at the top of the line when it comes to internet," Borzell said.