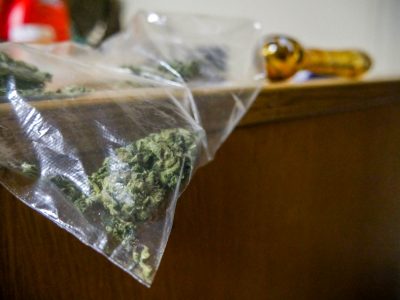 The first two legal recreational marijuana dispensaries in Massachusetts opened Nov. 20 in Leicester and Northampton, and as of Sunday, had together made more than $2 million in revenue.
The state Cannabis Control Commission reported that a total of 56,380 units from the two shops were purchased in the first five days of business, with an average of 3.4 units per transaction. Customers spent an average of $39.33 on each unit purchased.
Massachusetts voters approved legalizing recreational marijuana for those over the age of 21 in 2016, but the CCC did not vote to approve the first final licenses for marijuana establishments until October of this year.
While recreational marijuana is now legal, more than 80 communities have banned recreational cannabis dispensaries as of July, though 53.6 percent of Massachusetts voters supported legalizing recreational marijuana in 2016. Another 110 communities enacted moratoriums on the opening of dispensaries.
Cultivate, located in Leicester, was one of the first two marijuana dispensaries to open in the state after receiving approval from the CCC.
"We are honored to be making history today and want to thank the Town of Leicester and Cannabis Control Commission for their hard work in delivering on what the people of Massachusetts voted for over two-years ago," said Sam Barber, CEO and founder of Cultivate, in a press release.
Before approving licenses for cannabis shops, the CCC did background checks on businesses. According to the CCC, the businesses must follow their mandatory seed-to-sale tracking system.
"We are so excited to finally have the the public try the products we've obsessed over for the past year. At the same time, we will be educating them about safe storage, use and, of course, the regulations," Barber said in the release.
Cultivate said in the release they plan to create more jobs next year and currently have 35 people working for the business full-time.
Ross Hurlock, 23, of Watertown, said he thinks the marijuana industry will benefit large businesses.
"I mean, there are going to be some local Massachusetts residents who are going to do quite well, but I suspect that it'll be the big players who will do well," Hurlock said.
Maurice Palmer, 24, of Jamaica Plain, said he thinks that people of different generations will have various reactions to marijuana use. In particular, he said, young people will be more accepting toward use of the substance.
"I feel like millennials and the younger generation — they don't really care that much, it's just kind of like, 'Do your own thing,'" he said.
Seth Blumenthal, a lecturer in Boston University's College of Arts and Sciences, taught a writing course on marijuana in American history and said many suburban areas have a "not in my backyard," or NIMBY, mentality toward the drug. He said people in these areas have made efforts to ban the establishment of marijuana retailers in their towns.
"It is a classic example of NIMBYism because in 2016, 55 percent of residents in Massachusetts voted in favor of legalizing recreational marijuana," Blumenthal said.
Blumenthal spoke to the Newton City Council as an expert on behalf of marijuana dispensaries. He said he was brought in after a group of residents, who called themselves "opt-out" advocates, moved to ban dispensaries in the city.
Blumenthal said he thinks the movement to ban marijuana shops in individual towns is ironic in a state where marijuana is legal.
"The idea that these people in these towns will be buying and consuming marijuana in large quantities, but that it's not OK to have pot shops in their own towns, I think perpetuates this sort of embarrassing tradition," Blumenthal said.
Jon Ericksen, 25, of Brighton, said he thinks new marijuana businesses will be beneficial for the finances of the state, as the criminal justice system will no longer spend as much money on prosecuting marijuana-related crimes and marijuana purchases will add to the economy.
"While it's criminalized, you're just creating a hassle for the criminal justice system, having to arrest those people," Ericksen said. "But making it legal, you can just flip that and make the money go towards the state."
Joel Lau, Chloe Jepsen, and Shayna Scott contributed to the reporting of this story.