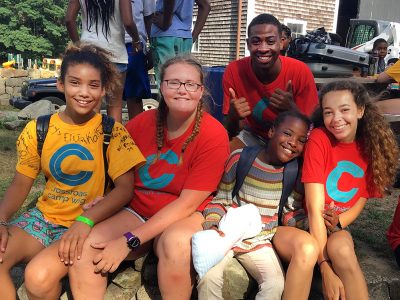 Boston Mayor Martin Walsh and Boston Police Commissioner William Gross announced Tuesday the recipients of the Boston Police Department's $500,000 Youth Development Fund.
There are 20 organizations that will each receive $25,000 to help give Boston's young people the opportunities to be successful, according to a press release from Walsh's office. The YDF's funding for this year is double the total of last year.
Walsh said in the release that education, development programs and safe environments help give young people the opportunities they need.
"The Boston Police are a major partner in this, and I'm proud that today we're able to fund 20 great organizations that will make a lasting difference in the lives of Boston's youth for years to come," Walsh said.
City Council President Andrea Campbell wrote in an email that several young people involved in programs that receiving YDF funding testified at a Council hearing. They said that without these programs, they might be dead or incarcerated.
"The jobs, skills, and relationships young people build through these programs are critical to breaking cycles of inequity, especially for young people of color, and ensuring they reach their God-given potentials," Campbell wrote.
Kate Morneault, 24, of South Boston, volunteers at local high schools and said she thinks it is important to provide the city's youth with adequate resources.
"I think a lot of younger youths sometimes don't have the support they need at home," Morneault said. "So it's always good to see mentors from other organizations or programs that can kind of reach out and help the students or younger kids that don't have the support they need otherwise."
Stephanie Berkowitz is the director of external relations for the Center for Teen Empowerment, one of the groups receiving money from the YDF. Berkowitz said the organization employs and trains young adults aged 14 to 21 in Dorchester and Roxbury by collaborating with older adults to solve issues that exist in their community.
"Part of our work is involving young people and youth voices, really, in the public policy process, trying to get youth voices into the rooms when officials are making decisions," Berkowitz said.
BalletRox, an organization receiving funding from the YDF, teaches dance classes to students in Boston Public Schools. Carol Knox, executive director of BalletRox, said the group will use its funding to pay the five instructors in their community dance program.
"We're just thrilled to receive this grant," Knox said. "It will make a huge difference for the kids in our program, so we are really excited about it and looking forward to working with the police department in the coming year."
Youth organization All Dorchester Sports and Leadership, which uses athletics to foster teamwork and equality, is also receiving funding. ADSL Executive Director Candice Gartley said the group will use the funds its given for staffing.
"We could have all the curriculum in the world and all the material in the world," Gartley said, "but if we don't have anyone to administer it, it is useless."
Alex Cuprinski, communications director of Crossroads — another group receiving funding — wrote in an email that the organization's C5 Leaders five-year program aids middle and high school students from underserved communities.
The funding will be allocated to fund a weekend C5 event, community service opportunities and a 25-day summer leadership camp, Cupriski wrote.
"We are proud to serve our Boston communities and believe all young people," Cupriski wrote, "regardless of zip code or circumstances, should have full access to opportunities, networks and skill-building experiences that help them to succeed in their schools, communities and chosen postsecondary pathways."
Sheila Belot, 43, of Hyde Park, said she recognized the importance of the donations, as they provide an opportunity for Boston youth to develop lives as upstanding citizens.
"Why not have some community-based donations catered to the youths to basically keep them out of trouble, to keep them out of the streets?" Belot said. "I think it's a great thing that they're doing."
Julia Sullivan contributed to the reporting of this article.