Boston University's College of Engineering announced Monday that professor Muhammad Zaman has partnered with global healthcare venture capital business Merck Global Health to distribute a device that identifies poor quality and counterfeit medicines.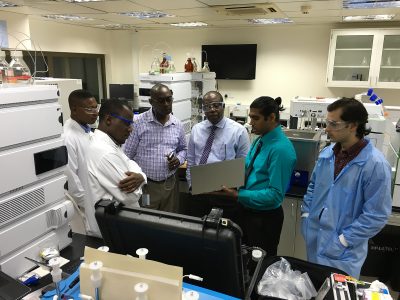 More than 130,000 people die annually due to poor quality medicines, according to the World Health Organization. The device, called PharmaChk, helps people identify dangerous medicines before ingesting them.
Zaman said his partnership with Merck has been "essential" in helping to ensure the device aids low- and middle-income communities.
"They have decades of experience really understanding the complex challenges in low-income countries," Zaman said. "They have both the business expertise and technical expertise, and what we bring is ingenuity and engineering expertise."
Zaman said his end goal was to increase the chances that customers get the quality of medicine "that they deserve."
"Our hope is by improving the quality of medicine from all point[s] in the supply chain, we'll be able to ensure that poor quality medicines are not entering the market," Zaman said.
Katie Clifford, program coordinator for BU's global health initiative, said that she hopes Merck will work with the team to accelerate the process of getting the device to market.
"Merck is a massive company, and they have the expertise and the knowhow and the relationships to do something like that," Clifford said.
The PharmaChk device is approximately the size of a briefcase and works by dissolving a pill in a probe mixture that creates a light signature, Clifford said. Based on the light signature, the device can detect how many of the drug's active ingredients are in the pill.
"What we can do is give someone an answer right then and there within 15 minutes to tell them if medicine is good," Clifford said.
Darash Desai, a senior research scientist at BU, wrote in an email that he started working on the device with Zaman in 2010. Much of his family grew up in India and Kenya, where they were affected by poor quality medication.
"I've seen many of my family contact malaria several times — my grandmother had it three times; it's also one of the leading killer of infants and children under 5. Unfortunately, medicines for malaria in these areas are one of the most counterfeited and poor quality pharmaceutical products, causing unnecessary deaths due to poor treatment," Desai wrote.
Desai wrote that his time working on PharmaChk has been a "really positive experience," and that he is looking forward to working with Merck in the future.
"This is a serious problem that affects millions in low and middle income countries, so anything we can do increase access to Iife-saving drugs is of the utmost importance to us," Desai wrote.
Low quality drugs in countries in Southeast Asia and Africa have become a major issue, as there is currently no efficient and affordable system to test them, Clifford said. PharmaChk's goal is to prevent these dangerous problem drugs from being sold to consumers.
In 2018, the World Health Organization estimated that one in 10 medical products in low- and middle-income countries is substandard or falsified.
The PharmaChk device, which Clifford said started being developed in 2012, is now in its third prototype. Clifford said the current version has gone through major changes focused around increased automation to make the device more user-friendly.
"It's based on watching people use it and having them tell us directly what design things they would change," Clifford said.
The team has been traveling to countries such as Ghana for the past several years to solicit feedback from potential users, Clifford said.
Boston University has been extremely supportive during the process of the development, Clifford added, providing necessary technological and support services.
Mary Angjeli, a junior at the College of Engineering, said that BU's resources are helpful for students majoring in biomedical engineering.
"BU's a great research school," Angjeli said. "It's really easy to get research here because there's a lot of opportunities."
Rebecca Williams, a senior at the College of Engineering, said that a lot of people at Boston University and in Boston are working on biomedical products designed to improve global health.
"I think Boston being a hub for high-tech stuff makes it readily available to do more low-tech to help a more global population," Williams said.
Zaman, who received his doctorate in chemistry from the University of Chicago in 2003, has won several research and teaching awards.
Astrid Vermeulen, a senior at the College of Engineering, said she took a class from Zaman and enjoyed having him as a teacher.
"I really liked him as a professor because he didn't focus too much on textbook-heavy information, but took it to a broader perspective and talked about some global issues in the world," she said.
CORRECTION: A previous version of this article misstated Desai's gender. An updated version of this article reflects this correction.