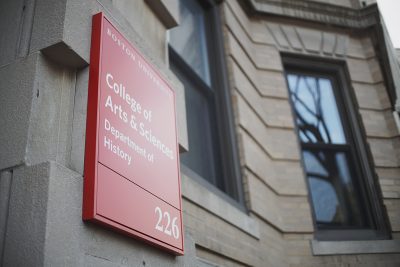 Of all the major academic disciplines, history saw the steepest decline in the number of bachelor's degrees awarded in the 2016-2017 academic year, according to the 2018 American Historical Association Majors Report released Monday.
The report showed the number of history majors has been in steady decline since 2011, but hit an all-time low in 2017 with 1,500 fewer majors reported than in the previous year.
Benjamin Siegel, assistant professor of history at Boston University, said the report didn't come as a surprise and confirmed what he and his associates have seen anecdotally since 2008.
"There's the question of students," Siegel said. "Students are concerned about majoring in something that they see as not delivering some of the immediate financial returns that other majors might, specifically that STEM fields might."
But despite students who believe that majoring in history will bring less financial success post-graduation than other degrees, Seigel said he's seen differently at BU.
"The average earning power between a student majoring in history and, say, IR is not very big at all," he said. "Certainly there's a difference between the earning power of a history major and someone who's getting an engineering degree."
Siegel said he and his associates have been working to find new ways to make history more appealing to students.
"I think it's more important now than ever that we're able to explain what historical study is — why it matters, how it speaks to the biggest concerns that our undergraduates are wrestling with and what society as a whole is reckoning and wrestling with," Siegel said.
The report stated anxiety over career prospects as the major concern for students considering studying history.
"The timing of the trend strongly suggests that students have changed their expectations of college majors in the aftermath of the economic shifts of 2008. That the declines have continued among students who entered college well into the economic recovery shows that the shifts are not just a temporary response to a missing job market," the report states.
The report added that along with history, other humanities such as sociology, anthropology and political science have faced declining numbers of students, as well.
In contrast, the number of students awarded degrees in science and engineering has continued to grow since 2000, according to the National Science Foundation.
Sebastian Porreca, a freshman in the College of Arts in Sciences studying history, said he was saddened by the report's findings.
"I feel like a lot of people steer away from humanities majors nowadays," Porreca said. "Looking at the job market, people are more inclined to become STEM majors and chase the money."
Porreca said it is often hard to find other students also studying history at BU.
"When I just talk about what people are studying, there really isn't a lot of people who say history," he said. "It is kind of concerning. There are so many newer developments that can be attributed to history."
CAS sophomore Angelina Downs said she thought the number of majors could be declining due to students' fears about income in the future.
"Especially in our generation that grew up during the housing crisis and that entire era, we're kind of fearful of unemployment and fearful of following a dream instead of making money," Downs said.
Nathaniel Tan, a junior in the College of Fine Arts, also said he thought the decline had to do with job prospects after college.
"I think that there are many more majors to declare that are interesting," Tan said. "There are more job propositions for other majors."
Tan, a theater major, said he understood the uncertainty the comes more with certain paths of study.  
"STEM is very useful, very popular in society," he said. "It's definitely good that the trend is heading that way, but we still need history and social science majors."
Shayna Scott contributed to the reporting of this article.