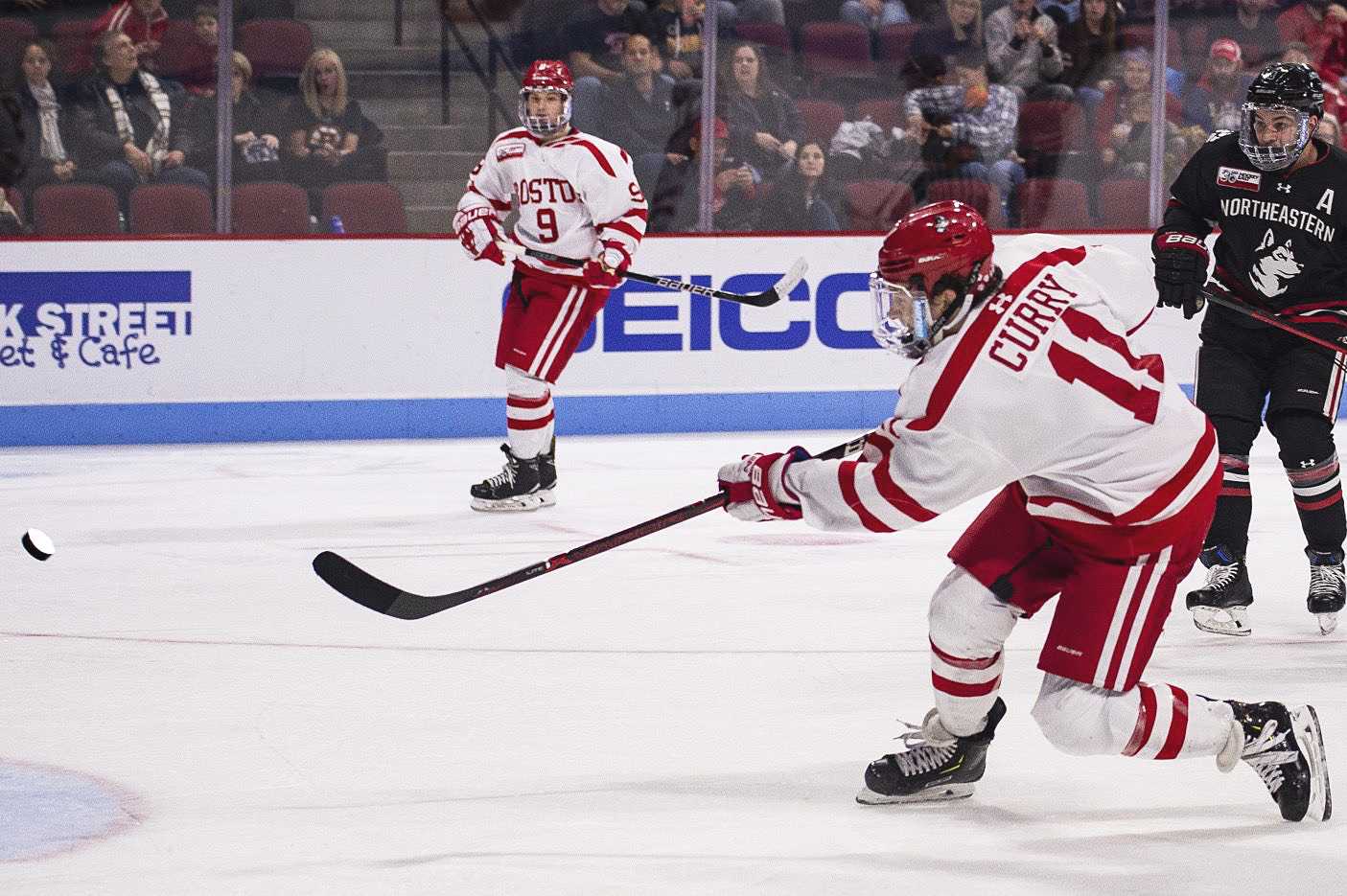 What has been described as the greatest rivalry in college hockey returns to Commonwealth Avenue this weekend as the Boston University men's hockey team will take on Boston College in a home-and-home series.
"There's a few [rivalries] in college hockey that are kind of key rivalry games, and BU/BC has always [brought] out the best in each other," said BU (4-6-1, 4-3-1 Hockey East) head coach Albie O'Connell. "It's always really competitive, and you can kind of throw out the records a lot of the time."
The Terriers are playing their first game since losing 1-2 to No.11 Union College in the Friendship Four championship game Saturday.
Sophomore forward Ty Amonte scored for the Terriers.
The night prior, the Terriers downed University Of Connecticut in the opening round of the tournament 3-2 with forwards sophomore Logan Cockerill, junior Patrick Curry and Amonte scoring for BU.
Curry now has four goals this season, tying his career high set last season.
O'Connell said that he saw ways for the team to improve during last weekend's games.
"We want to be a little more machine-like, and we're not," O'Connell said. "We're not there yet, [but] we're getting there, so that was the message this week — that we got to be more consistent in the way we compete."
Amonte's goal was his first since the Hockey East semifinals against BC (3-6-1, 3-1-1 Hockey East) last season.
"He's played really well," O'Connell said about Amonte. "It's nice to see him get rewarded. I know versus Maine he hit a pipe. … He plays hard. If we had a lot of Ty Amonte's, I'd be really excited."
The Terriers and the Eagles split the regular season series last year, with each team winning on the road. However, the Terriers defeated the Eagles in overtime during the Hockey East semifinals, which ended BC's season.
Curry scored the game winner in that contest.
This season, Eagles junior forward David Cotton's 10 goals so far not only leads the conference, but also has him tied for second in the nation with Arizona State sophomore forward Johnny Walker, whom Curry is two goals behind.
Cotton is currently riding a five-game point streak. The Parker, Texas, native also has four assists this season, factoring into 14 of the Eagles 21 goals this season.
Eagles sophomore forward Logan Hutsko has nine points in his last six games.
"Hutsko for them was probably one of the hottest players in the country in the second half of the year last year," O'Connell said. "He's a guy that we're going to have to watch."
Terriers' junior goaltender and assistant captain Jake Oettinger will be tasked with slowing down an Eagles offense that averages 2.10 goals per game.
Since Nov. 1, Oettinger boosts a .939 save percentage and a 1.99 goals against average, which is good for second and third in the conference, respectively.
His counterpart in net, junior goaltender Joseph Woll, has been just as good since the start of the month. His .937 save percentage and 1.79 goals against average are good for third and second in the conference, respectively.
Junior defenseman and captain Dante Fabbro leads BU in points this season with 12 while senior forward and captain Bobo Carpenter paces the team with six goals.
Fabbro's 10 points are tied for the most in Hockey East with No.10 Providence College's junior defenseman Jacob Bryson.
The bloodlines for this rivalry run deep for BU, as both Amonte and junior defenseman and assistant captain Chad Krys' fathers played in this rivalry.
"It means a lot," Amonte said. "My mom went to BC, and my dad obviously went to BU, so I got a lot friends on BC, but there's no friends out there. It's a huge rivalry, and I just want to beat them really bad."
Although the Terriers sit at 4-6-1 this year, the team has seen improvement since the beginning of the season when they started out 0-3.
"We're really progressing as a team," Amonte said. "You can see it when we go back and watch film. We're getting better every week and just becoming more clean and more crisp. … Everyone senses that, and I think that this is the weekend where we can really prove that we're one of the top teams."