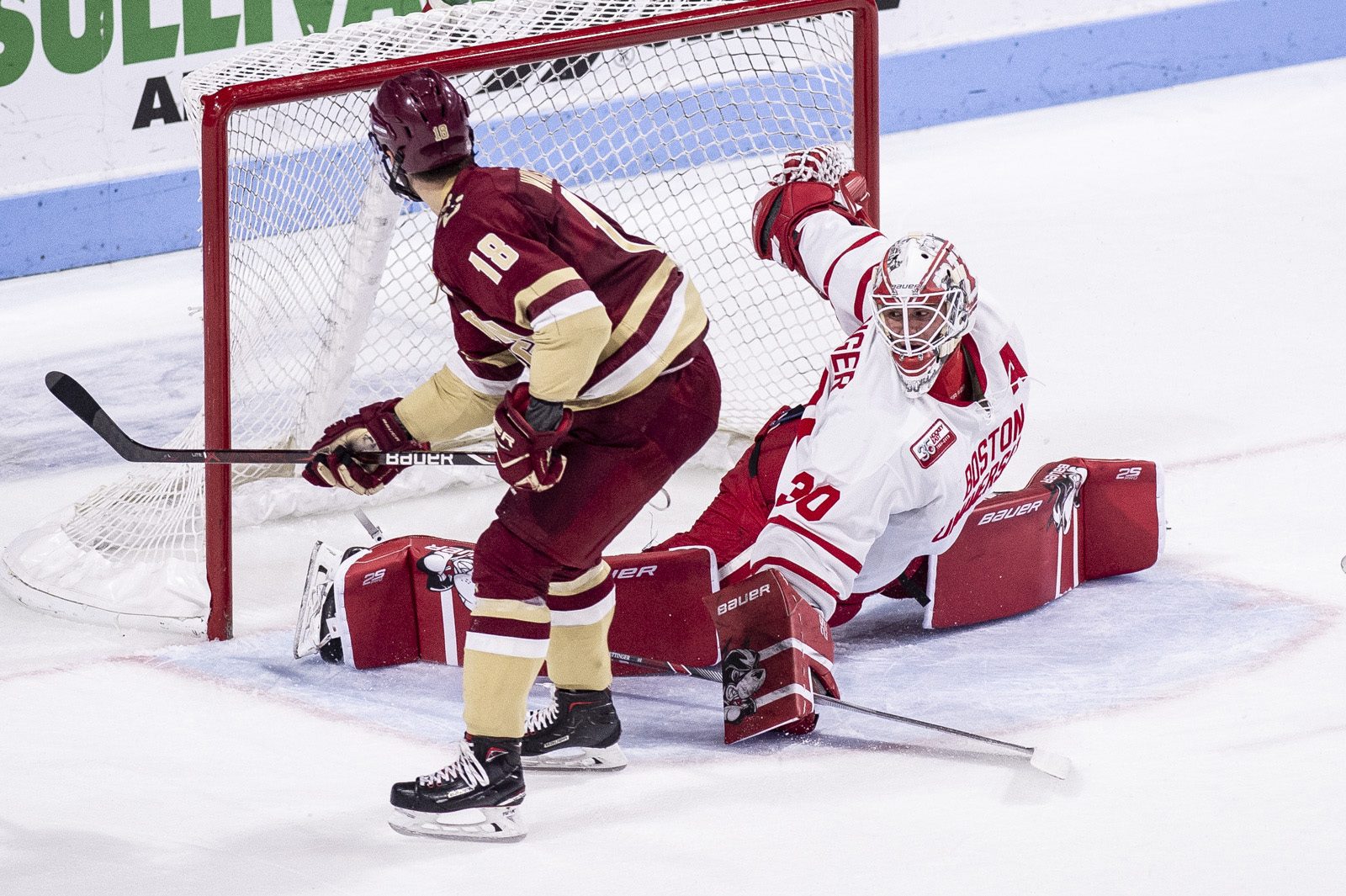 Fresh off a trip to Northern Ireland last weekend, the Boston University men's hockey team returned to Agganis Arena Friday night to host Boston College.
The Terriers (4-7-1, 4-4-1 Hockey East) fell 1-4 to the Eagles (4-6-1, 4-1-1 Hockey East).
In a physical affair from the start, BC benefited from a balanced effort offensively and defensively. Eagles' junior goaltender Joseph Woll finished with a 15-save performance in the first period, en route to stopping a season-high 38 shots.
"I thought he made some incredible saves to keep us in the game," BC head coach Jerry York said after the game. "[The Terriers] had a chance to break it open early … I thought they thoroughly out-played us in the first period, and it was just 1-0 going into the break."
Woll's defending was supplemented by sophomore forward Logan Hutsko's two-goal performance. BC's other two goals came from forwards senior Christopher Brown and freshman Marc McLaughlin.
"I thought we played well," Hutsko said postgame. "[We] finally played a full 60 minutes, and everybody was pulling for each other, so it was a good team victory tonight."
After 79 seconds of play, Terrier freshman Joel Farabee was hit by Eagle freshman Jack McBain. McBain was served a five-minute major penalty and game misconduct while Farabee was taken off the ice.
After BC's successful penalty kill, the Terriers went back on the power play after a two-minute boarding penalty from Eagles sophomore Aapeli Rasanen.
BU converted just seconds later. After a passing sequence between Farabee and sophomore forward Shane Bowers, Bowers sent a pass to junior defenseman Chad Krys. The Ridgefield, Connecticut, native's shot went in for his third goal of the season and put the Terriers up 1-0 at the 13:37 mark.
BU entered the first intermission with that 1-0 advantage in addition to having outshot BC 16-9.
"I thought we were the more physical team in the first," BU head coach Albie O'Connell said. "I thought we played really physical. I don't think there were many hits that we passed up, and I think that's why we kind of controlled that first period."
In the second period, with 11:36 remaining, Hutsko put the Eagles on the board to tie the game 1-1. It was the Tampa, Florida, native's second goal of the season.
Off a media timeout six minutes later, Hutsko put another shot past junior goaltender Jake Oettinger, which gave the Eagles a 2-1 advantage heading into the second intermission.
After play resumed in the third period, Eagle captain Brown received a pass and converted in front of Oettinger's net to extend BC's lead to 3-1 with 14:58 remaining.
BC added one more tally when, after the Terriers emptied their net, McLaughlin notched his first career college goal to put the Eagles' lead at 4-1.
Both teams have just one night to recover before they face off at the Eagles' Conte Forum Saturday night at 7:30 p.m.
Despite the loss, O' Connell said he is confident that BU can replicate its first-period play over longer stretches of the game.
"We were simple and played the right way [in the first period]," O' Connell said. "If we can do that for 60-minute stretches, on top of managing the puck the right way, I think we can be a tough out."