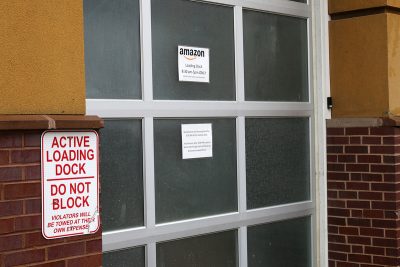 Six black and Latinx former Amazon drivers filed a class action lawsuit against Amazon Thursday at the Suffolk Superior Court to protest Amazon's strict background checks, which they said discriminate against people of color.
According to the Class Action Complaint, Dexter Andrews, Raymond Dunn, Nuno Gomes, Titus Royal, Matthew Soler and Nicholas Young were drivers for Amazon, and their jobs were terminated in 2016, despite most of them having worked there for a few months with no performance issues.
Oren Sellstrom, litigation director of The Lawyers' Committee for Civil Rights and Economic Justice, one of the attorneys representing the drivers, said in a press release that the drivers were doing a successful job and that Amazon's decision to fire the drivers was due to the fact that they had committed some minor offences prior.
"Amazon's decision to fire them had nothing to do with their ability to perform the job, but was based solely on an overly strict background check policy," Sellstrom said in the release. "That is not only poor business practice, it also violates federal and state anti-discrimination laws."
An Amazon spokesperson wrote in an email to The Daily Free Press that the company has a continuous practice of not commenting on pending litigations, but that the company's background checks are not discriminating against minorities.
"… We have always required delivery service providers to conduct comprehensive background checks for their employee drivers," the spokesperson wrote. "The background check process is focused on job related criminal and motor vehicle convictions and does not consider race, gender, ethnicity, religion or other protected characteristics."
Christina Cardona, 32, of Dorchester, said she thinks Amazon firing its drivers for minor charges is wrong, and that the company should support their drivers more.
"The purpose of people getting into trouble with the law [is] they want people to learn and grow and become citizens and productive and having jobs and they're doing well," Cardona said.
Steve Churchill, one of the drivers' counsels and an attorney at Fair Work P.C., said he thinks Amazon's reason for a policy might not be to intentionally discriminate against workers.
"Amazon will say that the business reason for this requirement, not surprisingly, is to make sure that its customers are safe and that people's properties aren't affected in some ways," Churchill said.
Churchill said discrimination rules may not seem to target certain groups on the surface, but that the rules become unlawful if they inadvertently discriminate against a certain group. He said Amazon's strict background checks are inadvertently discriminating against people of color.
"We know that that kind of requirement is going to disproportionately screen out black and Latino applicants or employees because the black and Latino population is more likely to have criminal background history," he said.
Churchill said that unless Amazon can prove that the need for strict background checks is necessary, the rules will be considered discriminatory.
Younis Shuaib, 25, of East Boston, said he thinks workplace discrimination does exist in Boston against people from other countries.
"As a person who's international and came here, I would say I had quite a hard time finding a job," Shuaib said. "I would say there's some level of discrimination."