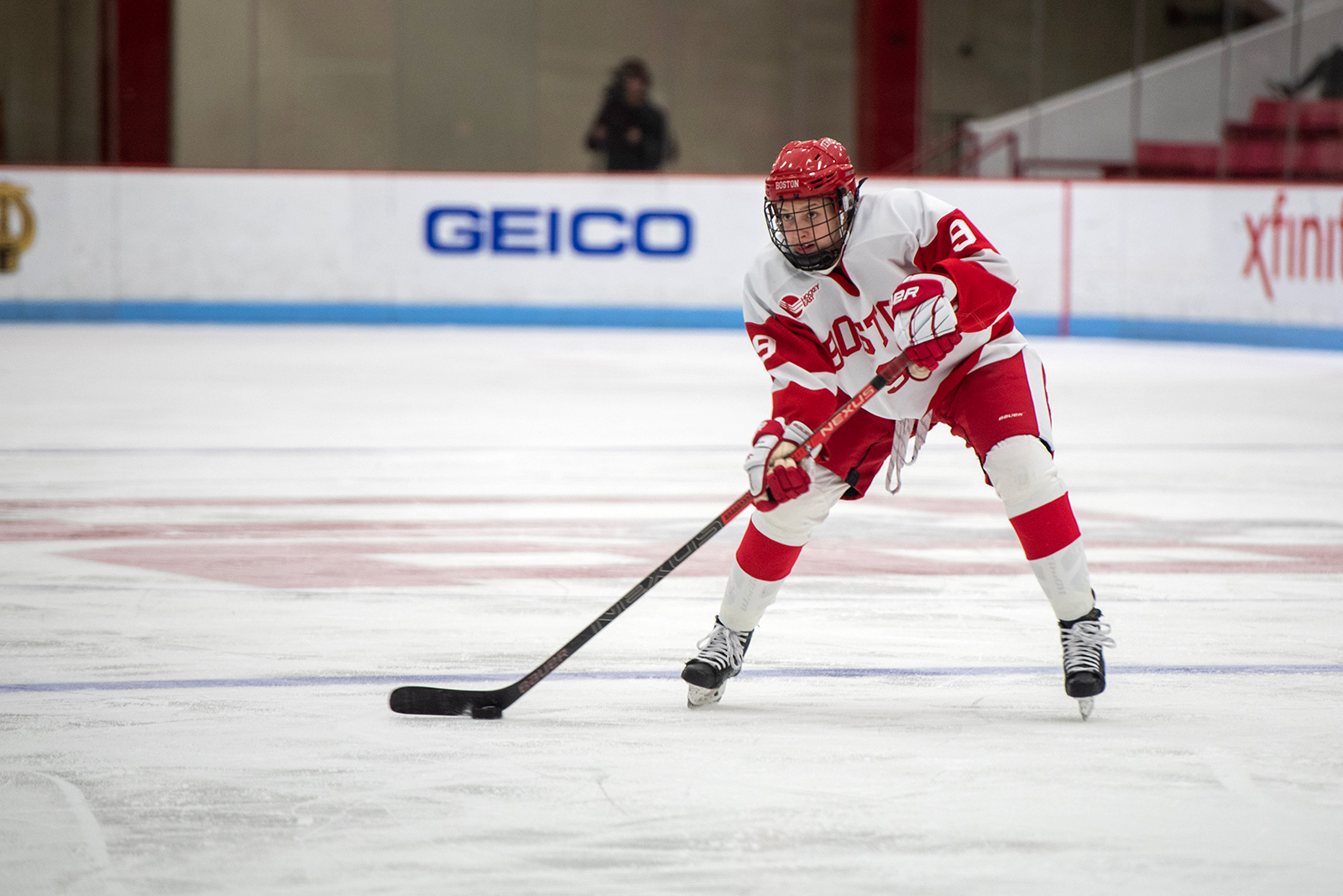 The Boston University women's hockey team completed its first-ever weekend sweep of No. 4 Boston College its 4-2 win Saturday, following a 3-2 victory Friday.
The two Terrier (6-4-4, 5-4-4 Hockey East) wins put BC (12-6, 9-4 Hockey East) on a three-game losing streak, its longest since the 2009-10 season, and built on a win against Brown University to give BU a three-game winning streak.
BU head coach Brian Durocher said the wins allowed his players to grow and believe in their ability to compete against top teams.
"Individually, there was some growth this week," Durocher said. "Some people knew they could compete against a real good team and execute."
Following a five-goal game Friday night at Conte Forum, both teams were held scoreless in the first 20 minutes of play Saturday afternoon — the first such period between the two sides in nearly two years.
BC was quick to put up a tally coming back from intermission, with senior defender Megan Keller striking on an Eagle power play.
The score was quickly equalized by junior defender Abby Cook, who took a shot just past the blue line that found its way behind Eagle goaltender Maddy McArthur.
McArthur had made 13 saves Friday night after starting in net during the first game of the series.
Cook solved McArthur a second time at 11:46 in the period with a near-identical shot, again assisted by redshirt junior and tri-captain forward Sammy Davis and sophomore forward Jesse Compher.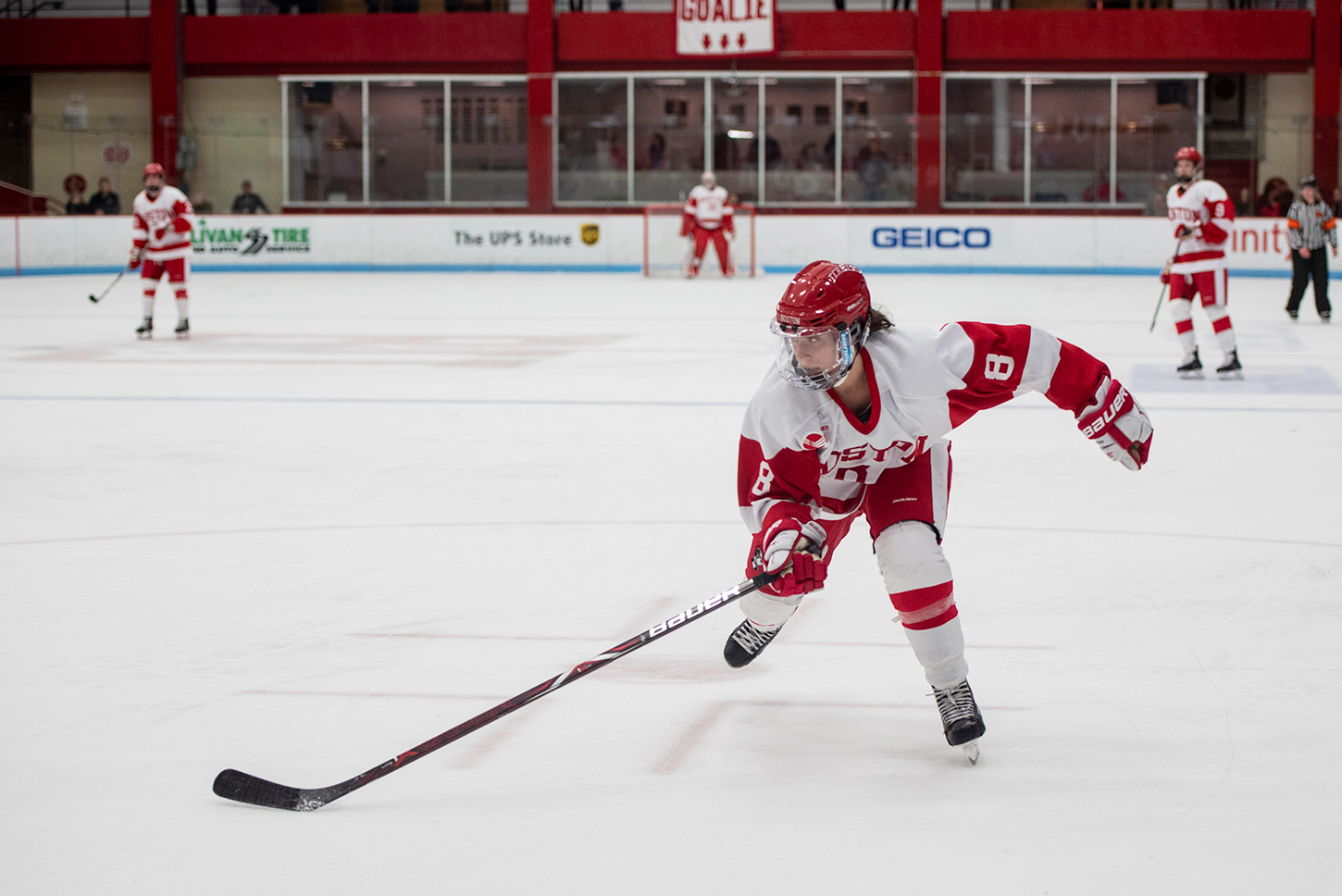 The period concluded with a third BU goal from junior forward Deziray De Sousa — her first of the season, preceded by her first assist of the season the previous night — assisted by sophomore forward Kristina Schuler and Cook.
Despite Cook's offensive contributions, she said defensive responsibility was her primary focus.
"Defense definitely came first today," Cook said. "I got some goals, but once I got one in, they were like, 'Okay, I know what to do.' So, defense first."
BC outshot the Terriers 27-14 throughout the first two periods. By the end of the match, sophomore goaltender Corinne Schroeder made 37 stops for a .925 save percentage.
Schroeder stepped in for the second game of the series after freshman goaltender Kate Stuart made 42 saves the night before in her second collegiate start.
Durocher emphasized the benefits of having two goaltenders who can step up against tough opponents.
"[We] now have two goaltenders who have played extremely well," Durocher said. "Obviously, Corinne's had the lion's share, but Kate's game was light years — in my eyes — ahead compared to the first game."
BC struck quickly coming out of the locker room, as sophomore forward Daryl Watts recorded her 100th career point 27 seconds into the third period to make the score 2-3.
The score remained that way until there were 22 seconds left in the game, when Compher scored her team-leading ninth goal, on an empty net, moments after the Eagles pulled McArthur.
In a night of records, Cook earned her first two-goal game while BU sealed its first home win over BC since 2016 — and its first back-to-back victories against the Eagles since 2012 — to cement the Terriers as the top dogs in this season's Battle of Commonwealth Avenue regular season record.
Cook said the team was fired up following the previous night's win, aided by a roaring crowd.
"The crowd was huge," Cook said. "I've never really seen Walter Brown like that. That helped, and we were really fired up after last night."