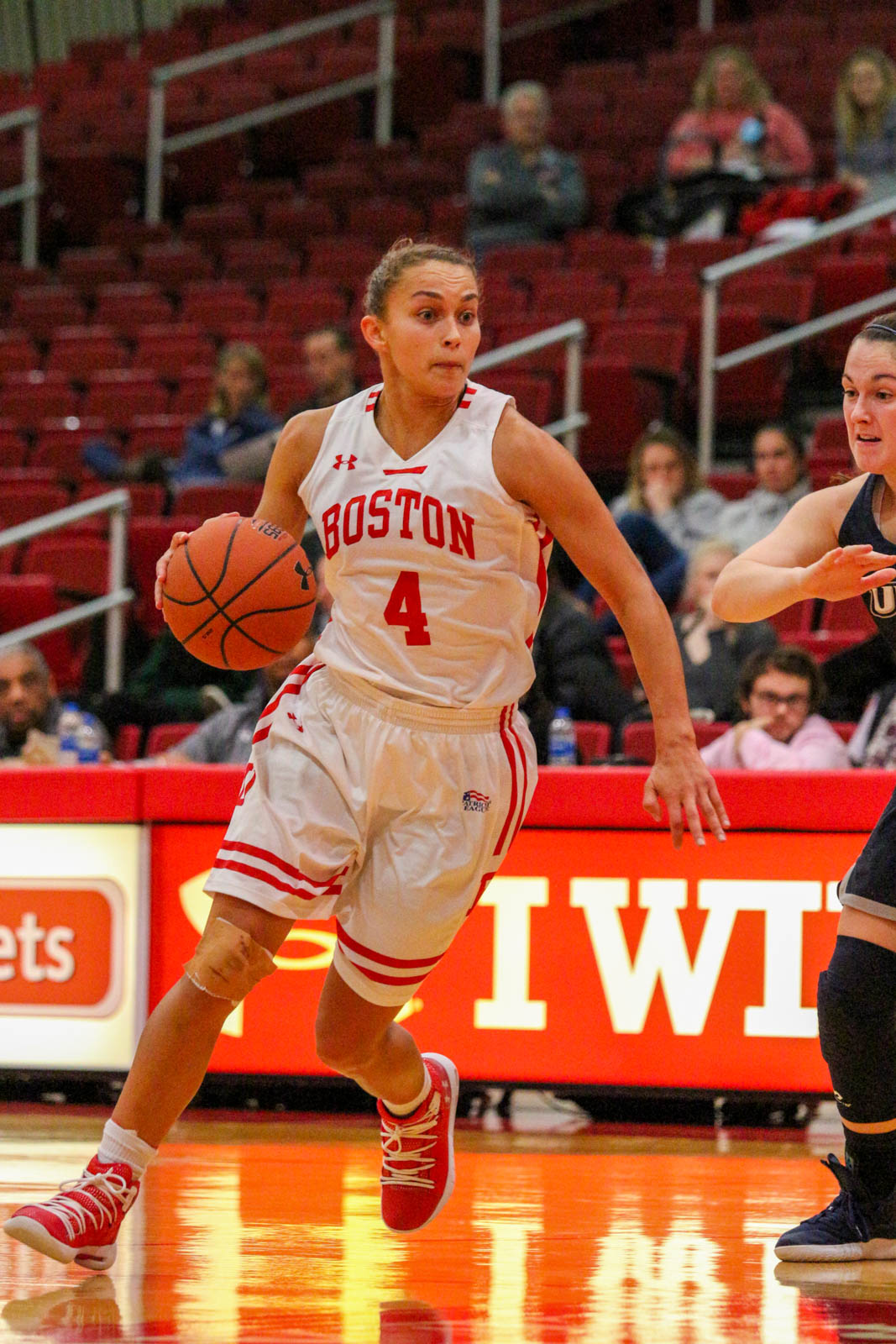 The Boston University women's basketball team maintained its perfect home record Sunday with a 72-61 victory over the University of Delaware, during which senior guard Payton Hauck earned her first career double-double with 11 notes and 10 rebounds.
The York, Pennsylvania, native is currently third on the team in scoring with 70 points, averaging 10.0 points per game while shooting at 40.0 percent from the field. The Daily Free Press caught up with Hauck to talk about her team's goals for the season, Ariana Grande and the best Mexican food in Boston.
What initially attracted you to BU?

The location and academics is what initially attracted me to BU. I love being in the city and being a student-athlete. A prestigious university was important to me.

How has it been to play under head coach Marisa Moseley?



Playing under coach Moseley has been an amazing opportunity. We have learned so much and grown as a team through team practices and events while being under her, and most importantly, we have had fun during the entire process.

Do you have any specific goals this season?

A big, but very realistic goal for our team this year is to win the Patriot League tournament. Our entire team has agreed this is our main goal that we are committed to and will work towards this year.

How did you first get into basketball?

I started playing basketball when I was five years old at the local YMCA because my parents practically forced me to get into some type of sport. It quickly became something I loved and had fun [with], so I have my parents to thank for that.

Who has been the biggest influence in your basketball career?

Although he is not a superstar basketball player, my dad has always been a big influence in my basketball career. In high school after every game, he would give me notes with ways to improve my game, and still today he always influences me to become a better player.

Any personal pregame superstitions?

A big pregame superstition I have is that I always have to eat some type of candy before a game. Usually, my go-tos are gummy bears or the cherry Twizzlers.

What does the BU locker room look like before a game?



Before a game, our locker room at first consists of all of us hanging out, whether it's just talking or watching a certain show we all enjoy. Then it quickly turns to everyone focusing in on the game and getting ready in her own way.

Do you have any other favorite sports, and if so, what are they?

The other sport I played, alongside basketball, for most of my life was soccer. It definitely is one of my favorite sports, but really I enjoy watching or playing almost any sport due to the competitive aspect.

What song are you listening to on repeat?

Currently, the song I'm listening to on repeat along with every other person in this world is "thank u, next" by Ariana Grande.

What teammate would you trust with the aux cord during a long road trip?

If I had to trust one teammate with [the] aux cord, it would be [junior guard] Vanessa Edgehill, 100 percent.

Who is the funniest player on the team?

Without ever trying to be, the funniest player on our team is easily [sophomore forward] Mackenzie Miers.

What's your favorite sports team?

For the NFL, my favorite team would be the [Pittsburgh] Steelers, and for the NBA, my favorite team would be the [Boston] Celtics.

How do you balance being a student athlete and majoring in computer engineering?

For everybody, I think the balance of being a student athlete at Boston University can be difficult until you realize time management really is your best friend. For engineering, the majority of my assignments are personal projects, so just starting early has helped me get through my classes.

What do you want to do after graduation?

Following graduation in May, I recently accepted a position at John Hancock to become a software developer full time. I also would love to spend some of the time before starting my job to travel around the world a little.

Default coffee/Starbucks order?

I have always hated coffee, which may change once I enter full adulthood, but until then, my default Starbucks order is simply green tea — iced or hot, depending on the season.

Where's the best place to study on campus?

My favorite place to study on campus is the third floor of Mugar Library.

What's your favorite place to eat around Boston?

I love Mexican food, and some of my favorite places to eat in Boston are Border Café and El Centro.

Which season is your favorite and why?

Fall is by far my favorite season. The weather can be great, and there are always events going on during this time of the year, whether it's one of the many sports teams playing or just something fun happening in the city.

The ocean or the mountains? I prefer the ocean to the mountains always. I grew up with my grandparents having a beach place, and it definitely is one of my favorite places to go to have fun or just relax.
Sweet or savory?I definitely prefer savory to sweet. I always prefer spicy or salty foods over something sweet like a rich dessert.