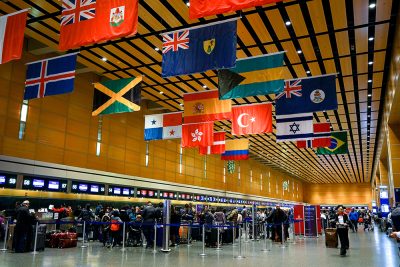 Five Boston University undergraduate students will pursue research in the United States and abroad with the help of grants from the inaugural William R. Keylor Undergraduate Travel Fund.
The fund is named in honor of Frederick S. Pardee School of Global Studies professor emeritus William Keylor, who taught international relations and history. Keylor had just retired when the creation of the fund was announced in May, he said.
Students Raina Kadavil, Daniel Gonzalez, Hafzat Akanni, Ziling Cheng and Anna Ellis all received travel grants last week that will help them obtain vital information for their research, according to the Pardee website.
The students awarded these grants plan to travel to cities such as Amman, Jordan, Istanbul, Turkey, Washington, D.C. and Kyoto, Japan, they said.
Pardee junior Anna Ellis is one of the undergraduate students who was awarded a grant to travel and pursue her research. She studies Cyprus's geopolitical importance in the Eastern Mediterranean, she said, and wants to interview ambassadors in the Cypriot, Greek and Turkish embassies of Washington, D.C.
"The final goal of that experience is to gather more information and more perspectives for my project," Ellis said. "I want to prove that Cyprus has more of a geopolitical strategic importance than we would typically learn and think about in IR."
Ellis is considering using her research as a basis for a senior thesis, she said.
Ellis cited her family's military history as part of her interest in the region. Her grandfather, a British Army officer, was stationed in Cyprus in the mid-20th century, when the region was going through a period of civil unrest.
Pardee senior Ziling Cheng received a grant to pursue comparative research on Japan and China and how they conduct national branding within three categories: international exhibitions, promotion of tourist cities and performing arts abroad.
Cheng grew up in Xi'an, China, a city branded for its history as a capital of 13 Chinese dynasties, she said.
"I grew up in this environment feeling like my own town is branded for this kind of international tourism," Cheng said. "But then, after going to Kyoto, which is a similar city in Japan, also branded for this long history and cultural realism, et cetera, … I have this very different perspective on my own hometown."
Cheng said she intends to spend time in Kyoto where she will temporarily reside in a monastic temple to study and eventually compare with China.
Grant recipient and Pardee senior Raina Kadavil works on an app called Urban Refuge, which maps resources for Syrian refugees in cities, with Pardee assistant professor Noora Lori. Kadavil said that she intends to visit Istanbul, Turkey, and Amman, Jordan, in the spring.
"We see that there is especially a lot of infrastructure and aid resources existing in cities like Istanbul that are specifically geared towards Syrian refugees, but we don't see them actually accessing them," Kadavil said, "often because they don't know about them."
Refugees often migrate toward cities for economic and physical freedom and for safety, Kadavil said, as sexual violence against women is common in refugee camps.
Kadavil worked with the United Nations in high school, which is where she first gained exposure to refugees and organization devoted to their rights, she said.
Undergraduate researchers often face difficulties receiving funding for travel and research, Keylor said.
"Undergraduates don't have the kind of financial backing that graduate studies do for foreign travel," Keylor said, "and so this enables undergraduates in the Pardee school … to use those funds that are available to go to various countries to conduct original research."
In the long term, students may be able to use this research for honors theses, Keylor said.
Min Ye, Pardee's director of undergraduate studies, said that the total funds for the grants are limited, and that there was a rough cap on the amount that could be awarded to each recipient. $1,500 was the maximum amount given this year, Ye said, and for some of the more ambitious students' plans, that amount will not completely cover their expenses.
Ye said the grant allows students to gain real life experience, an important aspect of their education.
"I'm just a true believer in 'Traveling 10,000 miles is better that reading 10,000 books,'" Ye said. "Our students are typically well read because there's so many academic and research books available, but going somewhere and acquiring this real experience and interacting with people, [nongovernmental organizations], or otherwise in that place — that's a very valuable contribution to our education."