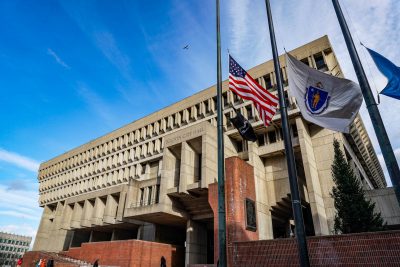 Members of education justice organizations Graduate Women at the Massachusetts Institute of Technology and Our Harvard Can Do Better organized a protest Thursday at Boston City Hall against U.S. Secretary of Education Betsy DeVos' proposed changes to Title IX regulations, in support of the Hands Off IX campaign.
Title IX is a federal civil rights law, implemented by the U.S. Department of Education, that prohibits sex-based discrimination in educational programs that receive federal funding, including protections for victims of sexual assault and harassment.
DeVos proposed new amendments to enforce Title IX on Nov. 16, which included a revised definition of sexual harassment and mandated due process for accused individuals.
Hands Off IX is a joint effort from Know Your IX and End Rape on Campus. The organization is launching campaign actions in Boston, New York City, New York, Denver, Colorado, and Washington, D.C. during this week, according to a press release from the organization.
The group, led by Amelia Goldberg, 21, organizer for Our Harvard Can Do Better, and Molly Bird, 25, co-chair of Graduate Women at MIT, held signs in protest of the proposed Title IX changes. Goldberg said that she has felt strongly about the protection of survivors of sexual assault for the entirety of her time at Harvard University.
"The Defend Title IX movement is a critical response to ongoing federal attacks on the rights of survivors of sexual violence in our schools and around the country," Goldberg said.
Bird said she is focused on thinking about the big picture regarding Title IX and involving university administration as much as possible.
"The idea is to show the administration that we care, that the Title IX changes that they are proposing are not going to make things better at all," Bird said. "Title IX used to be kind of a mess. It's better now, but we don't want to go backwards, and I think that is the key thing."
With the current Title IX regulations in place, the definitions for sexual harassment and sexual misconduct extend to include either severe cases or repetitive, but potentially non-severe, cases Bird said.
"What they're trying to do now is make it severe and pervasive, so it has to be so bad and so repeated that someone would actually be dropping out of school," Bird said.
Bird also said she is concerned that victims of sexual misconduct will have a harder time reporting an assault because the scope of who is considered a mandatory reporter for the school would be narrowed.
"With these changes, they would have to go directly to the Title IX office, to someone they don't know, someone they don't necessarily trust, and would have to report directly there, which increases the barrier to reporting," she said.
The change in definition, along with the change in mandatory reporters, Bird said, would make it much more difficult for victims of sexual assault to report their assault and be taken seriously.
Goldberg said this protest was the beginning of a long battle against potential regulations put on Title IX.
"We show up today, not for the last time, but just to show our solidarity and to speak directly to the Boston office that will be implementing these harmful rules if put in place," Goldberg said.
Sarah Goodman, 26, advocacy chair for Graduate Women at MIT, said she is especially worried for female graduate students on college campuses because there is a lack of female representation in graduate programs.
"I actually got involved in student leadership because of my passion for fighting against sexual violence on campuses and making schools safe for everyone," Goodman said. "I think that protecting Title IX is extremely important for graduate women in particular."
Bianca Lepe, 24, a graduate student at MIT, said she has difficulty explaining just how much this movement means to her.
"Something that really frustrates me right now is that Betsy DeVos doesn't seem to be on survivors' sides," Lepe said. "She makes a lot of new policies that make it harder for the individual to come forward, and I want to do my part to tell her that this is not OK."
Lepe said this was her first venture into political activism, which she said was because she wanted to shed light on the problems with the current administration.
MIT graduate student Stephanie Kong, 24, also said this was the first rally she had ever attended.
"I just feel like these new guidelines and regulations would prevent victims from ever coming forward," Kong said.
Katharine Greco, 24, a third year graduate student at MIT, said she thinks it will be harder for victims of sexual assault to report incidents. She said she thinks protecting students should be a school's main goal.
"This feels really important," Greco said. "I hope that we can make a statement that not only our schools can hear, but all the schools across the nation can hear."