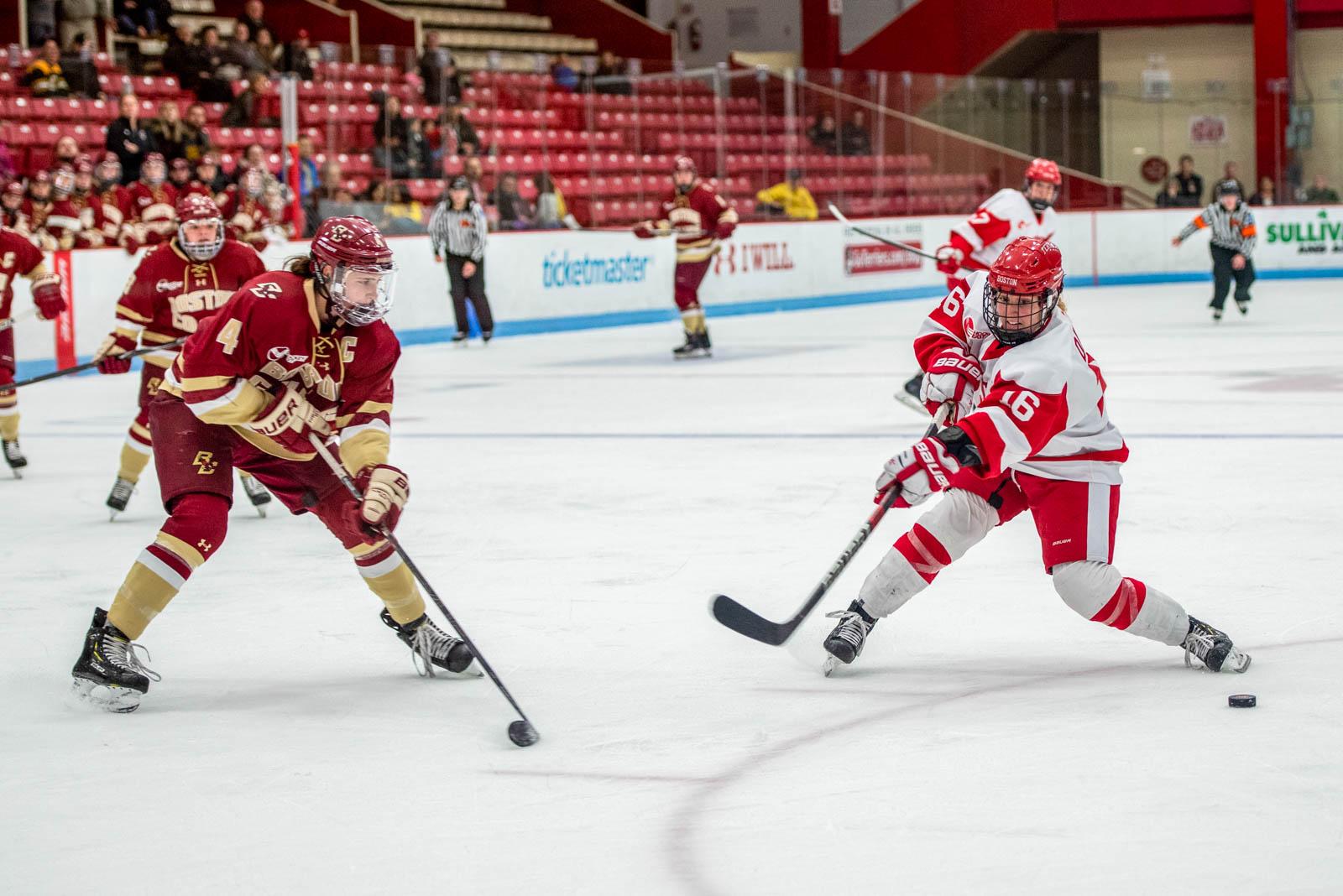 Before the beginning of the 2018–19 season for Boston University women's hockey, redshirt junior forward Sammy Davis was selected by her teammates to be one of the team's three captains, along with senior defender Reagan Rust and junior forward Natasza Tarnowski.
However, Davis' journey to becoming a captain of the women's hockey team was atypical, as she did not serve her role as captain until one year after she was selected.
According to BU head coach Brian Durocher, while Davis was elected as a captain in 2017, a season-ending injury requiring a double-hip surgery kept the Pembroke native off the ice and delegated her the role of assistant captain.
"Her teammates thought she was a good leader as far as her work ethic," Durocher said. "… She's worked hard at being a person that communicates well and certainly leads by example."
The last season that Davis played hockey was the 2016–17 campaign. The team went 19-12-6, 12-8-4 Hockey East that season and made it to the Hockey East semifinals, where it lost to Northeastern University.
Then in her sophomore year, Davis contributed to the team's Hockey East semifinal run by tallying a total of 16 assists, including a three-assist game streak in between Jan. 31, 2017 and Feb. 10, 2017.
She also produced the most goals of any remaining scorer with seven.
Davis said that being named captain was an honor, but the distance in not playing with her team was difficult.
"Being named as captain, [I was] very grateful and very lucky," Davis said. "It was hard last year not being around the team, not really showing them me as a person."
Last season, the team was led by alumna forward Rebecca Leslie, who became the first BU women's hockey player to record 20 goals and 30 assists in her career-high senior year.
Before that, alumni forward Natalie Flynn and defender Alexis Miller, née Crossley, split the duties, the latter of whom was named the 2017 Boston University Woman of the Year.
Miller currently plays for the Worcester Blades of the Canadian Women's Hockey League.
Davis said she used her time as assistant captain during the 2017–18 season to learn what it means to be a leader.
"I learned a lot from listening last year," Davis said. "I took feedback from teammates and took this into this year and tried to better myself."
The 2017 graduating class saw the departure of New England Division I All-Stars forward Mary Parker — whose 45 points led the conference — and goaltender Victoria Hanson, along with 100-point earner Maddie Elia.
Parker currently plays for the National Women's Hockey League's Boston Pride, while Elia plays for the Buffalo Beauts.
The 2017–18 squad finished 14-17-6, 8-11-5 Hockey East, aided by then-senior forward Victoria Bach, a Patty Kazmaier finalist, passing the century mark in goals herself. The Terriers made its 11th consecutive Hockey East playoff appearance but were taken down by the University of Maine within three games.
Davis has been a top scorer for the team this season: she is currently second on the team in goals, only one goal behind sophomore forward Jesse Compher.
The combination of Compher and Davis has been a deadly scoring duo for opposing teams. Together, Compher and Davis account for 47.2 percent of the team's goals.
"Jesse's been great, I love playing with her," Davis said. "I'm very grateful, and I think we work really well together."
Davis has also been recognized for her strong performance by Hockey East. Following last weekend's sweep of now-No. 9 Boston College, Davis received Player of the Week honors.
She recorded a total of five assists during the series, including an assist on Compher's game-winning goal Friday, allowing BU to beat BC (12-6) 3-2.
In her freshman year, Davis played all 39 games and was the runner-up for the Hockey East Rookie of the Year. She had a resume of 17 goals and nine assists.
Davis now is taking on the role of being a captain of a surging team that is riding a three-game winning streak and has risen above .500.
Durocher, who served as a co-captain of the Terrier men's program on its 1978 national championship team, said that Davis remained a familiar face while she was out, but her return has greatly aided the team.
"She was always around, always trying to be a help to the team," Durocher said of Davis' time as assistant captain. "Now, I think its paying dividends that she's [healthy], and she's doing what she does best."