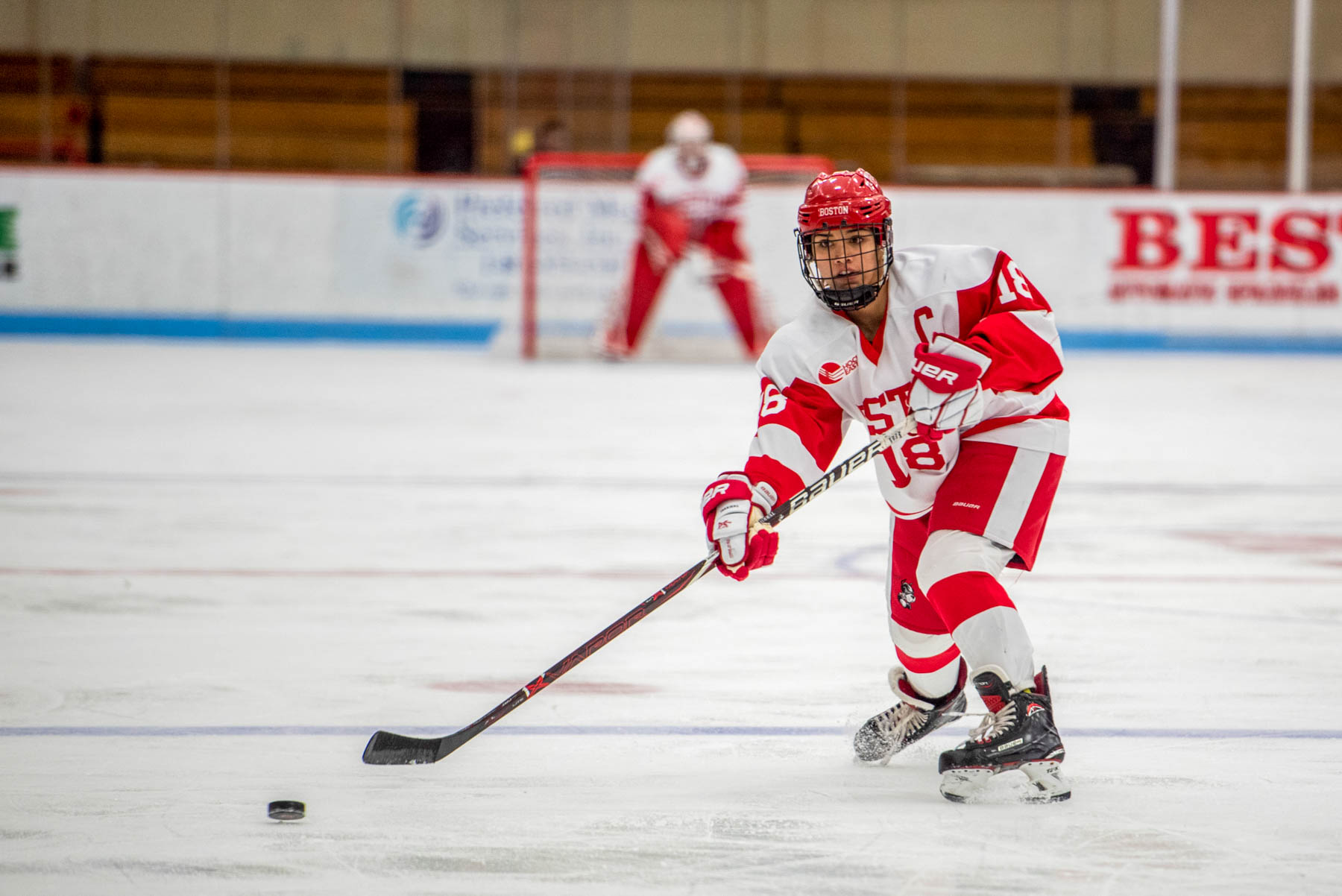 The Boston University women's hockey team will face the Rochester Institute of Technology in two games this weekend at the Gene Polisseni Center in Rochester, New York, before going on a three-week break from play.
Last weekend, the Terriers (6-4-4, 5-4-4 Hockey East) completed its first sweep of then-No. 4 Boston College in two home-and-home matches. The series ended with a collective 7-4 goal differential.
While RIT (5-8-4) currently has a win percentage of .412, BU head coach Brian Durocher said the team could not get too comfortable following its wins against BC (12-6, 9-4 Hockey East).
"We talk about respecting your opponent," Durocher said. "That's absolutely, positively what we have to do is go into RIT and give them the same respect we'd give a BC or Northeastern."
The Tigers will enter the series coming off of two wins against Lindenwood University.
In the first match on Nov. 30, five RIT players recorded goals in a 5-2 victory. The following afternoon featured a combined four special teams goals from both squads.
Sophomore defender Ellie Larson scored two goals, with the second game-winner coming while the Tigers were a player down, while freshman forward Hunter Barnett was named College Hockey America Rookie of the Week for her two goals.
Before the series against Lindenwood (3-11-2), RIT went 2-2-1 while on a five-game road trip during November.
The Tigers opened the series with a 5-1 win over Dartmouth College where, after Dartmouth (3-9-1) opened scoring, RIT recorded five unanswered goals.
While facing Pennsylvania State University, the Tigers fell to a shutout and a 2-1 loss to the Nittany Lions (7-9-2).
Junior goaltender Terra Lanteigne was given the second consecutive title of CHA Goaltender of the Month for her performance in November. She stopped 312 shots — including 42 against the Big Green and 48 against Penn State — in eight starts for a .948 save percentage.
"They're going to be a competitive team," Durocher said. "They beat us once last year, so hopefully I'll have that to remind them of [in practice] come Wednesday or Thursday."
The two teams met for the first time last season. While BU earned a 5-1 victory in the first match, two second-period goals sent the second game to overtime where Tiger forward Mallory Rushton closed the extra period in RIT's favor.
Senior defender and tri-captain Reagan Rust transferred to the Terriers' team from RIT before the 2017–18 season.
While playing for the Tigers, Rust was named to the CHA All-Rookie Team in 2016 after recording 18 points which put her third in scoring on the team. The Southaven, Mississippi, native maintained her standing the following year with 14 points.
Rust continued her offensive flair while on the ice with RIT by opening scoring against her former team on Nov. 3, 2017.
While a goal from Tiger defender Brinna Dochniak kept a shutout from then-freshman goaltender Corinne Schroeder, another four goals — all from graduated seniors — secured BU the win.
Since the first series was hosted at Walter Brown Arena, this weekend will be the Terriers' first experience in RIT's home arena.
"It's a road trip, and we're not used to the traveling," Durocher said. "We're playing well, but we can't have a let-down, and I'll be working on that as early as I can and as best as I can."
On Friday, BU broke a six-year stretch without a win in Chestnut Hill with a 3-2 victory, driven by three power-play goals.
Freshman forward Emma Wuthrich scored her first collegiate goal in the first of two third-period goals for the Terriers, propping up sophomore forward Jesse Compher's eventual game-winner.
The Battle of Commonwealth Avenue came to Walter Brown the following afternoon.
For the opening 20 minutes, neither team found the back of the net — the first scoreless period in over 400 minutes of play between the two teams.
Eagle defender and Olympian Megan Keller, who leads Hockey East defenders with goals, waited less than two minutes into the second period to knock the puck past Schroeder.
However, BU continued its power play production with two back-to-back goals from junior defender Abby Cook.
In the final minute of the game, Compher scored an empty-net goal assisted by Rust and redshirt junior forward and tri-captain Sammy Davis.
Both Compher and Davis earned three points in the win.
Durocher said he saw readiness in his team after the BC wins, but that the team could not ease up against RIT.
"The kids are ready to play," Durocher said, "but we really, really need to turn up the intensity volume to make sure you're ready for a team that's played pretty well this year."