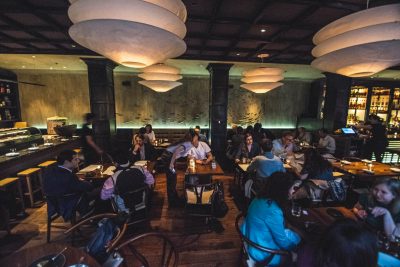 Waiters cart around ramen noodle cacio e pepe, foie gras bratwurst, spicy tuna rolls and drinks in tiki cups as customers relax to pumping rhythm and blues at the late night dining services at UNI in Back Bay.
The restaurant, a feature of the Eliot Hotel on Commonwealth Avenue, is a contemporary izakaya, a small Japanese restaurant and bar. Executive chef and owner Ken Oringer heads the restaurant with executive chef and partner Tony Messina.
Initially, UNI existed as a sashimi bar in the lounge of Clio, a French-American restaurant Oringer opened in 1997. The sashimi bar gained such popularity that, in 2015, Clio renovated the restaurant entirely as UNI, which opened in 2016.
Kate Barry, who graduated from Boston University's School of Hospitality in 2010 and is a member of UNI's management team, said part of the restaurant's secret is that they get ingredients both locally and from as far as Japan.
The restaurant now serves a selection of sushi and other Japanese dishes, for which it was named best restaurant in Boston in 2018 by Boston Magazine.
"I think our food is some of the most creative food I have ever had," Barry said. "The menu changes every day, whether it is putting on new fish or changing the accompaniments with that fish or dish. [Tony is] really seasonally driven."
The dinner menu offers dishes a-la-carte or in an Omakase series of predetermined courses, beginning with light and ending with heavier dishes. After 10:30 p.m., UNI also has a late-night menu equipped with typical street foods such as ramen.
"Late night is a great way for guests to try food that is delicious at an approachable price point," Barry said. "Whether someone is a student or works in the industry coming after their shift, the menu and vibe is casual and fun."
Servers dressed in black T-shirts move about the restaurant to take orders and deliver food for the customers. Barry said the employees at the restaurant try not to take themselves too seriously, and they want to create a somewhat laid-back environment.
"We are still very excited and passionate about the food and beverage we serve," Barry said. "[Tony] has such a good way of creating dishes that feel sophisticated but really casual at the same time. [He uses] both simple and luxurious ingredients together in a very creative way."
Vilvaraja Mahendraraja, who started serving and bartending at UNI a few months ago, said he has been very satisfied at the restaurant so far.
"[UNI] is the most professional restaurant that I have ever worked at," Mahendraraja said. "I have worked in four or five places in Boston, and [UNI] is definitely something special. Everyone cares, everyone is super knowledgeable, [and] I have learned so much about food and sake."
Mahendraraja said the restaurant was nominated for the James Beard award in the last year. According to him, the award is like the Academy Awards of food, and JBF's website characterizes it as "the highest honor for food and beverage professionals in America."
Anne Alexander, of Chicago, Illinois, ate at UNI while in Boston on a work trip. She said she intentionally sought out the restaurant as a sushi fan, stopping at several sushi bars during her visit, in which UNI was her fourth within a week.
"It is far and wide — one of the most extensive on-the-menu Nigiri experiences [out there]," Alexander said. "For [somewhere] that has been voted best restaurant in Boston, it is actually an extremely good value for what you get. They are not overcharging you, and you are not overpaying. It is great quality and great value. It is the best restaurant."
Barry said she believes the secret of UNI's success lies in the restaurant's ability to stay in touch with what their clientele wants. She said she feels a key part to their success is the restaurant's commitment to constantly change and evolve for the sake of improvement.
"But part of it is recognizing what the favorites are," Barry said. "I think we listen to guest feedback really well. We are always asking our guests whether they are enjoying [new dishes]. We are very, I think, in tune with what guests want."
As the restaurant changes and adapts, Barry said one thing remains the same: they commit themselves to appreciating their guests.
"No guest is taken for granted," Barry said. "Whether it is someone who has been here 100 times or someone's first time, we really try to make them feel special. We try to be that restaurant that can be both."