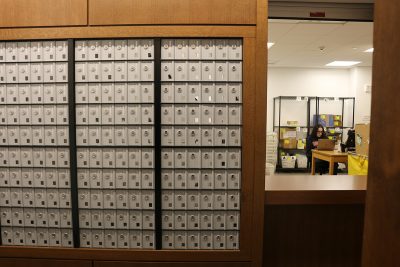 This holiday season, the Boston University Police Department is enacting new strategies to help prevent and hold people accountable for package theft.
Package theft is common toward the end of the fall semester, BUPD Sgt. Dan Healey said, as many students are ordering holiday gifts. Thieves target packages left out on the steps or in an open vestibule of an apartment building, according to Healey.
"It's a prevalent crime right now," he said. "There's a lot of packages being delivered, and they are just sitting there. And if they are not being properly secured while the owners are away, it's very easy for someone to come up and in just a few moments just take that package."
BU spokesperson Colin Riley said package thieves can also gain access to packages when they follow students into a building or students unknowingly let them in.  
Healy said that while students living in dorms are relatively safe from this problem, students living in apartments or apartment-style university housing are often at risk.
BUPD has three main strategies for combating this problem, he said.
One new initiative is a package baiting program: police will place a GPS tracker in an item placed inside what looks like a normal shipping package, Healey said. BUPD will then place the package in a BU building that is often targeted by thieves and will watch the package. If it is moved, they will get an alert.
"We can pinpoint exactly where that package is," Healy said. "That's going to assist us if somebody steals our package, and then we'll be able to track them down in a jiffy."
BUPD will also put signs up in the buildings to alert people of the possibility that a package they take from the room might be a bait package in the hopes that this will deter people from stealing the package, according to Healey.
BUPD is also patrolling areas where packages are often stolen when packages are being delivered, he said. BUPD believes package thieves often know delivery schedules or follow behind a delivery truck when trying to steal packages.
"We're trying to get with the schedule of deliveries to see if we can be in the right places at the right times to see if we can try to prevent this type of activity," Healy said.
Thirdly, BUPD is putting cameras in the BU buildings most often targeted by package thieves, Healy said.
BUPD is purposefully open about these initiatives, as they hope that their efforts might make package thieves think twice about stealing a package, Healy said.
"The main thing we want to do is stop the activity," he said. "We want to disincentivize people. We want to make it less attractive for people to steal at Boston University."
In general, Healy said, BU community members are not stealing packages. Of the people BUPD has arrested for package theft this year, none of them were associated with BU.
"It's not that they're targeting BU," Healy said, "they're targeting packages in vestibules."
Healy said repeat offenders or groups of thieves are often responsible for a number of incidents.

"If you have 50 thefts, you probably don't have 50 thieves," he said. "You probably have one or two."
Graduate student housing at 580 Commonwealth Ave. has been a particular target on BU's campus, Healy said.
Riley said that buildings in BU's South Campus are also often targeted by package thieves.
Though BU Today reported that package thefts have declined in the past two years, Healy said that he believes package theft is still a big problem.
"I wouldn't want people to look at the graph and say, 'Oh, well, that's good news, this problem's going away, I don't have to worry about securing my packages,'" he said.
Riley said that while students are becoming more aware of the problem, BU is still very concerned about package theft.

"It's really unfortunate that people prey upon this," Riley said. "There are important packages. In many cases these are personal things that they're hoping to get from family members or friends."  
Payton Cabrera, a sophomore in the College of Arts and Sciences, said she recently had a very personal package stolen. She had ordered a Christmas gift for her little sister which was stolen when it was left at the door. Cabrera said this experience changed the way she shops.

"I'm honestly just trying to avoid having to order things online or have it sent to local stores in case anything happens to things I ordered online," she said.
CAS freshman Ashna Panchmatia said she had her package stolen from a university mailroom. She said this has made her take extra steps to secure her packages.
"I will track it and make sure it comes and make sure it doesn't get stolen by anyone," she said.
Riley said if a student has a package stolen, they should report the incident to BUPD immediately, or, if the package was sent via U.S. mailing services, let their delivery service know.
Students can take many different steps to prevent their packages from being stolen, Healy said. He recommended that students track their packages, make sure someone is home when a package is expected to arrive or use package lockers at local stores, such as the Amazon locker facility at 870 Commonwealth Ave.
Matthew Knowles, a junior in the College of Communication, said he has had a good experience using Amazon lockers.
"They work well," Knowles said. "I haven't had anything stolen from that or anything or ever worried about it."
Riley recommended that students bring other students' packages inside past the vestibule and report any suspicious people they see hanging around their building.
Healy said these small efforts on students' part can make a big difference.
"Your personal property, your valuable property, your personal safety — it's worth thinking a little bit about to try to safeguard those things," he said. "I think it pays off."