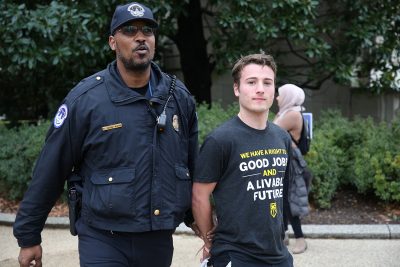 Some nights, Owen Woodcock, a sophomore in Boston University's College of Arts and Sciences, can't sleep. He is consumed by anxiety about the current climate crisis, sometimes worrying so intensely that he is unable to get out of bed in the morning, even for food.
He said his concerns about the inaction of politicians — as well as of his peers — puts him in an "unhealthy cycle" that leaves him feeling isolated and burnt out. At certain points, he cannot even focus on academics, missing classes and important events as the thought of those suffering through climate change-caused natural disasters fills him with despair.
Nine months ago, Woodcock said he began to feel hope again. After joining the Boston Hub of the Sunrise Movement, a youth-led campaign working to mitigate the effects of climate change, he said he was able to start to see beyond his "eco-anxiety."
Now, he works as a logistical planner for one of the organization's big campaigns: the Green New Deal Day of Action in Washington, D.C.
Woodcock, along with over 1,000 other activists from across the country, gathered on Capitol Hill on Dec. 10 to push for a Select Committee on a Green New Deal. According to Woodcock, they plan to target Democratic leadership in the House of Representatives and build off their sit-in at the office of House Democratic Leader Nancy Pelosi on Nov. 12 that led to 51 arrests.
The Select Committee, proposed by New York Representative-elect Alexandria Ocasio-Cortez, would task Congress with drafting Green New Deal legislation by 2020. The aim of the proposal is to counteract climate change by decarbonizing the economic sector, work force and energy supply.
The Green New Deal would also prohibit committee members to refuse campaign funding from the fossil fuel industry, a clause which Woodcock said works "to remove that dirty influence of the fossil fuel industry from our politics so that the voices of the people can be heard and not those of the fossil fuel corporations."
If the committee is not approved this week, activists will have to wait until the end of the Congressional recess in January to begin lobbying again.
Nickolas Faynshteyn, a 24-year-old member of the national Hub Support Team for the Sunrise Movement and a recent Northeastern University graduate, said that most of the political resistance to the Select Committee is hesitancy rather than pushback.
He explained that the arrests in Pelosi's office, combined with nationwide days of action at local governmental offices, created the "spark" of the conversation on the Green New Deal.
Faynshteyn, whose family emigrated from Ukraine in 1995, said that the Green New Deal represents "an opportunity to have a stable life" and "a chance to actually be able to live healthily, which is what I, as a first generation immigrant, came to the U.S. to do."
His commitment to climate change activism isn't always met with support, he said. Faynshteyn explained that as someone with a master's degree, there is a "perceived notion" that he should focus on finding a lucrative career.
"As much as that is something that would be typical of someone like me to do, I don't really see how that would even matter if in the next 10 years we have a planet that we can't survive on anymore," Faynshteyn said. "Just having a good paying job isn't really going to prevent me from dealing with all those consequences."
Because of this, Faynshteyn said he dedicates his time to volunteering with the Sunrise Movement. He added that, like Woodcock, he also fears the future effects of climate change, such as lack of access to water and clean air, especially for his younger siblings.
This future is approaching faster than many realize, according to Nathan Phillips, professor in Boston University's Department of Earth and Environment.
"The science is telling us that we can't operate as business as usual," said Phillips, director of BU's Sustainable Neighborhood Lab. "Many people from the establishment — my generation and older — are not recognizing that we just can't continue along with the status quo. We need large change."
Phillips said he wasn't always an activist and started out as a "conventional" academic researcher, publishing his findings on climate change. He said he assumed "in a way that other people would do something with it."
However, after reading an editorial urging for the divestment from fossil fuels at BU, Phillips said he found that he "couldn't turn away from it."
"I realized that it's not enough for us as scientists to just be generators of knowledge," Phillips said. "We need to communicate the knowledge. We need to actually get involved ourselves."