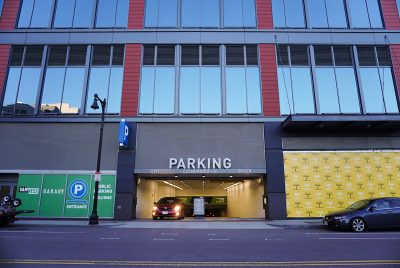 U-tron, an automated parking systems provider, and The Michaels Organization, a community development organization, have teamed up to build an automated parking system in the Boston area.
Drivers will be able to activate the automated parking system electronically, said Kristina Vagen, vice president of The Michaels Organization. She said the complex will be built at 40 Rugg Road in Allston, and cars will be parked for the owners in a space-efficient parking garage, which can also retrieve cars for drivers when they are ready to use their vehicle again.
Vagen said her team was excited to announce the new partnership and said U-tron and Michaels Development are working closely on the project.
"The exciting thing about this kind of parking deck, as opposed to a standard parking deck, is that you actually turn your car off, so you're not dealing with exhaust and other monoxide issues," Vagen said. "You also leave it in park, and the robotics move your car, so you have less likelihood of user error, accidents and dings on other people's cars."
Vagen said the automated system scans each vehicle for life forms, such as a dog, cat or a child left behind by mistake, before loading the car into the parking space, Vagen said. She also explained that the system remembers users' schedules.
"One of the exciting things about this project is that it's integrative, and it learns your parking pattern," Vagen said.
The integrative system, Vagen explained, allows for a user to queue their vehicle to be ready for them to pick up before they even leave their location.
Lee Anna Ghosh, 56, of Downtown Boston, said she has used automated systems in the past and found that they could become backed up during rush hours or when users called their cars too far in advance.
"A lot of people go to work between 7:30 and 8, and that's when it starts clogging up, and people can become frustrated," Ghosh said. "But, again, if it's automated when they are there, or their car gets moved back up, then I think it works perfectly."
Ghosh also said she thinks power outages could leave cars stuck at top levels.
"I think, in general, it is [OK], as long as they have backup power just in case, because in the bad weather, that's usually when it happens," Ghosh said.
Vagen also said The Michaels Organization has been working closely with the City of Boston to ensure that the building department's concerns are addressed.
"One of the things that's been challenging is working with the building department for Boston," Vagen said. "[The City] approved it, and we will continue to work with them as we get through our construction."
Holly Head, 29, of Malden, said she thinks the system will save space but could be less efficient than traditional parking.
"I can see if you want to get your car quickly, it could be kind of inconvenient," Head said. "But, it could fit more cars for the space, which obviously would be a benefit."
Vagen also said she thinks the parking system will save space in the city and help densely populated areas.

"The most important thing was to save space," Vagen said. "The neighborhood in Allston is already pretty dense with parking, so we didn't want to contribute to those challenges of traffic and parking adjacent to the site."
Eric Sandrib, 24, of Somerville, said he thinks the automation is unnecessary because he does not think parking is a big enough issue in Boston.
"It kind of, to me, falls into the category of automation because it's cool, but it doesn't really serve a function that's bettering society," Sandrib said.