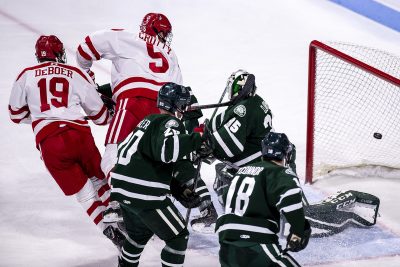 Cam Crotty woke up in British Columbia Friday morning. Hours later, the sophomore defenseman was at Agganis Arena and scored a goal for the Boston University men's hockey team in a 4-1 win over Dartmouth College.
"I feel great right now," Crotty said after the game. "So I can't really complain."
A native of Greely, Ontario, Crotty received an invite from Hockey Canada to take part in its World Juniors camp along with teammate Shane Bowers. Spanning Tuesday to Friday, the four-day camp is designed to evaluate and select players for the 2019 IIHF World Juniors Championship.
Canada will be hosting the World Juniors this season with games taking place in Vancouver and Victoria, BC. Crotty was there until Friday morning, when he was informed of his release along with three other players in the camp.
With junior defenseman Chad Krys sidelined until the new year and senior forward Bobo Carpenter absent for the team's matchup with the Big Green (4-6-1), Crotty's return to the Terriers (6-8-2) was met with enthusiasm.
"Down a lot of bodies," BU head coach Albie O'Connell said. "Crotty came across country. He was in British Columbia at the start of the day, and he came, and he might have been our best player."
Crotty flew more than 3,100 miles across North America to rejoin his squad before Friday night's game.
"It's been a long day," Crotty said. "I only got three hours of sleep last night. It was a quick turnaround."
As soon as he got on the ice, he made his presence felt.
Less than five minutes into the game, Crotty's line was putting pressure on Dartmouth goaltender Adrian Clark. BU junior forward Patrick Curry recorded a shot on goal before recovering the puck in the offensive zone.
Curry then saucered a pass to Crotty on the right side of the ice, who had plenty of room to operate. Crotty glided through the right circle before toasting Clark with a flip shot in front of the net to give the Terriers a 1-0 lead.
"It was a really nice play by Curry," O'Connell said. "If we come off the wall, we want our strong side D to slide and our other guy to close. Crotty closed at the right time. Curry slid it right there, and he finished it off. It was a nice goal and a great way to get on the scoreboard."
A few minutes later, Crotty was laid out along the boards to the right of BU junior goaltender Jake Oettinger. Play stopped as Crotty was splayed out on the ice.
Crotty was able to work his way off the ice under his own power and was back on the playing surface minutes later.
After scoring just one goal in his freshman season, Crotty has doubled that total before the beginning of 2019. His first collegiate goal came at home against UMass Lowell, and that happened again in the 2018-19 campaign.
In last week's 3-5 loss to the River Hawks at Agganis Arena, Crotty recorded the first score of his sophomore season.
With BU down 3-1 in the second period, he found open space at the point, collected a feed from sophomore defenseman Kasper Kotkansalo and sent a laser down the turnpike and into the net.
O'Connell expressed his satisfaction with Crotty's performance against the Big Green,
"He had a big night," O'Connell said.