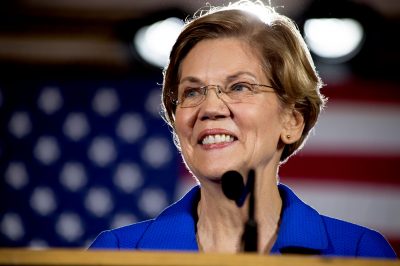 As people across the world rung in the New Year, U.S. Sen. Elizabeth Warren announced that she would form an exploratory committee for the upcoming 2020 presidential election.
The four-minute announcement video, which has since been uploaded across the internet, tells of Warren's beginnings in Oklahoma as the daughter of a janitor and a Sears employee and reflects on her later becoming a public school teacher and a law professor.  
Warren said these personal achievements were made possible because of the chances for advancement in the America that she grew up in, but notes that opportunity in the nation has changed since her youth.
"I've spent my career getting to the bottom of why America's promise works for some families, but others who work just as hard slip through the cracks into disaster," Warren said of the present inequality of "America's promise."
The reason, Warren said, is that the "cracks" are not cracks, but rather "traps," concluding that "America's middle class is under attack."
Throughout the video, in which only about the last 30 seconds are devoted to the announcement of her launch of an exploratory committee for president, Warren speaks of her efforts in economic reform as well as how she has worked to give the middle class a greater voice against corruption in politics.  
For 26 year-old Katherine Stevens of Fenway, this effort by Warren to listen to the middle class resonated with her.  
"I know from firsthand experience as a constituent of Elizabeth Warren who has … called her office or in other ways reached out to her with concern for issues, she tends to be someone who is thoughtful and forward thinking, Stevens said."  
Stevens said she has noticed that women in politics like Warren are frequently portrayed as being irrational and frail.
"I think you see a lot of slander of that," Stevens said. "That was what I had heard of [Warren] prior to moving to Massachusetts."
Jenifer Whitten-Woodring, an associate professor and director of the global studies Ph.D. program at the University of Massachusetts Lowell, spoke of the effects of harmful gender-based stereotypes in politics.  
"Elizabeth Warren has been accused of being 'polarizing,' and I don't think men are described in the same way," Whitten-Woodring said. "They might be described as 'polarizing,' but not so much as 'strident.'"
This is only part of the reason that Whitten-Woodring said she thinks Warren will not win the presidential election in 2020. Another reason, she said, is the lack of women in lower-level leadership positions in government.  
"We're getting them there," Whitten-Woodring said. "… As they develop and have hopefully long political careers, they will hopefully rise to more powerful positions. I think that it's going to take more women in the pipeline."
Despite Massachusetts having elected Warren as its first female senator, Erin O'Brien, an associate professor of political science at the University of Massachusetts Boston, said challenges for women in politics still exist in the Commonwealth.  
"There's still a bit of an old boys network in Massachusetts when it comes to candidate recruitment," O'Brien said.
Despite Warren being subject to what some see as gender biases, the senator's reputation is not negative to everyone.
Meagan Monaco, 34, of Kenmore, said that though she did not know much of Warren's policies, she has heard good things about her.  
"I've heard that she is very pro-choice, that she is very Democratic — you know, very true to the Democratic party — and very passionate about women's rights," Monaco said.
Alfred Forbes, 58, of Dorchester, said he sees Warren as a legitimate contender in the 2020 election.  
"I think she is a serious challenger," Forbes said. "She's been serious. Throughout [Donald Trump's] presidency, she's been challenging his positions on a lot of different things."
Forbes said he thinks Warren represents a challenge to Trump in that she questions him being the most qualified person for the presidency.  
"I don't think she's challenging the legitimacy of [his presidency] in terms of saying it was a campaign filled with fraud," Forbes said, "but more challenging his capacity to be a president of the United States of America."