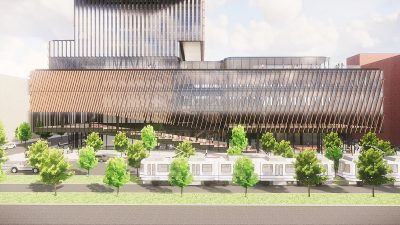 The Boston Civic Design Commission held a public meeting Tuesday to discuss the impacts of several major projects that are under review by the Boston Planning and Development Agency, including Boston University's proposed Data Sciences Center.
The proposed site across from Warren Towers and adjacent to the Sargent College of Health and Rehabilitation Sciences would span from Commonwealth Avenue to the back of the nearby brownstones on Bay State Road.
Currently, the 42,000 square feet of land is being used as a parking lot.
Members of the BPDA committee and proponents of the project had a model of the building on a table between them, along with representations of the surrounding landscaping. Approximately 20 people attended the meeting.
The building, designed by the Toronto-based architecture group KPMB Architects, would consist of a wide base with 13 floors "stacked" in layers of two and three to create an offset style. The design includes large areas of green space as well as a pedestrian walkway where the alley behind the Bay State residences currently is.
Bruce Kuwabara, one of the founding partners of KPMB, said during the meeting that the proposed location of the Data Sciences Center is an ideal spot on campus.
"In the master plan, the Granby-Commonwealth [location] was in a very thin, narrow kind of spread along the river that was pretty much a kind of center point and a point where a building of significance was always intended," Kuwabara said.
Proponents of the project faced questions involving parking space, historic districting and property lines.
Marianne McKenna, a partner at KPMB, said that the proposed landscaping will revitalize the space with its geometric design.
"The intention of this building is really to actually relate to the context surrounding it on every side, three-dimensionally," she said.
Some BPDA committee members questioned the the non-traditional shape used to create terraces between the different blocks of the building, as well as its overall aesthetic design.
Kuwabara said the the terraces formed by the stacking layers in the proposed design will give individual departments their own space within the building.
"It's what universities actually are," Kuwabara said. "A series of academic communities, and then you have common spaces."
The final design of the building is not yet complete, and there will be further building proposals brought to a future meeting.