Streaming services such as Netflix, Hulu and Amazon Prime Video dominate screens — whether on phones, tablets or televisions.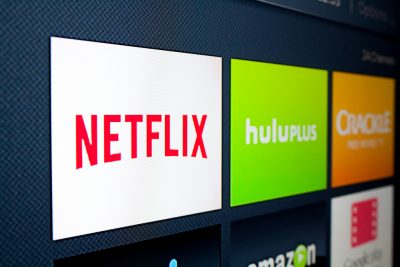 In a 2017 study commissioned by LendEDU, only 8 percent of students surveyed didn't have access to a Netflix account. Since then, the number of subscribers has grown, according to Statista, and that growth is expected to continue.
Many Boston University students, as well as college students nationwide, may have spent their time over their winter break catching up on shows on streaming services.
Netflix recently published the popularity of several of their newer original shows and movies on Twitter, including the TV series "You" and the film "Bird Box." According to the account, within four weeks of its release, "more than 80 million accounts" had watched "Bird Box," and "'You" was on track to be viewed by "more than 40 million members" within its first month.
According to The Hollywood Reporter, "The company counts a "viewer" as anyone who completes at least 70 percent of a single episode of a series (or 70 percent of a film)."
One thing is certain — streaming services get a lot of attention.
Sarah Krongard, a doctoral student in BU's College of Communication, wrote in an email that streaming services are so popular because they are personalized and on demand for the viewer.
"I would say this speaks to young people's desire for flexibility and active engagement in their technology use," Krongard wrote. "… Netflix's subscription structure, in combination with the quantity of programs available and the quality of the original series, make the package more appealing than some of the other leading streaming services."
Some concerns have arisen, though, about streaming services' impact on student time management. The Educational Resource Center at BU mentions Netflix along with social media sites as something students might find as a time-consuming distraction from studying.
Some students said they have noticed how streaming services affect them and how they spend their time.
"I think Netflix is very bad for my time management," Shruthi Sudhakar, a junior in the College of Arts and Sciences said. "I watch it too much, and it's really easy to get sucked into it — it has almost everything I need or want to watch. I definitely spend more time watching shows since I got Netflix than I did before."
Christopher Brown, a senior in CAS, said that while some users binge watch entire seasons in one sitting, others watch sparingly.
"The way I use Netflix might be a little different than everybody else — it depends on the person," Brown said. "I mostly tend to watch Netflix Originals, like 'Narcos' and 'Bojack Horseman,' but that's different from people I know who will rewatch the entirety of shows like 'Parks and Rec,' 'Always Sunny' and 'Friends.'"
Krongard wrote that Netflix and other services are just one of many sites and technologies competing for young people's time.
"Perhaps the desire to binge-watch is stronger than ever due to the easy accessibility of TV content, but there have always been plenty of distractions for college students!" Krongard wrote. "The content and tools may change, but I think the need for distraction and escape likely remains the same."
Streaming services also offer convenient and easier access. With social sites enabling subscribers to download content for later use without wifi, such as Spotify Premium, services a
re accessible virtually anywhere.
"I think Netflix kind of changed things for college students who normally might not have had access to TV when they were in college," Brown said. "Before, people would have had to have a TV setup, and that kind of limited their entertainment options. But Netflix seems to have brought that option back."
Although streaming services have enjoyed popularity among young people, som
e obstacles stand in the way of them maximizing profits.
LendEDU's study found that 54 percent of millennials surveyed use a friend or family member's account instead subscribing for personal accounts.
In spite of this and other problems, Krongard said she believed streaming services are not a mere trend.
"I think time-adjusted viewing and hyper-personalized content are certainly here to stay and will evolve to allow for even more individualized experiences, with the increased prevalence of virtual and augmented reality technologies," she said. "I think right now we are only witnessing the very beginning of personalized television experiences."