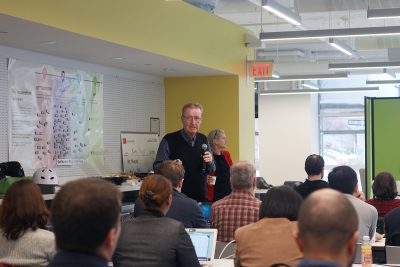 Students, alumni and community members sat attentive with laptops open in the BUild Lab IDG Capital Student Innovation Center Wednesday morning as presenters offered insight for building pitch decks. The three-hour workshop was hands-on and taught the audience how to raise funds for their businesses.
The Capital Network, a non-profit that mentors entrepreneurs, and instructors from Innovate@BU and Plano and Simple came together to present the Pitch Deck Workshop and help entrepreneurs capture the attention of, and win, investors.
Ian Mashiter, managing director of the BUild Lab and senior lecturer at the Questrom School of Business, said pitch decks are a vital tool for startups.
"It's an overview about the problems you're solving, the product you're making, how you're going to make money, and how this is a great opportunity for investors to invest in," Mashiter said. "A pitch deck comes from an entrepreneur trying to make sales when they're presenting to investors in order to raise money or presenting in a competition to win a prize."
Executive Director for The Capital Network, Marie Meslin, said there are various programs reviewing and analyzing pitch decks, there were few that taught how to build one. Recognizing that need, the nonprofit organization began hosting events within the community, Meslin said.
"We co-host. We put the programs together, and then we work with people from the community to help teach it so everybody who comes really has the perspective of the investors," Meslin said. "We've started programming at Suffolk University, we've done programming with UMass, Lowell, Babson, we've worked with Brandeis — we've worked with a bunch of different universities."
The Capital Network has also started programming at Boston University.
"What we've seen is a lot of students with a passion about building their own businesses, so that's been really great," Meslin said. "We offered a discount to students, and after that we've seen a lot of creative businesses come out of some of the universities."
The hands-on program ran through 12 slides packed with information. As the slides were presented, attendees worked on their own pitches. Each individual was equipped with an online workbook so they could follow along with the content and apply it to their own pitch.
Mashiter said the presentation contains material that people trying to raise money should address in a pitch. He talked the audience through half of the slides, answering questions throughout.
"What we're presenting is a sort of hands-on workshop," Mashiter said. "The idea [was] for them to come out with the first draft of a pitch deck."
Linda Plano, principal and founder of Plano and Simple, presented the other half. Plano and Simple is an organization that helps entrepreneurs with their startups and pitches. Plano and Simple also offers mentoring, coaching and training in addition to workshops.
"The stuff that we're doing is not rocket science," Plano said. "I've hosted over 700 programs the last decade, and every country I have been to — [despite] all the free information that's out there — runs into the same types of problems."
Plano's programs usually run the span of a day, and she said the content compressed into the three-hour session Wednesday stayed true to her methods on building pitch decks.
"The best part for me is [seeing] my entrepreneurs at the beginning of a workshop and knowing that if they apply this concept with vision and clarity and hard work, they will have the best pitch for their business that they've ever had," Plano said. "I get to watch that happen over the course of a day or two. We [did] the same thing in a really compressed format, and I think that we [were] successful in helping people."
The Pitch Deck Workshop was one of many events the BUild Lab puts on during the year, and the lab plans to continue having this workshop twice a year — once during the fall semester and once in the spring, Meslin said.
"I think it's really great to be able to help very serious entrepreneurs who are trying to raise money," Mashiter said. "It's been really gratifying to think that we helped them a little bit along the journey."