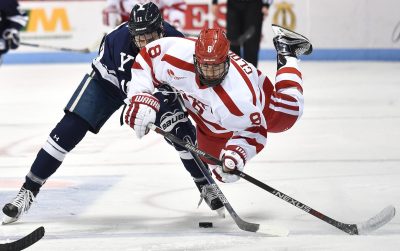 Having lost just once in the last seven games, the Boston University hockey team has started its climb back into the national polls.
Despite not having to leave Massachusetts until Feb. 15, the Terriers (9-9-3, 8-5-2 Hockey East) will be tested over the next few weeks. A Beanpot rematch with eighth-ranked Northeastern University is sandwiched by a home-and-home series against second-ranked UMass Amherst in the first eight days of February.
Additionally, the squad will have its hands full with two home contests against No. 17 Arizona State University Friday and Saturday night at Agganis Arena.
This Sun Devils (16-9-1) team is much different than the one the Terriers swept a year ago.
Last season, BU beat Arizona State by a combined 12-3 over two games. The Sun Devils won just one of their subsequent six games after enduring the sweep and went on to finish the season with an 8-21-5 record.
This year, Arizona State has turned it around. They boast a stout defense, ranking 15th in the nation with 2.38 goals yielded per game. The Sun Devils' penalty killing unit leaves the ice without allowing a goal 85.3 percent of the time, good for 10th-best nationally.
Considering BU scored three power play goals in a 7-2 home win over Merrimack College Monday afternoon, this should make for an enticing affair.
"Special teams is a huge factor, so it was big to get our power play going, especially conference-wise," Terrier senior forward Ryan Cloonan said. "Hopefully, we can carry that into the future."
Arizona State has had success on the East Coast this season. In November, they beat Penn State University, currently the 15th-ranked team in the country, with a 4-3 overtime win in University Park, Pennsylvania.
Two weeks later, they traveled to Allston and escaped Harvard's Bright-Landry Hockey Center with a 3-2 overtime win over the Crimson in the second game of a two-night series. In early December, they ventured east again and swept Princeton University in New Jersey.
Arizona State's journeys eastward have not been perfect, as they are coming off a pair of losses at 12th-ranked Cornell University on Jan.11 and 12.
Offensively, the Sun Devils rank 17th in the country with an average of 3.12 goals per game.
Forward Johnny Walker is the primary source of offense for the Sun Devils. He finished 2017-18 second in the country in freshman goal scoring with 17 tallies, and he has already eclipsed that mark in his second season in college.
Walker leads the country with 19 goals and is the only player on his team with more than 10.
He also ranks 10th in the country in points with 27 and is the only Sun Devil with more than 20 points. If you're going to the game, Walker is the guy to keep your eye on.
The Terriers will seek to limit Walker and build on the momentum they garnered in Monday's win over Merrimack.
"It was a good win," BU head coach Albie O'Connell said. "We picked it up and got better and better."