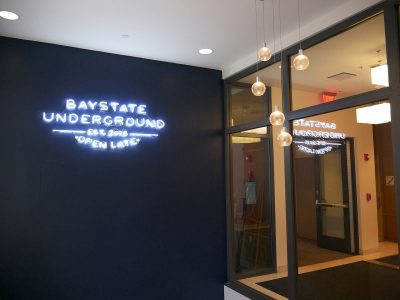 The new spring semester at Boston University has brought more than just new classes for students. The start of 2019 also brings two new and improved eateries to the BU campus, including a rebranded Dunkin' at Buick Street Market in West Campus and the O-Mori Ramen Bar at Bay State Underground.
Robert Flynn, the BU Dining Services marketing manager, said Tuesday night at the opening night of O-Mori Ramen Bar that he couldn't remember the last time he saw the line for the late-night restaurant so long.
"It's something we started talking about last semester," Flynn said. "Ramen is very popular now — it's a very popular dish, and the students are always looking for something new and different, and we figured BU could use something like this on campus."
Flynn said BU started talking about the idea of bringing a ramen bar to campus last semester after noticing the popularity of similar restaurants around Boston.
"If you look around the city, there are a lot of very popular ramen bars and ramen noodle restaurants, and we felt it was something the students would crave as far as comfort food element," he said. "A good, hot broth is comfort food, and the students can relate to that."
Along with noticing the success of ramen bars in Boston, Flynn said student interest in the concept also helped push along the process.
"We're always listening to what the students are talking about, always asking students for their input," Flynn said. "We had some focus groups with the students who came in and tried the ramen."
Claire Sundman, a sophomore in the College of Arts and Sciences, said she loved the ramen, which she was trying for free after being handed a coupon at the George Sherman Union from BU Dining Services earlier.
"[It's] a nice change, really good ingredients," Sundman said. "I liked that they had a vegetarian option. I was actually pleasantly surprised with [it] because a lot of ramen places don't really have it, so they went out of their way, and I really appreciated that."
Sarah Kaul, a freshman in the College of Arts and Sciences, said she was very happy to have  a new place to eat on campus.
"Ramen is literally my favorite food, so I'm very excited," she said. "And it makes me want to actually spend my dining points instead of saving them, which is good."
Aaron Hwang, a sophomore in the College of Engineering, also said he enjoyed the ramen bar.
"It's really big in all of Asia," Hwang said. "I'm glad that it's making its mark here on campus and that all students will have a great night noodle experience. That's what it's all about."
While East Campus may get a hot bowl of ramen, West Campus can now enjoy a steaming cup of Joe from a newly rebranded Dunkin'.
The store, formerly referred to as Dunkin' Donuts, has joined a number of other Boston Dunkin' chains in shortening their name and altering both the look and menu options. A press release from the popular New England chain stated that the official change to the new branding would happen this month.
According to the release, which was published in September 2018, the new stores will retain the classic pink and orange colors while changing some of the aesthetic design.
Dunkin' Brands' U.S. President and CEO David Hoffmann said in the release the new branding is part of the company's plan to continue to grow and modernize the customer experience.
"From our next generation restaurants, to our menu innovation, on-the-go ordering and value offerings, all delivered at the speed of Dunkin', we are working to provide our guests with great beverages, delicious food and unparalleled convenience," Hoffmann said in the release.
The release stated that "key in-store elements" will be refreshed, including everything from a new eight-headed tap system for cold beverages, a glass bakery case for donuts and a more "prominent and engaging" mobile-order pick up area.
"We believe our efforts to transform Dunkin', while still embracing our incredible heritage," Hoffmann said, " will keep our brand relevant for generations to come."