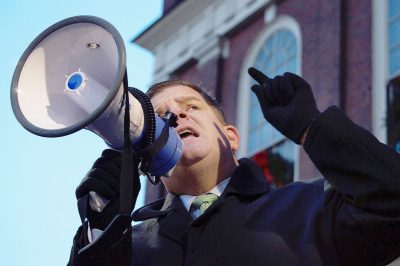 Boston Mayor Martin Walsh announced in a Jan. 16 press release that he would publicly challenge U.S. Education Secretary Betsy Devos' proposed changes to the federal guidelines dictating a school's response to claims of sexual assault misconduct and assault.
These changes would reverse rules from former President Barack Obama's administration by narrowing the definition of sexual harassment, limiting the scope of incidents a school is required to investigate and placing burden of proof on survivors, according to the release.
"Boston is home to 200,000 students, and these rule changes would have a devastating impact on students who deserve to be safe, supported, and treated with respect," Walsh said in the release. "Nothing should stand in the way of students being able to receive a great education."
Walsh was joined in his opposition by representatives from Emerson College, Suffolk University, Bunker Hill Community College and UMass Boston, according to the release. Boston University was not one of the institutions listed that joined the mayor's effort.
Boston City Councilor At-Large Annissa Essaibi-George wrote in an email that the rule overhaul would severely limit schools' responsibility and hamper their ability to respond to sexual assault allegations presented by students.
"Betsy DeVos's reform to Title IX is dangerous and does not adequately protect survivors of sexual assault or sexual harassment," Essaibi-George wrote. "Our colleges and universities should serve as a beacon of safety for survivors."
Katie Mitrano, the Boston-area director of student organizing for The Every Voice Coalition, a student-run organization that aims to fight sexual violence on campuses, wrote in an email that she questioned why the Trump Administration chose to limit the rights of alleged victims instead of setting further protections.
"The proposed Title IX legislation is rolling back on the rights for survivors of sexual assault," Mitrano said. "And for a crime that is so underreported, why would anyone want to do that? … I believe in the right to due process, but that right is not to diminish the rights of survivors."
Essaibi-George wrote that one of the most dangerous of DeVos' proposed changes is one that would allow the accused party to cross-examine the accuser.
"According to The Rape, Abuse & Incest National Network (RAINN)," Essaibi-George wrote, "Only 20% of female survivors of sexual assault report it, due to fear of retaliation, fear of reliving the trauma all over, or fear of not being believed."
Another of the rule changes would exempt educational institutions from investigating incidents that took place off-campus.
Debra Robbin, executive director of Jane Doe Inc., a Boston-based coalition that fights against domestic violence and sexual misconduct, said that the changes could potentially expose victims to additional pain and suffering by only covering on-campus incidents.
"When we say you can only report if it happened in certain places, for example, the regulations will not cover off-campus housing or travel abroad if there is an incident that happened there," Robbin said. "Those all impact the trauma that survivors experience."
Amy Attwood-Charles, 34, of Brighton, said she thinks the proposed changes to Title IX will do more harm than good.
"I think it's already difficult for a lot of people who experience sexual abuse to report it to begin with," Attwood-Charles said. "I can see it increasing the rate of sexual harassment, for both genders really."
Judith Muth, 54, of Back Bay, said she thinks the changes will allow for more fact-based information to determine if someone was sexually assaulted.
"Well there are two sides to every story," she said. "So someone coming forward is awesome, but at the end of the day, you need to hear the other person's story because sometimes they can be biased, and sometimes there are truths to these stories."
Melissa Mackin, 25, of Jamaica Plain, said she thinks the proposed legislation will make it more difficult to convict people of sexual assault.
"I doubt that the cases in which people are wrongly accused of sexual assault are higher than the cases in which people are let off without being charged," Mackin said. "I think already it's hard to convict someone of that due to it being hard to have evidence."
Julia Sullivan contributed to the reporting of this article.