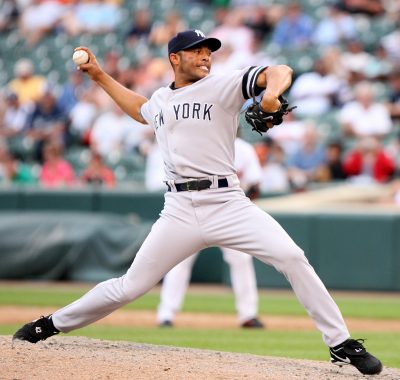 Throughout his 19-year career, Mariano Rivera amassed an all-time best of 652 saves among 13 All Star appearances and five World Series championships. On Tuesday, he secured perhaps his most important save of all: he became the first player in baseball history to be unanimously elected to the National Baseball Hall of Fame.
After decades of stubborn baseball writers and first-year-on-the-ballot prejudice, we finally have our first unanimous selection. Rivera has saved us from the madness.
Now, the argument could be made that Mo is not necessarily deserving of this legacy or induction in general because he was a closer. He averaged only 78 innings per season in his career and didn't start a game after 1995.
I understand this thinking. But I don't intend to engage in this particular debate, at least not right now. What I am concerned with is why it took this long to get to unanimity.
Before Rivera miraculously got 425 baseball writers to agree on this year's ballot, the previous closest candidates were Ken Griffey Jr. at 99.32 percent with three votes shy, Tom Seaver at 98.8 percent with five votes shy and Nolan Ryan at 98.79 percent with six votes shy.
The likes of Babe Ruth, Willie Mays, Carl Yastrzemski and Ted Williams all clocked in at below 96 percent. What gives?
There are a couple possible reasons for this trend, all of which I think are silly.
One is that no player should be inducted in his first year on the ballot. There's a reason Hall eligibility lasts 10 years, previously 15, and there's no need to rush, some would insist. Especially with none of the game's all-time greats receiving 100 percent, many believe nobody should.
I will grant that a majority players are not clear locks or flops. Most require debate, research and conversation to properly assess. That process can take years. But every once in awhile there is an absolute lock.
To suggest that a player such as Griffey, who hit 630 homers and earned 10 consecutive Gold Gloves, doesn't deserve the ultimate showing of respect because others before him were snubbed as well is misguided. Sure, it will always be baffling that anyone failed to check off Ruth's name. But why continue the tradition just for the sake of continuity?
Another possible justification, especially in recent years, is the anxiety and confusion coming from the Steroids Era. We are in the midst of the candidacies of some highly controversial players, from Barry Bonds and Roger Clemens to Sammy Sosa and Manny Ramirez.
It will never be fully known who cheated and who didn't, and that has led to years of tumult for voters. While Bonds and Clemens' percentages have been gradually rising, some voters struggle to support any slugger from the period, regardless of their ties — or lack thereof in the case of Griffey — to performance-enhancing drugs.
This is, of course, also a futile viewpoint. Why punish an entire generation for the misbehavior of a select group? That is also a debate for another time.
So how did Mo overcome years of stalemate and stubbornness and get the first-ever unanimous go-ahead? The first, most obvious reason is statistical. Rivera's 652 saves are unlikely to be topped.
Teams are beginning to rethink the closer role, and it appears impossible for there to be another 600 or greater save reliever. Additionally, Rivera's ERA+, earned-run average that adjusts for ballparks of 2.05 is also the best all-time.
He threw the best cutter anyone has ever seen and collected 42 saves and an ERA of just 0.70 in 96 career postseason appearances. Rivera is and probably always will be the greatest closer of all time.
But perhaps even more important than the numbers was the man himself. Rivera was the ultimate competitor on the field, and off it he was one of the best people to ever play the game. In New York and across the country, Rivera has always been revered for his charity work, his sportsmanship and his down-to-earth, charming persona.
He has always been beloved throughout the game, even in Boston, and it was telling that he was allowed to finish his career donning Jackie Robinson's game-wide retired number 42. He was a superstar both on and off the mound.
So after decades of frustrating voting results from the Baseball Writers' Association of America, Rivera has finally broken a sort of glass ceiling. It was bound to happen eventually, and I for one am glad we finally ripped off the Band Aid. And of all people to achieve unanimity, Rivera is undoubtedly deserving.
On behalf of the baseball world, thank you, Mo. Both for your years of grace and domination, and for finally breaking through the nonsense of 99.3 percent. You've saved us yet again.