After centuries of scientific progress, revolutionary drugs developed in the 20th century finally offered treatment from diseases such as pneumonia and tuberculosis. Recent studies say these advancements may become less effective in the coming years and decades.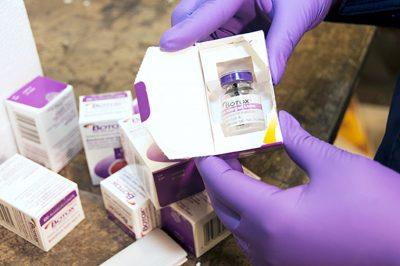 This month, the World Health Organization listed antimicrobial resistance — the ability of bacteria and pathogens to combat these medicines — as one of the top 10 threats to global health in 2019.
According to the WHO's website, "The inability to prevent infections could seriously compromise surgery and procedures such as chemotherapy. Resistance to tuberculosis drugs is a formidable obstacle to fighting a disease that causes around 10 million people to fall ill, and 1.6 million to die, every year."
Muhammad Zaman, a Boston University professor of biomedical engineering, shared his findings on drug resistance in an academic article he co-wrote. Low-quality rifampin, which is used to treat tuberculosis, was found to contribute to drug resistance.
Zaman said he was first exposed to substandard drugs while growing up in Pakistan.
"It's unfortunately something that is part of the health system," Zaman said. "The quality of medicine is not guaranteed. … In many other developing countries the sad part is you get accustomed to it."
When he moved to the United States for higher education, Zaman said he realized that low-quality medicine did not have to stay the status quo. He said that around 2010 or 2011, he started thinking about how he wanted to give back to society at large.
"This problem became prominent in Pakistan not very far from where my father grew up," he said, "and at the same time, I was contacted by colleagues at United States [Agency for International Development] and United States Pharmacopeia, who got interested in thinking about the issue of developing new technology."
Zaman said there are a number of factors that lead to drug resistance from low-quality drugs such as rifampin.
"If you take something in the wrong dose, for example, if you need 100 milligrams and instead the dose has 50 milligrams, what ends up happening is if only a small [proportion] of bacteria die, the rest continue to proliferate," he said. "Even when you give the right amount of the drug, [the remaining bacteria] have become very strong and are unaffected by good medicine."
Zohar Weinstein, a doctoral candidate in biomolecular pharmacology, worked on the research with Zaman. She said substandard drugs are under researched.
"The influence of drug degradation products on acquisition of resistance has not been systematically studied," she said.
Hannah Collins, a freshman in the College of Arts and Science, said more attention should be given to drug quality.
"It's upsetting that people are facing these problems today," Collins said. "The quality of medicine is definitely an issue that should be focused on."
Weinstein said that she was surprised by the degree of resistance that the research found. In fact, she said, some of the populations of bacteria treated with only a drug degradation product became completely resistant to the standard drugs.
Zaman said even if the dosage is correct, the presence of degraded products or impurities can also lead to the bacteria becoming resistant.
"Degraded products may affect some bacteria but not the others," he said. "The bacteria that do not die become stronger, and when you give the good dose, there is no effect."
According to Zaman, this discovery is concerning because it suggests that one must worry about both the quantity of a drug and the presence of degraded products and impurities.
"That's a multifold problem, and it needs a top-down and bottom-up solution — increasing awareness, having stronger penalties for those who are involved," he said. "Emphasize entrepreneurship for new technology for ensuring that screening for bad drugs is in the system."
He said that globally stopping distribution of substandard drugs depends on awareness in the public and the government, which may lead to laws that protect consumers.
This is deprioritized," Zaman said. "It doesn't get the same kind of headlines as an outbreak or epidemic, but in some ways any disease or calamity that you have will depend on people getting medicine to get better. If that medicine is compromised, then the entire effort starts to break down."