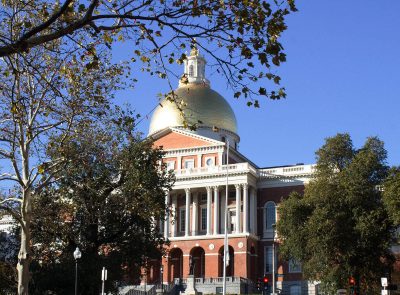 In light of the partial federal government shutdown, the Massachusetts Department of Transitional Assistance began issuing Supplemental Nutrition Assistance Program benefits for the month of February early to eligible employees that are not being paid.
Brooke Karanovich, director of communications at the DTA, wrote in an email that 93 percent of SNAP clients at the DTA received their benefits early.
"Due to the partial government shutdown," Karanovich wrote, "the Massachusetts Department of Transitional Assistance (DTA) issued February SNAP benefits early between January 17 and January 20 to the vast majority of SNAP households."
Karanovich also wrote that the SNAP benefits that were issued early must last until the end of February, as clients will not be receiving another payment for the month.  
A Jan. 17 press release from the DTA stated that the U.S. Department of Agriculture funds SNAP benefits. A USDA press release published on Jan. 8 instructed states to give out the SNAP benefits for February before Jan. 20.  
One in nine Massachusetts residents received benefits from the SNAP program, according to DTA's release.
New applicants and cases approved since the issuance of February benefits will be processed by DTA, according to the release.
"However, because of the partial federal government shutdown, funding for those whose SNAP cases are approved during this time is subject to availability of federal funds," the press release stated.
Project Bread, an organization that works to prevent hunger in Massachusetts, is working to connect families impacted by the government shutdown with food banks and screening citizens for the SNAP program benefits, according to Project Bread President Erin McAleer.
McAleer said since the government shutdown began, the organization has had an increased amount of residents seek aid.
"Our food source hotline is answering calls from furloughed workers who are frankly just really stressed out," McAleer said. "They want to be working, they're out of work, they never thought they would be having to be going to a food pantry or calling us to find food resources."
McAleer said that as furloughed workers are turning toward need-based food aid, SNAP and other organizations are not able to keep up with the demand.
"We at Project Bread are going to do everything that we can to connect individuals to food resources in community, and we know a lot of these food pantries and food banks are raising more money to try to fill the need," McAleer said. "But it's just unrealistic to expect the emergency food system to be able to fulfill this need."
Project Bread is advocating for government leaders to find a solution to end the shutdown as quickly as possible, McAleer said.
"What we are doing is really urging the U.S. Senate to take up the legislations already passed by the House that re-opens the government while they debate the immigration issue," McAleer said.
McAleer said Project Bread is encouraging Massachusetts Gov. Charlie Baker to discuss the matter with Republican Party members in the U.S. Senate and explain the need to reopen the government for the sake of federal workers.
"Given that we have a Republican governor here in Massachusetts," McAleer said, "I think we have an opportunity for him to leverage his position in the Republican Governors Association to help guide our country out of it."
McAleer said the new flux of citizens needing aid will strain the low-income residents served by Project Bread.
SNAP is only funded through the end of February. So, if the government is still shutdown then, she said, Americans who rely on SNAP in order to afford food will go hungry, including furloughed government workers.
"It's going to dry out," McAleer said. "And because of this temper tantrum from the president, we are facing a food crisis. A man made food crisis."
Mara Heng, 22, of Fenway, said she thinks the government shutdown is unnecessary and "messed up."
"It definitely is a one-sided thing," Heng said, "not thinking of the consequences it has on other people."
Olivia Burgos, 21, of Allston, said she thinks it is heartbreaking that government workers are not being paid during the shutdown and how it is affecting their lives.
"I just don't support it, and people out there need these government jobs, and they're not getting paid, and they're struggling very, very much for it," Burgos said.
Kyle Jordan, 23, of Fenway, said he thinks it is disgraceful that government workers are having to face food insecurity and thinks the government should reopen.
"It is one of the most stupendously idiotic things I've seen in my entire life," Jordan said. "It is a waste of everybody's time in general. I think it's a disgrace."
CORRECTION: A previous version of this article incorrectly stated that Project Bread's resources would run out in February, instead of SNAP benefits. The updated version reflects this correction.