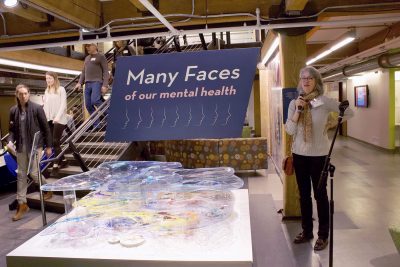 Visitors to Tufts University's latest School of the Museum of Fine Arts exhibit walk through hallways lined with the photos of 99 unidentified people. Among these portraits are billionaires, homeless people, actors, doctors, students and others from nearly every walk of life.
Yet everyone shares something in common — their lives have been impacted by mental illness. These people were living with bipolar disease, schizophrenia or were friends and relatives of people with mental illnesses.
The "99 Faces Project" is a piece from the SMFA at Tufts' "The Many Faces of Our Mental Health" exhibit, just one part in an artistic series on mental health called "Stigma Unstuck: A Mental Health Art Series at Tufts." The opening reception for the exhibit was held at 5 p.m. Jan. 24, welcoming the public with free entrance to the event.
The exhibit combines visual art, photography and video with research from scientists, doctors and journalists, and is showcased in Tuft's Collaborative Learning and Innovation Complex in Medford.
Artist Lynda Cutrell worked with photographers Paul Foley, Louise Michaud, Michael Ciesielski and Frank Caliri to create "The 99 Faces Project."
"The point of this exhibit is to talk about the real science of mental health and show that it's not an 'emotional defect,'" Cutrell said while giving a tour at the opening of the exhibit.
"Stigma Unstuck" is a year-long initiative sponsored in part by Tufts' Community Health Department and the Cambridge Health Alliance. The project is aimed at bringing "a greater understanding to mental health issues to facilitate shifts in attitudes that perpetuate stigma and discrimination," according to their website.
"I hope that it will relieve people's fears about mental health conditions and that they realize that people who have them are likeable people, not the scary images or stereotypes they may see in the media," Cutrell said.
Lisa Brukilacchio, director of the Somerville Community Health Agenda at Cambridge Health Alliance, said mental health and substance abuse are consistently top issues affecting communities across the nation.
"How do we make a difference when it comes to stigma, awareness and equity? We wanted to figure out how to shift things and increase interaction, so we decided to take a different approach than usual," Brukilacchio said. "Artwork like this creates an environment for promoting dialogue."
Cutrell explained the artistic meaning behind some of her other works — for one, she created models of chromosomes out of four miles of fiber and recruited individuals with schizophrenia and bipolar disorder to help with the project.
As part of her Spectrum series, Curtell said she she layered a dyed glass sculpture with four colors representing the proportions of depression, anxiety, mania and psychosis in the population over a diagram depicting the Four Humors, an ancient diagram once used to diagnose mental afflictions.
"I wanted to show that mental health is a spectrum and that everyone has something and that because of that, there is no 'other' people when it comes to mental health," Cutrell said. "There's enough 'othering' going on in the world."
The Stigma Unstuck project's planning and execution included the input of student leaders from the Tisch College of Civic Life and community partners from the Medford and Somerville area.
Seblewongel Yigletu, a Tisch Scholar student leader, echoed Baez saying that students were treated as equal contributors in the project's planning and creation.
"We were in every meeting and every email thread, and we had a say in everything," she said.
The "Stigma Unstuck" initiative will continue through 2019, and already several other upcoming associated art and film events are planned, with more in the works.
On Feb. 1, the project will host a screening of the film "Addiction" to raise awareness about the effects of substance abuse.
Yolanta Kovalko is the department administrator of community health at Tufts. She said she's excited about the future of exploring mental health through these projects.
"We want this to be an ongoing thing," Kovalko said. "We're continuously developing events for over the course of 2019. We're also looking forward to using this as a collaborative project, and getting students more involved."
Sabrina Ozit, 26, of Somerville, said she thought the "99 Faces" exhibit was eye-opening and unique.
"I appreciated that the people in the photos just looked like people — beautiful, different and diverse people," Ozit said. "That shows that it affects everyone and that there is hope."
CORRECTION: A previous version of this article mislabeled the title of the exhibit "The Many Faces of Our Mental Health" as "The Many Faces of Mental Health." An updated version reflects this correction.